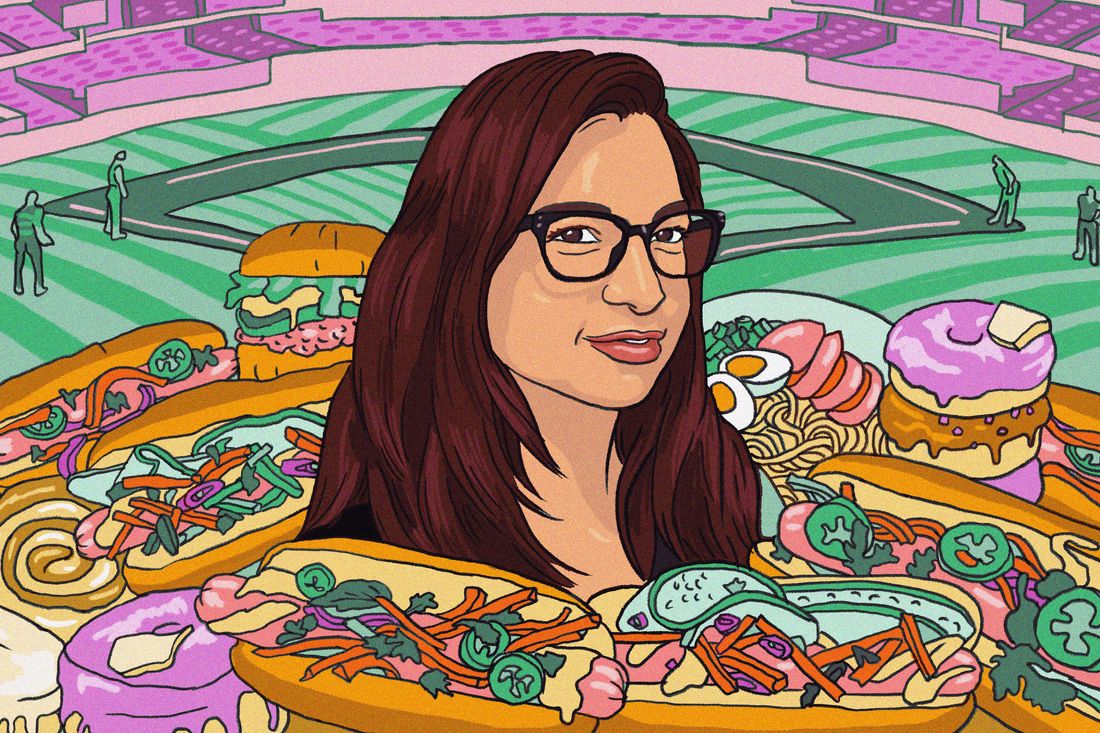 Galarza, who managed to find a bánh mì hot dog at a baseball game. Illustration: Margalit Cutler
G. Daniela Galarza's Eat Voraciously newsletter offers a simple promise: Four times a week, you'll receive a full, well-tested dinner recipe. Since it's part of the Washington Post's food section, it meant that Galarza had to move to Washington, D.C., in 2020, after a second, seven-year stint in New York. This week, she made a quick trip back, something she tries to do every month or two: "I picked an apartment near Union Station," she says, "so I could hop on a train back to New York whenever I want." 
Saturday, April 15
My dog, Frito — his full name is Sofrito, after the Puerto Rican blend of onions, garlic, peppers, and herbs — is my alarm clock. We wake up between 6 and 7 a.m., ideally with the sun. He gets a scoop of kibble and I get a cup of black drip coffee. I am picky about a lot of things, but coffee is not one of them. I also have a smoothie, which is a relatively new habit.
Last year, my doctor told me that my cholesterol was too high, and if I didn't make some drastic changes I'd have to start taking medication for it. So I joined a gym and hired a trainer, Nikita, because I hate exercise and pretty much refuse to do it unless I pay someone a lot of money to yell at me a few times a week. I have so much more energy now, and I'm stronger than I have ever been. Okay, I'm going to brag: I can do those push-ups where you clap in between each one! (Also, my cholesterol has come down!) Anyway, at some point earlier this year, Nikita said I needed to eat more protein, so now I put protein powder in my smoothies along with two handfuls of baby spinach, a cup of frozen Maine blueberries, the juice of half a lemon, and a pinch of salt.
On Saturday mornings there's a farmers' market a block away from my apartment. Today I buy radishes and spring onions at the produce stall, eggs from the egg lady, and onion sprouts from the sprout stand.
My high-school friend Alex and her husband, Dan, live in Silver Spring, just north of D.C., and they've invited me and my boyfriend, Joe, over for dinner. Dan is making ramen. We offered to bring dessert.
I text Joe some ideas of what I think we could make: strawberry shortcake, chocolate-pudding cups, or strawberry mochi. We decide on the mochi. Joe comes over to my place with sweet rice flour and red-bean paste. Neither of us has made mochi before, but we follow a recipe from Just One Cookbook, one of my favorite recipe sites. It's a messy process of wrapping each strawberry in red-bean paste and then covering the whole thing in a thin layer of mochi, but it's fun. We sort of get the hang of it. I eat two strawberry mochi for lunch.
Dinner is Dan's ramen, which is extremely rich and garlicky. He even made his own pork broth. I have seconds. We have mochi for dessert, followed by Alex's homemade butterscotch pudding, which is silky and a little salty and not too sweet.
Sunday, April 16
My dog walker is taking care of Frito at my place, so Joe and I can sleep in at his. Around 9 a.m. we walk to a local spot, Soleluna, for coffee and a pastry. I get one of their guava and cheese danishes, which is the size of a teacup and filled with just the right amount of cream cheese and guava jam. So good.
Joe and I meet up with two of his pals to watch the Cleveland Guardians play the Washington Nationals. I can't say I'm a true baseball fan, but this game is extremely entertaining. Is it because of the new pitch clock that keeps the game moving? Possibly. There are also some killer catches that make me wonder if I could get into baseball for real. Unfortunately, I'm rooting for the Guardians alongside Joe, and they lose. Fortunately, we absolutely nail our lunch order: a pork and cheese pupusa, a chicken pupusa, and a tamarindo from La Casita Pupuseria, plus a bánh mì hot dog from Haute Dogs and a side of fries.
I'm not really hungry for dinner, but around 8:30 I make a small bowl of rice and top it with some smoked mackerel, a little soy sauce, a splash of coriander vinegar, a sliced Persian cucumber, and lots of toasted sesame seeds.
Monday, April 17
I'm out of coffee at home, so I walk Frito to A Baked Joint, my local bakery and coffee shop. Breakfast is a mocha and a slice of its caramelized-onion-and-feta focaccia, which I take home and eat with a scrambled egg.
I'm working from home, so I rummage around in my freezer for lunch. The first thing I see is a pint container of pinto beans I made a month ago. They're stewed with sofrito and bits of ham, so I throw them in the microwave while I make a small pot of basmati rice. Once everything is hot, I spoon some rice into a bowl and top it with the beans, lime juice, and a handful of cilantro.
Dinner is a recipe test: catfish and tomato fricassee. A reader emailed me a month or so ago to suggest that I feature some catfish recipes in the newsletter because the fish is an invasive species in the Chesapeake Bay. For this recipe, you start by making a sauce out of onions and tomatoes, then spike it with cumin and enrich it with cream, before simmering the catfish filets. I have it with rice, but I can see it being even better over grits.
Tuesday, April 18
I remembered to buy coffee, so I have a quick cup before my workout. Sometimes after I work out all I can think about is roasted chicken. I daydream about its burnished skin and rich pan juices. I guess it's a protein craving, but I don't know why it's specifically chicken that I want. Sometimes this leads me to the nearest grocery store, where I'll pick up a rotisserie chicken, take it home, and eat half for breakfast. Today, I push past the chicken craving and have saucy cannellini beans and a fried egg with lots of hot sauce and a squeeze of lemon juice.
I have a doctor's appointment this afternoon that involves a quick but uncomfortable procedure, and I am dreading it. Joe picks me up after and very kindly brings me a croissant as a treat. We go to Sweetgreen for salads. I get the Buffalo Chicken Bowl. I love blue cheese so much. I have the croissant for dessert. Then it's back to work.
For dinner, I meet Joe at his place and we cook: seared tuna steaks with a sesame-soy-lime sauce, brown rice, and a salad of little gems and radishes. I make a mental note that the tuna would be better grilled and could be a good summer recipe for the newsletter.
Wednesday, April 19
At 7 a.m. I say good-bye to Joe and Frito and catch a train to New York. I have coffee on the train. After I check into my hotel, I walk to Skylight Diner for a late breakfast–slash–early lunch. About 90 percent of the time my diner order is: a Denver or western omelet, extra-crispy hash browns (preferably the shredded kind, but Skylight only has the smashed-home-fries kind), buttered wheat toast with strawberry jam, and a small orange juice. Skylight is one of the most efficient and delightful places in the universe. I'm not in a hurry, but I time my order for fun: It takes four minutes and 57 seconds to land on the table.
For dinner, I meet my friend Melissa McCart (the editor at Eater NY) at Wildair. I feel a little bad for not ordering a glass of wine at my favorite wine bar, but I don't feel like drinking. Melissa introduces me to a marvelous trick: soda water spiked with bitters. It's perfect. We order the bread and olive oil, little gem salad and pissaladiéclair, which is an éclair stuffed with anchovies, olives, and Challerhocker cheese. It's so good that I almost order another. We get the mille-feuille for dessert, which has bitter almond cream, sour cherry jam, and caramel inside. A couple of friends discover that we're in the neighborhood and join us for dessert.
Melissa takes me along with her to a new spot on Spring Street: Ma.dé. We share white asparagus, fava bean dumplings, fluke, and diver scallops. A few dishes are unbearably salty, and Ma.dé lacks the finesse of its sister restaurant, Wayan, but I suspect things will even out. Melissa has to get back home to walk her dogs, so we don't have time to order dessert, unfortunately. It's nearly 11 p.m. and I consider going to Petee's Pie for a slice — in an ideal world, I'd eat dessert after every meal — but decide it's time for bed instead.
Thursday, April 20
I take the C and G to Bed-Stuy to meet my friend Julia Bainbridge (I recommend her book Good Drinks to everyone) at For All Things Good. We share the tetela trio, and I get a café de olla. We are so immersed in conversation that I barely register how much I'm enjoying the blue corn tortillas and their fillings. Then we walk over to Fan-Fan Doughnuts. They have a special chocolate doughnut menu happening this week. I get a Hermanita, which is a vanilla doughnut with a glaze made from white chocolate, raspberries, and brown butter. It is so, so good.
I hug Julia good-bye and get back on the subway toward Dumbo. I haven't been to Burrow since before the pandemic, and I miss it. I get a raspberry shortbread cookie, a choco-chocolate-chip cookie, and a rhubarb frangipane tart. Frangipane and rhubarb are some of my favorite things on the planet, and this pastry is everything I could possibly want: short, crumbly, buttery crust; rich, nutty filling; and tart, tender rhubarb flecked with specks of vanilla. I eat it in four bites, and as the last one crumbles in my mouth, I briefly consider getting another. Then I check the time and realize I have a meeting in an hour. Time to head back to the hotel.
I'm too busy to leave the hotel for lunch so I order Nan Xiang Xiao Long Bao chicken soup dumplings and garlic bok choy. The dumplings are extremely juicy and hot, and the broth squirts everywhere. They're also excellent. Initially, I don't think I can eat all six, but when I look down, they're gone.
I have to run an errand on the Upper East Side, so I make a stop at Julien, a new-to-me bakery on 72nd and Third Avenue. They have croissant cubes, which I've been seeing more and more, and I'm tempted to get one, but I opt for a small apple tart instead. It's got a thin slick of pastry cream under shingled apple slices. It's great. Back to my desk.
On my last trip to New York, I was too busy to see friends, so I'm trying to see as many of them as possible this time. At 6, I meet my friend Robert at Mischa. We grab seats at the bar, and I order a Less Than Zero, which is described as "celery, tarragon, club soda" on the menu and which the bartender explains is an interpretation of a Dr. Brown's Cel-Ray. It's fantastic. I can see the flavors being great in a salad with blue cheese and make a note on my phone to experiment with this at home. I also get the shrimp cocktail for a little something savory. The cocktail sauce is like a chile-crab sauce and is so good that I finish it with a spoon.
The main reason I'm here is to order dessert: The other week I saw Alex Stupak post a photo to Instagram of what looked like a tiny bunch of sticky buns, all snuggled up together on a plate. He called it a sticky-bun pie. I knew I had to have it. I order that, the Black Forest cake, and a sesame éclair. The restaurant's pastry chef, Justin Binnie, is very talented. All of the desserts are pristine and not too sweet, with layers of flavor and texture. The sticky-bun pie lives up to expectations.
I say good-bye to Robert and walk over to Le Rock to meet up with my friend Michelle and two of her pals. We go in with every intention of ordering a full meal and then the whole dessert menu. I am giddy. The kohlrabi remoulade, dramatic leeks vinaigrette, and fat white asparagus are a nice start to the meal. I order the bison au poivre, which comes with fries; I am grateful when Michelle orders ketchup for the table. The bison is exceptional, possibly the best savory thing I eat all week? (Could I feature bison in the newsletter?) I restrain myself from finishing the very excellent fries because I want to save room for dessert. After our main-course plates are cleared, 20 minutes go by, and then another 20. The conversation is flowing, but I'm also trying to catch our server's eye so I can ask about dessert. He seems to have vanished. When we finally flag someone down, I can see that my friends are tired, and I know they have to be up early, so I don't have the heart to insist that we get dessert. We get the check. Alas, no soufflé for me.
Friday, April 21
My friend, another Robert, invites me to meet him at Ursula for breakfast. There's a line out the door when we arrive, but we snag two seats at the counter. Our seats overlook the entirety of the kitchen, so when the Department of Health walks in, we can see, in uncomfortable detail, the inspection happening in real time. There's a flurry of activity, and, though the ticket machine keeps spouting tickets as the counter staff continues placing orders and diners at tables order via QR codes, the kitchen staff is understandably too discombobulated to send out more than a few plates. I used to work in restaurants, so I know how a DOH inspection can throw everything off. A server brings our lattes along with an apology. It takes somewhere between 30 and 40 minutes for us to get our smothered breakfast burritos, but — good news for Ursula — it gets an A.
I have some time to burn, so I head to Alf Bakery and get a lemon brioche. There should be more lemony laminated pastry in the world. Then I wander over to Té Company for a lemon curd linzer cookie. Then I stop at Stick With Me Sweets for one of Susanna Yoon's bonbons.
For lunch, I meet my friend Holly LaDue at Thai Diner. It's her first time there, so I suggest she get the cabbage rolls, which might be my favorite thing on the menu. I get the lamb laab and a Thai iced tea with coconut milk. We share the coconut ice-cream sundae for dessert, a final perfect bite in New York before I catch a taxi to Penn Station.
I get back to D.C. just in time to host a book talk at Bold Fork Books with the pastry chef Natasha Pickowicz. Her new book, More Than Cake, is pure joy. After the talk, I have a slice of Natasha's carrot cake with black sesame frosting. I finish the night with Natasha and her pal Lindsey at Reveler's Hour with martinis (gin, 50/50, olives), arancini, garlic knots, pasta, and a trio of gelati: chocolate, vanilla, and sour cherry.