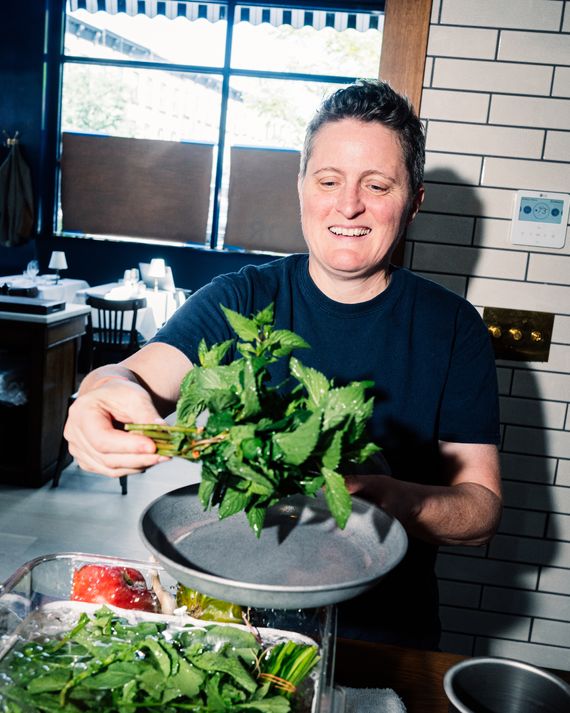 April Bloomfield in Sailor's open kitchen. Photo: Jutharat Pinyodoonyachet
The restaurateur Gabriel Stulman and the chef April Bloomfield are sitting at a booth inside Sailor, the Fort Greene restaurant they will open shortly after Labor Day, discussing a new dish. "It's going to be a piece of cod that's panfried until it's all caramelized and brown with lots of salt, a splash of lemon, resting in butter, and it's going to get placed in a bowl with some soup," Bloomfield says. "It will come with a thick baguette crouton fried in butter. And maybe there's one potato."
Stulman pauses. "Do you see how she does that?" he says. "She breezed right over the soup, and you just know that it was like a seven-step process. There's so much experience in the approach."
The two have been friends for a few years, and one day last summer, they met up at Saraghina, the negronis-and-cortados café on DeKalb. "We were chatting, having a nibble, and then he dropped this little, 'So hey, I've got this place down the street, if you want to go have a look,'" Bloomfield recalls. "I was like, Damn. This was only supposed to be coffee."
Stulman remembers thinking, "I have a 20 percent chance that she will say yes and 80 percent odds she says, 'Fuck off,' or at least, 'No, thanks.'" Instead, she thought it over, and in February, the two announced their partnership with matching posts on Instagram: "We're opening a restaurant in Fort Greene, Brooklyn. That's all we've got to say about it for now," read the caption.
Mussels and radishes. Photo: Jutharat Pinyodoonyachet
Every new restaurant faces its share of questions: Can we squeeze in one more table? Are the Zalto wine stems worth the added expense? Will anyone show up? Sailor faces another that is uniquely its own: Will diners embrace Bloomfield's return to a professional kitchen? In 2017, her business partner Ken Friedman was accused of long-standing sexual harassment at their restaurant the Spotted Pig with complaints that Bloomfield hadn't adequately protected her employees. She left the restaurant and by 2021 had cut ties with her other projects.
In the time since, Bloomfield cooked at a resort in Connecticut; at a farm she co-owns in Cornwall, England; and at her house upstate. Ahead of Sailor's opening, she won't share much — about the past, what she's been up to, or reportedly getting sober in 2019 — and instead talks only about her food. She's planning a recipe for herb-roasted chicken she has spent years perfecting and mussels that are, she says, "simple but quite juicy with lots of bright, punchy flavors." Then there's pork shoulder with vinegar. Veal sweetbreads with lemon, capers, and parsley. Pâté en croûte. "The only heady thing on the menu," Bloomfield says, "are some poached radishes cooked in lambic beer, mixed with a little gastrique, and draped with a bit of lardo."
Stulman and Bloomfield. Photo: Jutharat Pinyodoonyachet
To design the space, Stulman hired Alfredo Paredes, Ralph Lauren's longtime creative director and architecture specialist. He asked for the polish of the Polo Bar with the patina of a Double RL store. (Stulman is clearly aiming for something more ambitious than a typical Brooklyn café.) Sailor's name informed the navy leather barstools, the front window's scalloped linen curtains, and the curved wooden booths modeled on antique British ferry benches.
"It looks nautical," said one neighbor passing by the other day. "That's fair!" replied Stulman, who is best known for his slate of popular West Village restaurants: Joseph Leonard, Jeffrey's Grocery, and Fairfax. Until 2020, he lived within walking distance of them all. After Stulman and his family moved to Fort Greene, he spent six months "doggedly pursuing" the lease for the prime corner space. When it opens, Sailor will seat around 39 people inside, with room for more on the sidewalk in nice weather. "I think this neighborhood could use another good restaurant," Stulman says. "There are a few good ones here already, and they're all mobbed."
The restaurant can seat around 39 diners inside, with additional sidewalk tables when the weather is nice. Photo: Jutharat Pinyodoonyachet