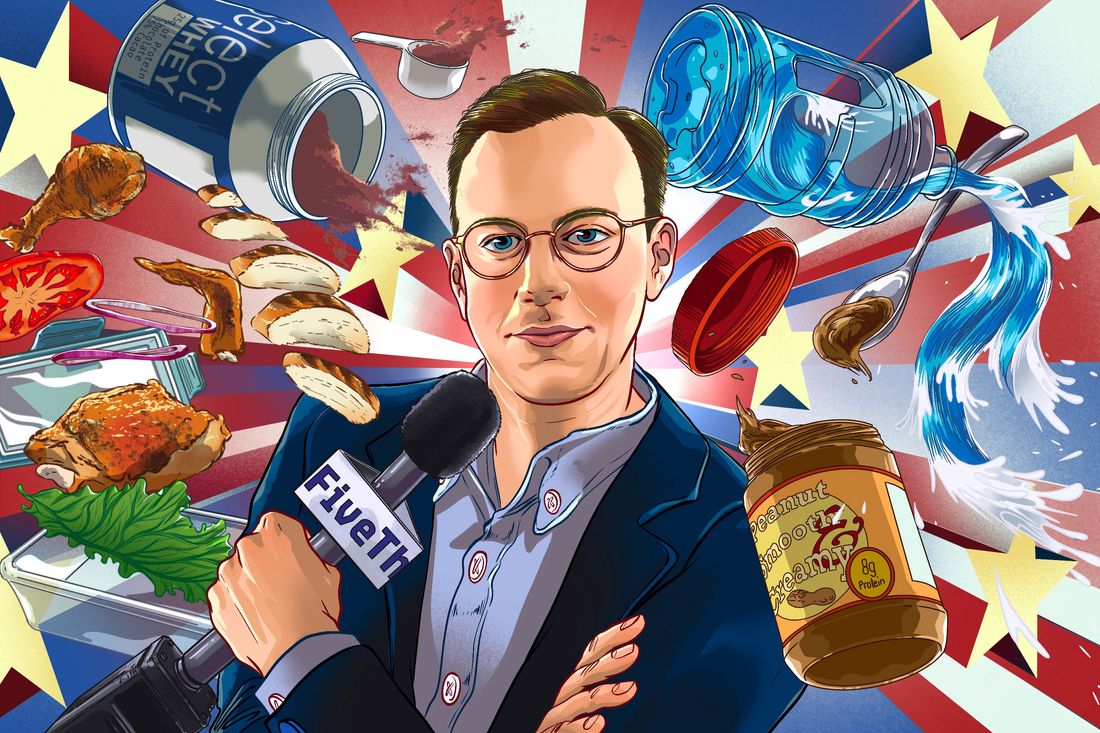 Druke, whose friends have helped him get away from always thinking that food is a chore. Illustration: Adam Mazur
Galen Druke is the host of the popular FiveThirtyEight Politics Podcast — though he's reluctant to admit that he's made a career as a podcast host at all. "Telling people I host a podcast for a living is like telling people I play with Legos, as a profession, in my 30s." (Druke is less bashful when discussing his new Invisalign, even if it's become a chore to constantly take it out and put it in.) Another point of mild embarrassment: a dedication to protein shakes, which Druke dutifully drank this week while following the midterm-primary action, enjoying a chosen-family home-cooked feast, and ordering at least one overpriced cocktail at the Nines.
Tuesday, August 23
I drank my regular breakfast: two Nespresso pods. During the pandemic, I quit eating breakfast, quit chewing nicotine gum, and started running significantly more. I'm probably in the best shape of my life, but I think I'd give it all up to regularly be in a fully staffed newsroom again. I miss the energy and the friendships. Luckily for me, it was primary Election Day in New York, Florida, and Oklahoma, so I headed to the office.
Since I didn't know when I'd have a chance to eat again, I broke my routine and had a bowl of muesli with soy milk around 9:30 a.m. To drink: a can of seltzer.
I walked the 15 minutes from my Hell's Kitchen apartment to the office, where I had a hit with ABC News Live. I directed the audience's attention to the special election in New York's 19th Congressional District, where a Republican and Democrat were competing in a swing district on the issues that could decide the midterms this fall. It was going to be one of the best tests we had of the current political environment. I was mostly off duty until election results started rolling in from Florida that evening, so I headed home. It was lunchtime, but I wanted to work out. I had a protein shake.
This is probably the most embarrassing part of my diet I'll admit to, so I might as well get it out of the way up front. I do not look like the type of person who drinks protein shakes. I only recently started lifting weights — baby weights — because gay 30-somethings without pecs in New York City might as well be invisible. I still don't have pecs. Any day now, though.
Around 3 p.m. I made a tofu-veggie wrap and a salad with leftover quinoa, cucumbers, tomato, and spinach. For dessert, I had a couple of clementines and an apple with peanut butter. To drink: seltzer and decaf espresso.
You might be thinking right about now, This asshole is vegan. I am not. My dad went vegan about a decade ago for health reasons and tried to evangelize the rest of the family. It failed, but he did convince me to eat less meat overall. Since I'm not a good cook anyway, it basically means that I don't cook meat at home. Dinner was takeout from the Meatball Shop, on the corp card, because it was an Election Night. I ordered "The Kitchen Sink," which was roasted carrots, sautéed mushrooms, and white-bean salad with chicken meatballs.
I started watching results come in at home while liveblogging with the FiveThirtyEight team and then headed back into the office at 8:30 p.m. Around ten, I was back on ABC News Live, talking about how the public was reacting to the latest Trump investigations (58 percent of Americans think Trump probably or definitely broke the law as president, including a quarter of Republicans). I also discussed the early results of that special election upstate and why Democrats are favored to keep control of the Senate despite Joe Biden being unpopular.
Closer to midnight, it started to become clear that Democrat Pat Ryan would win against Republican Marc Molinaro in New York's 19th District. It was a poor showing for Republicans and one more data point suggesting the political environment has shifted in Democrats' favor since the Supreme Court decision in Dobbs.
Back at home, I poured myself a large glass of Pinot Noir and double-fisted it with a mug of sleepy-time tea. I also made myself a bowl of late-night snacks: crackers, olives, pickles, clementines, and a banana. The booze and herbal-tea duo unwound my Election Night nerves, and I hit the sack around 1:15 a.m.
Wednesday, August 24
I was up at seven but stayed in bed reading through more Election Night results until I started caffeinating and rehydrating. I downed two Nespresso pods and chugged a few glasses of water. At nine, it was podcasting time. I turned my small dining table into a makeshift studio and hit record. The episode was about the previous night's primary results.
After we finished recording, I went for a run and then headed into the office. On my way, I picked up a salad from Sweetgreen, which I ate at my desk while chitchatting with colleagues. Wednesday is our regular in-office day, and I love to soak in the pre-pandemic office vibes. For dessert, I had a banana, followed by espresso.
A couple of hours later, I had a work meeting over cold brew. The caffeine was pumping.
After work, I went to my friend Nancy's place for dinner. She is the mother of my best friend from high school, Emma. We've become a little family of sorts. Together, Nancy and Emma are responsible for most of what I know about good cooking. My mom passed away when I was 5, and my dad worked long hours and comes from a long line of bad cooks. To be fair, both of his parents grew up one of 13(!) kids, and he grew up one of five, to a busy nurse and Air Force officer. On the spectrum between "chore" and "joy," the Drukes have long seen food as more of a chore. That's mostly how I was raised until I met Emma and Nancy.
I ended up living with Nancy after I graduated from college in 2012 with no job and no concrete plans. She generously invited me to crash in her spare bedroom in New York, from which I tried my hand at journalism while working one of those infamous unpaid internships at WNYC. It was a frantic and unsettling time in my life, as I tried to establish myself in a career that it seemed would never work out. One of the few things that grounded me was making dinner with Nancy in the evenings. I was her sous-chef as we made all kinds of hearty, anxiety-reducing foods like braised chicken thighs, veggie-packed frittata, and mushroom risotto.
After a year of unemployment, I moved to Madison, Wisconsin, for an entry-level public-radio job. But the importance of dinner with Nancy and Emma (and Nancy's boyfriend Jamie) has remained a constant.
I made the mistake of telling Nancy about my Grub Street endeavor, and she truly outdid herself for the benefit of the readers. To start, we had roasted eggplant with marinated tomatoes, tzatziki, and fresh basil. Next was a sautéed shrimp, melon, and feta salad with red onion, cilantro, and lime jalapeño vinaigrette. The first dessert was buttered sweet corn and the second dessert was figs, with sheep's milk cheese and orange chocolate, drizzled with honey and black pepper.
To drink, I brought a rosé and a natural chilled red from Sicily. I may not know good food, but I can spot a booze trend.
By the time we were done, I was two hours late for a friend's birthday drinks. I grabbed a cab to the Nines, where I joined the crew for an eye-popping $26 cocktail made with mezcal, tequila, passionfruit, Chartreuse, and who knows what else. We were celebrating Rosalyn, who plays piano and sings at the Nines on Saturdays. She told me she'd stab me if I tell anyone her age. She looked amazing. I made it home a little past midnight. Invisalign in, lights out.
Thursday, August 25
After two long days, I was up closer to nine. Invisalign out, espresso in.
I was supposed to be up early to move my dad's car for street cleaning in Fort Greene, but I decided before bed to risk a ticket. My dad was on vacation at the time, but he moved to the city from upstate in October of 2020 when everyone was doing the reverse. They zig, you zag. My brother and I were born in Flushing, but over time we moved to Ossining, then outside Syracuse. This is my dad's first time living in the city since the early '90s, and he loves it. If he were in town this week, we probably would've grabbed dinner at one of our regular spots in Hell's Kitchen: Pure Thai Cookhouse, Norma, El Centro.
I started working and ate my first meal of the day at 1:15 p.m. It was leftover eggplant and shrimp with melon from Nancy's. They were a little misshapen from spending an hour and a half in the coat check of the Nines, but still delicious. For dessert, a banana with peanut butter. All of this was eaten standing up. Back on the "food as chore" end of the spectrum. After all, my dining table is currently a podcast studio.
After work, I headed to dinner in Fort Greene with two cartons of eggs in tow. I don't always have much in the way of groceries, but I made sure to order them this week to avoid turning this into Sweetgreen spon-con. The delivery accidentally came with three cartons of eggs instead of one, and as a single person who doesn't really like eggs anyway, I didn't have much use for the 42 eggs in my fridge. I tried to pawn them off on friends.
On the way to dinner, I checked my dad's car. No ticket. That means two weeks of free parking in New York City. What a bizarre system.
I had dinner with two of my best friends from college — Daniel and Elliana — at Saraghina Caffè. My ex dubbed our particular trio "the Danger Crew," I assume because, once together, we exacerbate each other's extroverted, thrill-seeking tendencies. Tonight we were celebrating Elliana's birthday. If Nancy and Emma are responsible for introducing me to good cooking, Daniel and Elliana are responsible for introducing me to good restaurants.
I cringe at the prices at spendy places, but these two live to try a new menu. And I live to spend time with friends, so I swallowed my reservations and picked up my fork. What is dining in New York City if not a class-conscious experience, anyway?
My only stipulation for the restaurants where we eat is that there's something I can eat. I have celiac, which means I can't eat gluten. It's not the vague intolerance, but the autoimmune disease where your immune system attacks the villi in your intestines when you eat gluten. I've waited this long in my Grub Street Diet to share this news because it's something that I find extremely annoying about myself. I have spent hours of my life apologizing to servers and friends' parents for my gluten-free-ness. I am well aware that trend dieters have given us a reputation of being at best precious and at worst Munchausen patients.
Lucky for me, Saraghina Caffè had plenty of options. We always order for the table, so Elliana and Daniel graciously went with me on my gluten-free adventure. We had oysters, burrata with tomatoes and peaches, escarole and robiola gluten-free pizza, gluten-free pasta with wild boar ragù, roasted chicken, and a side of corn. The chicken slapped. It was a half-chicken, bones removed, pounded out, and brick-roasted with loads of lemon, rosemary, garlic, and jus. As someone who gets stuck ordering chicken a lot because it's the GF option, I could vouch for this chicken.
To drink, we had a couple of cocktails followed by Amaro. For dessert, meringue, and ice cream while the restaurant joined us in singing "happy birthday" to Elliana.
Saraghina Caffè was something of a sentimental place to celebrate Elliana's birthday. When I was 25 and had just moved back to the city, Daniel and I lived together in a run-down two-bedroom close to Saraghina's original location in eastern Bed-Stuy. At the time, Daniel was a butcher's apprentice at Dickson's Farmstand Meats, Elliana was a student, and I was freelancing. The original Saraghina was a pizzeria where we'd sit at the bar and try to make friends with other 20-somethings. It's not lost on us that we've all grown up a lot since then. Saraghina now does fine dining for the Bobos of Fort Greene who have enough dough to eat their pizzas under designer lighting. And we were eating alongside them!
Dinner ended, but the danger crew wanted more, so we bought a pack of cigarettes and smoked them under sworn secrecy until it was finally time for bed.
Friday, August 26
I got distracted while trying to work, and so — at 11:15 — I decided to actually eat breakfast. It was muesli, a banana with peanut butter, half an apple, and a seltzer. At 2:30, I went back to the kitchen for a tofu-veggie wrap, leftover green beans, the other half of the apple, more seltzer, and more espresso. My meals at home often involve a walk back and forth between the kitchen and my desk until I'm full. There was no plan.
Work ended, and it was the weekend! I ate a dinner of microwaved nachos, muesli, and grapefruit. Again, there was no plan. Without my good-food sherpas, the act of eating was back to being a chore.
I headed to my friend Nithan's place for some rosé, and then we left to see another friend, Noam. Noam owns the Comedy Cellar, along with the restaurant above it, the Olive Tree. I met him in 2016 when I went to the Comedy Cellar to watch Sally Kohn and Ann Coulter debate the topic "Is American conservatism hostile to women?" It was exactly as much of a mess as you'd imagine and ended in full-on pandemonium amongst the crowd. If you're wondering why that debate was happening at the Comedy Cellar in the first place, it's largely because, while Noam's business is comedy, his hobby is debating politics. He's a trained lawyer and invites journalists, thinkers, and quirky New Yorkers of all stripes to poke and prod and befriend. I'm lucky to be one of them. I downed a Greek salad and an Aperol Spritz, then Nithan and I had espresso martinis (both not drinks of the summer) and headed to Williamsburg to hit up the gay bars — the Exley, then Metropolitan — before going back home.
In the cab to Hell's Kitchen, I asked whether the three-day-old meatballs in my fridge were okay to eat. Nithan and Cezanne scolded me. "Of course they're fine!" "This is why Americans waste so much food!"
At 2 a.m. I dug into my three-day-old meatballs and a bowl of ice cream. Time for bed.