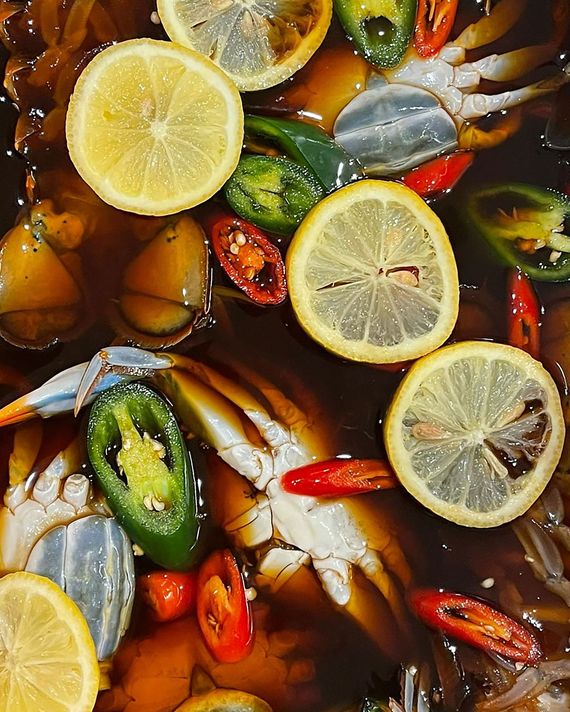 Ganjang gejang from Rice Thief. Photo: Haiqi Yu
Every Asian baddie I know has been talking about Rice Thief, a ghost kitchen in Sunnyside that turns out batches of ganjang gejang, raw crab marinated in soy sauce and aromatics. News of the Korean delicacy's arrival last year spread through group chats: "Study this menu," said one friend, dropping in the PDF. Another quickly responded, "If you don't invite me I will drown myself in soy sauce." It wasn't just the people in my immediate vicinity, either: Social media has a way of seizing on weirdly specific things, and raw crab has become an unexpected star of mukbangs and TikToks, like a clip posted by a dietician named Blair Cooley, who tried a spicy version from H Mart made with gochugaru marinade for the first time only to declare, "I don't know how I feel about, like, the fishiness taste."
Gejang is not for the timid. There is a return-to-the-sea barbarism about cracking, squeezing, and extracting the uncooked meat of a crab from its exoskeleton — an inescapable reminder that you are eating a large bug. As a rule, females are preferred because of the stashes of bright-orange roe they carry inside: briny, pure, ecstatic pleasure, as if you were eating the ocean's flesh. Koreans like to ask if you "know" how to eat something, and watching non-Korean influencers delicately pick apart soy-soaked shells, it's clear that knowledge eludes some. To this longtime lover of ganjang gejang, its social-media ascent is like watching a beloved indie musician get the call to open for Harry Styles: Well, I listened to Mitski before Be the Cowboy.
While it would have been absolutely metal if my mom had packed raw crab in my school lunch, I did not eat it until I was an adult living in Korea. My favorite version of the dish is now at Soban in Los Angeles. Anytime I'm in the city, I stop by the little shop on Olympic Boulevard to get my fix. It sets a high bar for Rice Thief to clear. I planned for a Sunday brunch delivery with six friends who best understand that eating well means abandoning one's own vanity.
I placed my order a week early through Instagram (WeChat is also an option) and was rewarded for planning ahead: The kitchen is a three-person operation, and I could sense a harried energy as they dealt with their surging popularity. By Tuesday afternoon, they posted that they were already sold out for the week ahead. Prone to fears there would not be enough food, I ordered wild Argentinian red shrimp, abalone, Hokkaido scallops, and jokbal (braised pig's trotters) in addition to the crab. I enlisted my friend Jodie, who lives in Queens, to bring nearly $400 in cash to make the exchange at a takeout hub called Sunnyside Eats. To round everything out, I also ordered over a dozen side dishes — baby anchovies, minari, cucumber kimchi — from Hooni Kim's Little Banchan Shop, a to-go store and delivery operation in Long Island City, as well as four bottles of makgeolli from Hana, Alice Jun's brewery in Greenpoint.
I'm sorry to report that the crab at Rice Thief did not fulfill the fantasy. The problem was clear from the outset: The crabs hadn't marinated long enough. The flesh was too white and too firm, as though the crustaceans had taken just a quick dip. Moreover, the gills hadn't been removed, nor the belly cut into segments, so we needed to use our own kitchen scissors to get to the meat. The meal became a high-labor, low-reward afternoon. Still, greedy and persistent little grub that I am, I used the top half of the shell like a bowl for rice to soak up any lingering morsels of meat or roe, affirming gejang's reputation as a dish that "steals" all of the rice on table.
Unfortunately, the rice itself was similarly disappointing. It's the packaged, microwavable variety, and even though it only cost $1, the better move would be to make a fresh pot at home. But Rice Thief's shrimp were true scene-stealers: plump, five-inch suckers with most of the shells removed and the heads left intact. The meat had the sweet, creamy unctuousness I'd been craving and was robust enough to stand up to the soy before allowing for a quick hit of shrimp brain at the end. The real revelation was the cornucopia of home cooking from Little Banchan Shop, which puts a great deal of care into dishes that are often taken for granted: The sticky, chewy strands of dried squid and the strips of fish cake doused in sesame and soy all disappeared immediately. The next day, I warmed up its seaweed soup, which comes in a pouch like a big Capri Sun, and mixed myself a little bibimbap with spinach, bean sprouts, and pickled radishes for breakfast.
My itch, however, remained unscratched, the pangs made more acute by the fact that gejang is still hard to come by in New York. There's a spicy version at the undisputed best Korean restaurant in New York, Cho Dang Gol, and I like it, but the soy-based recipe is a purer preparation because of its relative simplicity. Since technically New Jersey is outside of this newsletter's purview (or is it?), I would have to venture deep into Queens' Murray Hill, where there's an entire ecosystem of restaurants, cafés, and grocery stores. I gathered another group for a weeknight outing to go to Hahm Ji Bach, a 24-hour Korean barbecue with an expansive menu that includes crowd-pleasing items like seafood pancakes as well as rarer options such as braised monkfish, barley rice with pickled radish tops, and, of course, gejang.
The restaurant was full for a Wednesday night but not packed. We tried some of the more uncommon barbecue options — including black pig, a Jeju Island specialty known for its richer flavor — before we got to the crab, which, for $23, came with a bubbling side of dwenjang jjigae. Two blue crabs were properly cut into pieces, with a scattering of sesame seeds. I tasted the liquid — spicy, garlicky, good — and sucked on a leg. I watched as two aunties, one wearing a red rhinestone jacket, sat down at a table next to us, and got an order to share. I knew this would hold me over until my next trip to L.A.