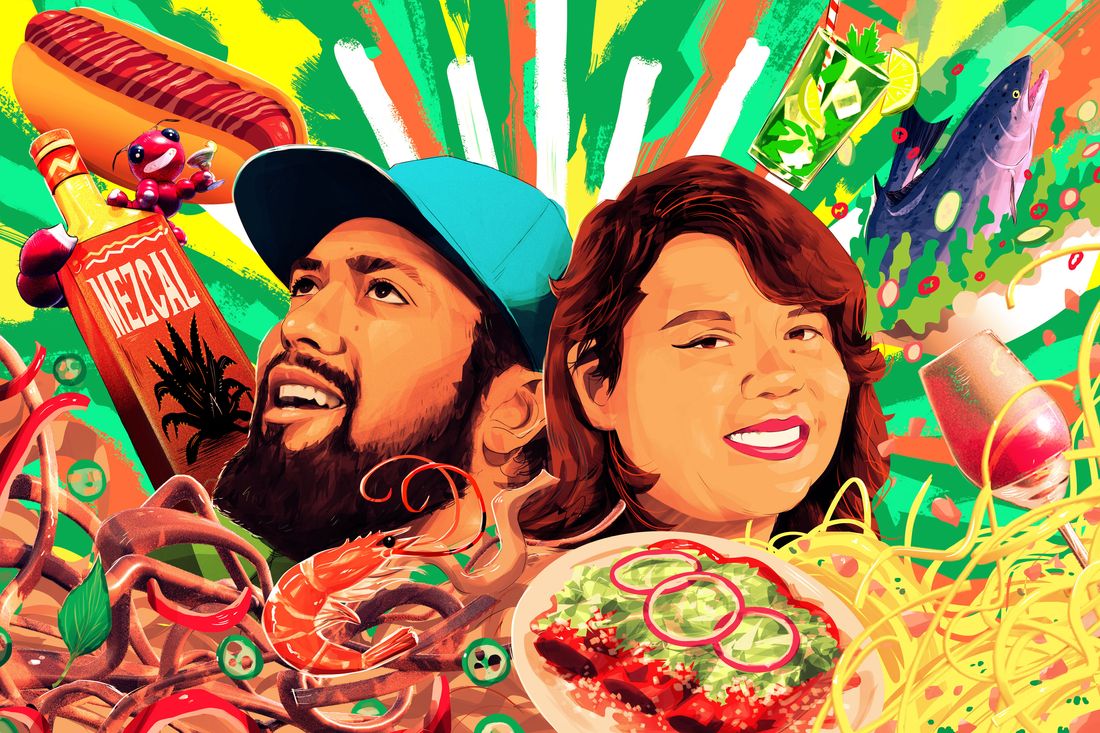 Illustration: Ryan Inzana
On Thursday, the second season of Netflix's Gentefied premiered. Described by our pals at Vulture as "a bilingual love letter to Boyle Heights," the show centers around three cousins and a family taqueria. For co-creators Linda Yvette Chávez and Marvin Lemus, eating together — and arguing about the food — played a big part in developing the show, and Chávez still can't believe Lemus thinks Kogi has the best tacos in L.A. "That's just sacrilege," she says. "I can't believe he hasn't been struck by lightning for that blasphemy yet. I mean they're delicious, but the best taco in Los Angeles? Come on!"
Tuesday, November 2
Marvin Lemus: I woke up with a craving for some huevos con weenies. (Translation: Scrambled eggs and sliced hot dogs). You won't find this on any Mexican restaurant menus, but trust me when I tell you this is a staple in every Mexican household. It actually bothers me that this isn't something I can order at a taqueria. Linda and I talked a lot about this during the first season. It's one of those quick, cheap dishes I ate WAY too many times as a kid and vowed never to eat as an adult.
That and a plate of rice and beans. I still remember holding back tears once when I had to eat rice and beans for the eighth day in a row. But you know, broke parents do what they gotta do. Hence, spicing up scrambled eggs with some chopped-up hot dogs. And today, I needed to eat something that reminded me of home. But I'm bougie now, so of course I'm using all-beef franks. I don't fuck with that byproduct wiener. I'm not basic. The only thing I didn't have was some tortillas. Anyway, I just really wanted to start this fancy food journal with some busted-ass broke-kid breakfast to let you all know I'm grounded and humble.
Then, like most mornings, I walked my daughter (my Chiweenie Coco) to pick up a black coffee from Super Domestic Coffee. My dog wore her knitted turtleneck sweater. So I guess I'm not that grounded.
Linda Yvette Chávez: I had a few very late nights in a row. You would think Halloween and my adorable Tinkerbell costume were to blame, but it was something much cuter, a revision of a feature the homie America Ferrera (an early supporter and executive producer of the show) is directing next year. Couple that with early morning interviews with America and Marvin and I had what all workaholics have for breakfast, tea and air. That part, not so cute. I scavenged my fridge close to noon and found a frozen spinach-and-ricotta pizza from Sprouts that claims to be made in Italy. I tossed it in the oven and savored a few slices. I've never been to Italy, so they clearly have me fooled 'cause that pizza's pretty delicious and I'm convinced it was really made in Italy and not a factory in Cudahy, California.
I became like a bird at a park throughout the day, pecking at that pizza between writing, meetings, and other craziness. I work from home these days, and the fridge is where the heart is it would seem.
ML: For dinner, I was feeling a little bit of a cold coming on. I freaked out thinking it was COVID, but I would have to take a test for the Gentefied event tomorrow night and it would turn out negative. I needed some hearty chicken soup, so I ordered a big-ass bowl of red pozole from Madre Oaxacan Restaurant. Besides my grandma's, Madre Oaxaca makes the best gotdamn pozole I've ever had in my life.
To be entirely honest, it's better than my grandma's. Please don't tell her. Like, holy shit it's soo good. The broth is so thick. I actually thought I accidentally ordered curry when I opened it. I think they might use red adobo in it.
LYC: We both got dinner from Madre's, actually. As the day progressed I started to feel under the weather, too. I asked Marvin and his girlfriend Jessica what great caldos (soups) they'd recommend in the area. I recently moved to Culver City here in West L.A. from southeast Los Angeles, where I grew up. They've lived here six years, so I count on them to give me the real on Mexican food in the area. They pointed me towards Madre's for the pozole. It's one of Marvin's absolute favorites. I've been here with them before. I'm not normally a pozole fan, I grew up on my Mamá Fina's menudo, but gotdamn does this pozole hit the spot. It has this creaminess to the caldo that I try to make out, but can't quite put my finger on. The hominy is next level. The chicken's a touch dry, but I'll forgive that because the flavor sings.
ML: I really love this restaurant. It's truly a hidden gem and has the best Oaxacan food in town. The other reason I'm obsessed with them is their AMAZING mezcal cocktails with great names like "Kate Y EL Chapo." I'm a mezcal freak, so this place has my whole heart. Jessica got enchiladas de res (beef) smothered in a sweet mole Coloradito sauce. They're delicious, but the pozole was soothing the hell out of my sniffles.
Wednesday, November 3
ML: It was the premiere of season two, so I was frantic when I woke up. Jess cooked me up an omelette and used the leftover Coloradito enchiladas. She wasn't sure if it would be good, but it was da bomb. I called Jess the leftover queen. "I'm the leftover princess. My grandma is the leftover queen." This is true. I've heard lots of stories about the intensity with which her grandma would use every leftover in the fridge on Fridays to make a meal. We both agreed that the omelette could've used more mole. This is our usual routine. Tasting dishes and figuring out what would make it even better.
I ran around trying to find a beanie to wear with my outfit, so I ended up forgetting about lunch. I ate a Builder's protein bar so I wouldn't pass out. I just started lifting weights, so I've become one of those bros obsessed with protein.
LYC: Wednesday was a wash for me. I got sick and spent my day devouring nothing but homemade chicken ramen soup and Gatorade. I also ended up missing our premiere at BLVD MRKT in Montebello, where I hear the Mamá Fina taco is divine. I try not to let it completely devastate me.
I heard about the market long before Netflix pitched it to us. I had heard it buzzing about Chicano and Latine foodie circles for a minute and it had been sent to me via DM by my besties, Gilberto and Janet. I love how these homegrown foodie spots where Latine immigrants and first-gen kids come together to support each other and hold community come about. We're all just looking for a place to call home that encapsulates all of what we are, American and Mexican, American and Ecuadorian, American and *insert motherland here*. There's so much beauty in that. We exist all over Los Angeles in these ways, and it makes me so emotional just thinking about it.
ML: The premiere party for Gentefied was basically a FEAST. The market has an incubator program called "Gentefy" that helps street vendors and other aspiring restaurateurs of color learn. For the night, Netflix asked the vendors to make a dish inspired by the show. Los Taquero Mucho made a chicharrón con carne taco called "Mamá Fina's Legacy." It was FIRE. Had a pico de gallo, drizzled with mango chipotle sauce and topped with queso cotija. NOLA, a Cajun spot made "Los Nietos" jambalaya. Pez Cantina made an albacore tuna tostada called "Fish Out of Water" as a reference to Chris's character. It was so good — it had avocado crema, fennel, red onion, and ponzu sauce. VCHOS Pupuseria made a "Mushroom Trip" pupusa, a reference to one of the episodes I directed where Chris and Erik take mushrooms to work through their issues. Jess kept bringing me dishes and I was able to eat a few. My fave might've been the pork-belly cochinita pibil from Los Taquero Mucho, a big slab of pork belly cooked Yucateco style in a tortilla. Like, how can you go wrong with that? I also had plenty of mezcal cocktails.
The party wrapped up early and Jess was shameless and boxed up to-go orders from almost every vendor. She was on a tear. I wanted to tell her to be classy and not do that, but I knew I really wanted to try all the dishes later.
Thursday, November 4
ML: I reheated the shrimp po'boy from NOLA. Good Lord. I really love Cajun flavors. The shrimp was breaded to perfection and the roll was so good, even the next day. As you can tell, I'm big on leftovers. It makes my life so much easier.
LYC: Breakfast for me was a protein smoothie with frozen blueberries, strawberries, oats, and coconut milk. This is my normal morning. I usually have it post-workout or post a run. I chock it full of vitamins to boost my immunity. I did not grow up on fruit smoothies for breakfast. I grew up on chilaquiles con huevitos and huevos rancheros. But I think Hollywood has had a bad influence on me. Kidding. Sort of.
I had a bit of leftover pozole from Madre's for lunch. Still delicious even a few days later. The guacamole there is also blissful. You could lock me up for eternity with avocados and I'd never tire of them. And no, it's not a "Californian thing." It's a Mexican thing, pues it's this Mexican's thing at least. I don't want any avocado-hating Mexicans to come after me. Pero, like, what kind of Mexican doesn't like avocados? Anyhow, I digress.
ML: So since I'm writing this food journal, I figured anything I order is considered a write-off. Like, I HAD to eat my favorite foods for work. So I ordered a feast from Din Tai Fung. I actually have never ordered from here, but everyone always talks about it so I decide this is a good time. Jessica introduced me to dim sum on one of our first dates. We typically go to CBS Seafood in Chinatown. It's a spot her family has been going since she was a kid. The pork shumai and BBQ pork buns are my favorite there. We order shrimp and pork wontons with spicy sauce, Jidori chicken fried noodles, Kurobuta pork xiao long bao, and some sautéed string beans with garlic. The wontons with the spicy sauce drizzled all over are so bold. It's got a kick, but I wouldn't call it spicy-spicy. The soup dumplings are super cute. It comes with shaved ginger to garnish each one. I end up drizzling the spicy sauce all over them. Because I'm Mexican like that.
LYC: For dinner, I'm still up for meeting with my best friend from college, Pat. She's only in town for a short time. She's staying in Newport Beach where her husband grew up. She was the first person I met at my dorm at Stanford. A Hong Kong transplant and a Chicana from Los Angeles, and somehow we bonded immediately. Most likely because neither one of us felt like we belonged in this predominantly white institution where everyone had already read most of our freshman texts in the original Latin in high school.
We met halfway in Long Beach at Saint & Second. I love Long Beach with all my heart. A lot of us who grew up on the cusp of Los Angeles and Orange County do. It's no stranger to gentrification, but there's a more grounded vibe to a lot of the folks here. I love that a lot of young professionals of color live and work here. I've wanted to try Saint & Second for a long time and the food doesn't disappoint. I have the Skuna Bay salmon but with a chimichurri sauce because I can't have the hazelnuts. It comes with yummy green beans and a crème fraîche mashed potato. But it's their roasted Brussel sprouts that I want to spoon like a sweet lover. Good God, so good.
Friday, November 15
ML: I reheated fried noodles from Din Tai Fung. If you haven't caught on by now, I usually order too much so I have leftovers and don't gotta deal with cooking the next day. I love me some fried noodles. Like, I love Mexican food with all my heart because it's my culture, but I feel like Asian flavors are the pinnacle of the culinary experience. That is until I'm inhaling some al pastor tacos. I shouldn't be comparing these things. There's space for all of it. My favorite menus tend to be those chefs that have found inspiration from where they come from and added something of what makes them unique. It's the same thing I try to do with my work. How do you honor the old while getting out of your comfort zone. So yeah, I ate the noodles for breakfast.
LYC: Marvin and Jess were sweet enough to leave breakfast at my doorstep. Jess does this often. She's been by our side ever since we wrote the digital series, always making us snacks, drinks, and meals. She's nurtured us every step of the way and I'm eternally grateful for that love she's given us on this journey. She's a spectacular cook in her own right, so anything she recommends I'm always excited to try. Go Get 'Em Tiger was one of the first breakfast places she and Marvin suggested when I first moved to the neighborhood. The name cracked me up. I was like, well that's hella white. But goodness, the soft scramble on the biscuit with avocado is a freaking spiritual experience. I want to order it every day, but practice deep breathing instead.
For lunch, I met Gilberto and Janet at Balam, an adorable-ass taco spot in the heart of Lynwood, near Plaza Mexico. I tell them I'm doing a fancy food diary for a magazine and I want to write about this spot. They say they don't need an excuse to eat tacos. This is why I love them. We've known each other since we were 12 years old — all three of us children of immigrants, all three of us bonded by our shared traumas and our shared healing. Janet is my hero when it comes to food. She can put away a football-sized burrito and a tray of tacos in one sitting. She makes eating food look like an Olympic sport and yet still manages to look as fit as an Olympian. And anyone who knows Gilberto knows his name is synonymous with carne asada tacos. In fact, if you know Gilberto you know his order — five carne asada tacos, no onion, extra chile.
At Balam, we ordered something slightly different. We got their tacos de rajas, coconut shrimp, cochinita pibil, and barbacoa. If Janet were left to her own devices, we'd have one of every taco. Did I mention I love this woman? This is not traditional Mexican, but that's what we do when we come to the States, we mess up our parents' perfect traditions and recipes! It actually reminds me of an episode in season one where Chris tries to make a chicken tikka masala taco. The older generation makes fun of him for days. Well, I've brought my parents here before and they were very confused by what was in their tacos. My dad's favorite line for something that's not what he's used to eating is, "This is very healthy," even when it's not necessarily healthy. But let me tell you, he devoured every bite of his tacos here.
ML: Another dinner, another write-off. Eating the noodles this morning made me crave my favorite taqueria. And while this is very controversial, my favorite tacos in all of L.A. are Kogi's. Chef Roy Choi has my heart forever and ever. His food just captures all of L.A. in the most perfect way. However, when I'm in need of al pastor, I fuck 'em up at Leo's Tacos. They have a few trucks, but I frequent the OG truck on La Brea and Venice.
From Kogi, I ordered a blackjack quesadilla and a chicken OG Kogi burrito for Saturday. The blackjack quesadilla has caramelized onions, spicy pork, and cheddar and jack cheeses. Then the whole thing is topped with what is the secret to Kogi's success: their original salsa verde. I had to look it up, but it's citrus, jalapeño, and roasted garlic. Typically a salsa verde is made from tomatillo. I'm not sure if Kogi's does the same, but I would imagine it does. Whatever it is, it's what makes all the flavors pop.
LYC: For dinner, I went back home to Culver City and ordered from one of my favorites, Met Him at a Bar. It is still pandemic times so I'm not at restaurants as much as I used to love to be, but I still love ordering a fancy meal in. I got the linguine alfredo, and of course their lemon glazed donut with vanilla ice cream and whipped cream. I am not a donut person. I repeat, I AM NOT A DONUT PERSON. But the first time I tried this it felt like someone put a piece of heaven in my mouth. I know that sounds dirty. Yes, the experience of eating this dessert almost feels dirty.
Saturday, November 6
LYC: I headed to my parents for the weekend because if I don't visit at least once a week, my mother thinks I don't love her anymore. The fact that I don't call every day already has me on shaky ground. I think this is what every Mexican daughter signs up for when she's born. I've told my mother that in exchange for my eternal love she must make her enchiladas for this food diary of mine. Because there's nothing I love more than her enchiladas.
Don't worry, I didn't starve after I got there. There was something to throw together from the fridge for breakfast. A quick guisado can always be made. My mom never fails to have some type of tortilla, cheese, beans, chile combo to pull together. Like I mentioned before, growing up, breakfast was always chilaquiles or huevos rancheros. This morning, I grabbed some tortillas my mom picked up fresh from Northgate and fried them. I cook some eggs over easy and had the most basic and simple of huevos rancheros topped with a homemade tomatillo salsa my mother made. My mom always proudly saves me her tomatillo salsas when they come out good. She knows it's my favorite. "Mira mija, aqui te aguarde un poquito de chilito, mi preciosa. Andale, hazte un taquito." And you know what? I absolutely love it.
ML:  I drove out to Glendale to get new headshots taken by a friend. Because I'm rarely on this side of town anymore, I had to swing by WOON. They make the most incredible, homemade Chinese chewy noodles.
Keegan Fong, the owner, started this menu inspired by his mother's Chinese comfort food. The love and feeling of home really comes through in the food. My buddy Nash, the most professional foodie I know, turned me onto this place a couple years back and I've been obsessed ever since. It's a good thing I live on the other side of town because I could easily eat here every other day. Which is why I order four beef noodles to go so I can have more on Sunday. I had to make this trip worth it.
These noodles are so perfectly cooked. They're thick, chewy stir-fried noodles with chopped up marinated flank steak, bok choy, and shiitake mushrooms. I also ordered a side of the scallion pancakes. This ended up being the star for me. It was so perfectly crispy on the outside and so doughy in the center. This is the kind of spot that makes me think of what Chris wants to turn Mamá Fina's into — first-gen immigrant kids in this country creating spaces in a world that feels like home, but also encompasses their American identity. It holds space for all of it.
LYC: The family gathered for enchilada time. My father, my brother Alex, sister Mags, and brother Daniel, and my niece Aurora. Everyone bustles in and out of the kitchen, stealing bits of cheese when my mother shreds it. Coughing as the chiles toast. The recipe is my grandmother's, my Mamá Fina's. Mamá Fina in the series was named after her. My grandmother, like the character, was a legendary cook. I can't begin to describe the stories that surround her recipes. All of my extended family, my cousins, the real Morales family, all have so many fond memories around our grandma's food. It wasn't just her enchiladas that were legendary, her tamales, her mole, her chiles rellenos. The woman was a genius.
The chile sauce for her enchiladas has like six different chiles in it. It's really the sauce that makes these my favorites, and the fact that the tortillas are dipped in the salsa and deep fried before being filled with cheese. I've never understood this nonsense of baking enchiladas.
My mother serves enchiladas like she's running a factory line, the minute they come off the pan they're on the table and you sit to eat, whether or not everyone else has been served. So we all circled about as the Alexa played my grandmother's favorite Juan Gabriel songs. We made our way through the factory line as my mother asked each of us, "How many?" I always ask for four. And here's the real kicker, my mom hates to cook. But sometimes she does it out of love. Love for us and love for her mami. She'll put my grandmother's photo on her altar, light a candle, and ask her to bless her with her gift when she cooks. I saw her searching for her mother in the morsels of the food once made for her as well. Because my mother was her mother's baby, too, and Mamá Fina would save her little Tupperwares of love for her visits on the weekends as well. And the thought of that, well, I can't even begin to describe how it makes me feel. Gratitude. Just a lot of gratitude.