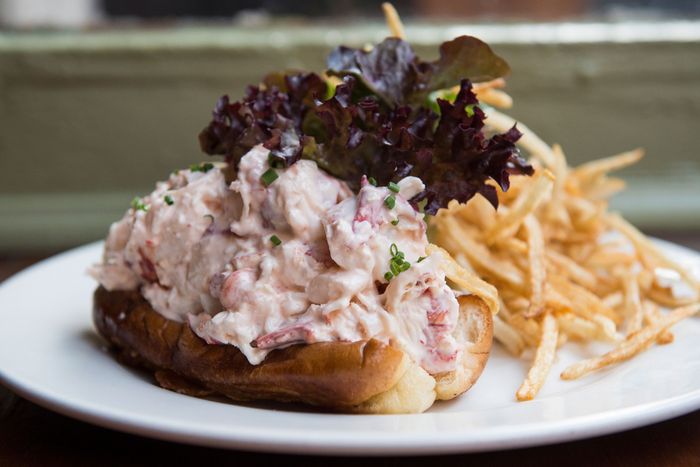 The Pearl lobster roll, which quickly became its signature and inspired countless imitators. Photo: Evan Sung/The New York Times/Redux
Cornelia Street has always been a draw unto itself, a football-field-long path acting as a forgotten Manhattan intermission between the hustle of Bleecker and West 4th Streets, which bookend it. The stretch became something of a destination for reputable restaurants, such as now-disgraced chef Mario Batali's debut venture Po and the French rendezvous spot Le Gigot. The year 1997 saw the arrival of Pearl Oyster Bar, a seafood counter inspired by the summers its owner spent in New England. This destination anchored the whole little stretch for its entire existence and ushered in a golden age for lobster rolls and raw bars, the effects of which are very much still being felt today, even after the restaurant shuttered late last month, owing to what owner and chef Rebecca Charles calls "more than a perfect storm" of calamities.
Among them, the universal (dwindling staff during COVID, the rising cost of seafood) and the specific (loans to be paid, an expansion to Maine that also closed during the pandemic). "I am wasted from the emotional and physical toll this has taken" Charles tells me from her home in Kennebunk. She says she could see the end of Pearl — which she'd originally named after her grandmother, Pearle — as far back as 2019, but at the time, "I just couldn't accept the idea of closing it."
During its two opening windows each day (a leisurely lunch until 2:30 and a more popular dinner service), you could nearly always see Charles — who opened the restaurant with her then-partner Mary Redding — at the bar's end, in the semi-open kitchen, starched white chef jacket on, multitasking pots and pans on stoves in the teensy kitchen. If you waved to her, she might yell, eyes averted, "Not now." Later, after closing time, you'd often find her sipping a Sea Breeze at the Cornelia Street Café bar down the block.
Nearly immediately, Pearl's lobster roll — toasted, top-split Pepperidge Farm bun, spilling over with chilled tail, knuckle, and claw meat dressed in Hellmann's and celery — became a runaway hit. (Ruth Reichl told Down East in 2016: "When Rebecca Charles opened up Pearl, nobody was eating lobster rolls. Then suddenly, they were all over the place.") Served with a nest of crisp shoestrings, there were nights when it could be seen at every table. It was never meant to be a signature, says Charles, and its success did not necessarily translate to financial freedom: "There's just no way to make money on a lobster roll," the chef sighs. "It's like running a charity — making a lot of people happy but not making a lot of money."
Pearl was always crammed with happy people. At the beginning, before an expansion into the next-door space, there was seating for fewer than 30 people. The bar, on one side, sat a dozen. Mere feet behind it were ten more stools for the unfortunate, facing a wall and granted maybe a foot and a half of counter space to eat. In the middle were the stand-ups, drinking and knocking over cutlery at tables on either side. There was just one window-table four-top, that, Charles says, "was fought over vigilantly." It was boisterous and annoying and I loved it.
Aside from the lobster roll, the chowder was sublime, afloat with littleneck clams and smoked bacon. There were some sizable salt-crusted shrimp, the classic Caesar salad, and a blueberry pie that became a favorite of Leonardo DiCaprio. Does any of this sound special? You'd be surprised how few restaurants know to leave things alone. "The brilliant thing that Rebecca Charles did was to elevate this fishermen's food — and she was brilliant enough to not complicate it," says Michael Landgarten, the owner of Bayley's Lobster Pound in Scarborough, Maine.
Things did, however, become complicated. Charles and Redding split, the latter going on to open Mary's Fish Camp blocks away from Pearl. Ed McFarland, Charles's former sous-chef, opened his own New England–style restaurant as well: Ed's Lobster Bar. It so mimed the "yar" lines of Pearl that Charles sued him for plagiarism of space and menu, a suit that was eventually settled out of court.
Those spots are both still open, but they've never had the pull of Pearl. "Rebecca scored a very high Zagat rating pretty quickly," says Jared Paul Stern, a Maine-based journalist and a Pearl regular for nearly a decade, "which is when the lines started to form outside." The celebrities followed: "Everyone, including neighborhood actresses like Uma Thurman, had to wait their turn. When I was there and Brooke Shields came in, she waited patiently like everyone else."
James Gandolfini, as Tony Soprano, yearned for its excellence, post-stroke, in a 2006 episode of The Sopranos. In his hospital gown in bed, he says to Edie Falco's Carmela after she asks what would be the meal of his dreams: "Pearl's Oyster Bar … the lobster roll."
"When Gandolfini finally came into the restaurant," recalls Charles, "I said to him, 'Well, now you can understand what it's about' — meaning the lobster roll." He didn't know what Charles was talking about. "So I had to remind him of the line he uttered when he came out of his coma. He didn't remember that, either," she laughs. "Just an actor saying lines!"
Sopranos creator David Chase was a fan of the restaurant, however, as were executive producers Robin Green and Mitchell Burgess. "We'd been living in L.A. for 30 years," says Green, who is married to Burgess. "When we came here to write and produce The Sopranos, we found a place in the Village to live. I'd been missing steamers and lobsters that I grew up with in New England." Then she and Burgess found Pearl. "It was always like coming home," Green says. "Nobody had a better shrimp cocktail, ever."