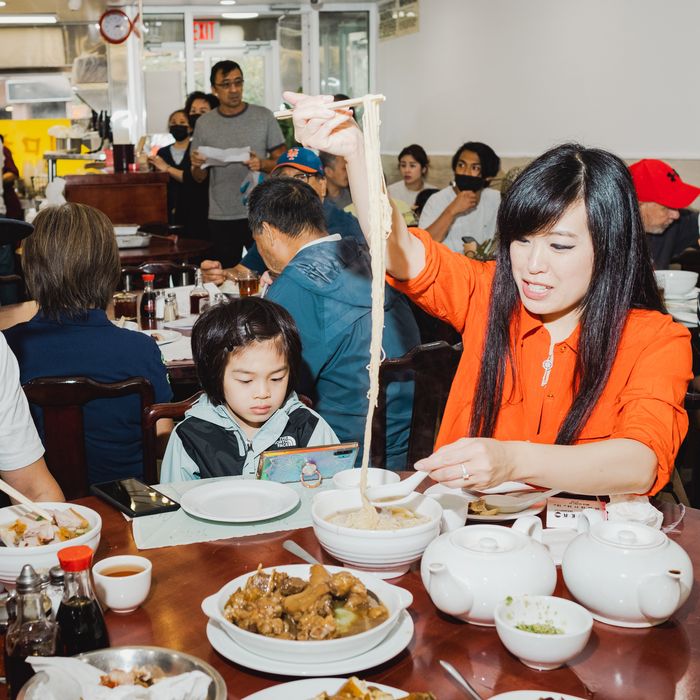 Customers at Great N.Y. Noodletown on Wednesday. Photo: Lanna Apisukh
Six months ago, I was walking in Chinatown and noticed, from across the street, that Great N.Y. Noodletown's shutters were down. It had been a long couple of years for New York's restaurants, and I plunged into despair: Was Noodletown's reign over?
Thankfully, I discovered the answer to that question was "no" as soon as I bothered to look at the sign on the awning announcing the restaurant was just getting some work done and would be closed only until June 1. Okay, I thought, that's still three months without the duck with flowering chives, but we can survive, right?
Then June 1 came and passed. Then June 15, and July 1, and July 3, July 21, and August 1, and August 14. Noodletown remained closed. In New York, there is always the fear that delayed promises of reopening — or, more alarming, relocation — are optimistic but not necessarily confirmed. I felt the despair creeping back.
Then my friend Ari, a restaurant worker who was also highly concerned about the delayed reopening, texted me. They'd caught word that Noodletown was, at long last, back. Could it be true? "I must investigate," they wrote. As it turned out, it was. Over on the restaurant's little-used Instagram account, the owners shared that Noodletown was reopening Tuesday, September 6. After this confirmation, I shared the good news with friends. "Oh, thank God," one said. "I feel like Brendan Fraser, I'm crying," another responded. When I told lifelong Chinatown resident Eddie Chan, an owner of Uncle Lou, he was elated. "That place bangs," he said. "I've been going there since I was a baby."
Over the past six months, the place was given a makeover but was not totally redone. The walls are now stark white, absent the menus (except one near the roast-pork counter) and other framed decorations. The cylindrical chandeliers have been replaced by more geometrical ones. Some things, though, remain the same. It still doesn't accept credit cards. The service remains brusk. You are still offered copious amounts of tea. Unfortunately, some less exciting details have also remained unchanged: The restaurant has retained its pandemic hours, closing at 11 p.m. Friday and Saturday and 10 p.m. every other night. "Nobody wants to work that late anymore," a manager named Steve said when I asked about the hours. "Maybe in the future we will open later, if we can find people."
The restaurant has, of course, been a fixture of New York's dining scene for decades. In 1992, the New York Times called it part of "the vanguard of the Hong Kong-style restaurants sweeping across Chinatown and Chinese communities all over the United States." In a 1994 review, then-Times critic Ruth Reichl, wrote that it was "as close as you can get to Hong Kong without leaving Manhattan."
It's an overused word, but Noodletown is an institution. Whenever anyone asked for the best restaurant in New York, I would tell them it was Noodletown after 11 p.m. It may be the restaurant I've been to most in New York. My Noodletown habit was encouraged by several close friends, including one whom I worked with at a downtown restaurant. For a few years, I went to at least a couple of birthday dinners there every year and hosted one myself. I was in my Noodletown era. Sometimes, they would ply us with rounds of Tsingtao until we said no more; then they'd maybe try to bring more anyway. My favorite memory from that time was when one of my brothers asked the server for water. "No! You drink tea first," he demanded.
Every one of the friends I told about the reopening asked to make plans to go back, and I said yes to all of them — even though I already had plans to go back for lunch with Ari. Yesterday, I made my way to the restaurant, and at around 1 p.m., Ari texted me that the place was "slammed." They weren't lying: So many people were huddled near the entrance that I thought we might have to wait for a table. As it turns out, many of those people were there for takeout, and one of the servers picked us out of the crowd and gave us a table in the back.
For the next couple of hours, business hummed. At one point, there were people at every table. As many as a dozen people, many of them older, were waiting for takeout at points, and never less than three or four. Customers continued to stream in. The employees up front kept their focus on the duty at hand: chopping up plates of roast pork and duck.
There were two young friends who took seats at one of the large tables. A couple that had never eaten at the restaurant before. One older man whose fit was way better than whatever Seinfeld wore for those Kith ads. Another table was occupied by seven people — including one child — who were visiting from San Francisco and Houston. Most had been there before. They were eager to talk up the wonton soup.
Everyone else, clearly, was as eager to be back as me. It had been half a year — an eternity not to go to Noodletown — so I ordered a handful of my favorites. The roast pork, yes, and the duck with flowering chives, which was as rich as ever. We got noodles with scallion-ginger sauce because we aren't idiots and the pea shoots too. When we tried to order the sautéed water spinach, we were told there wasn't any left — a hot-ticket item. (If I'd been with my friend Nicky, he would not have let us leave without a plate of the salt-baked squid.) I decided that wonton soup would've been a step too far, but at least I won't have to wait six months for it. I'll be back next week.
A very welcome sight. Photo: Lanna Apisukh