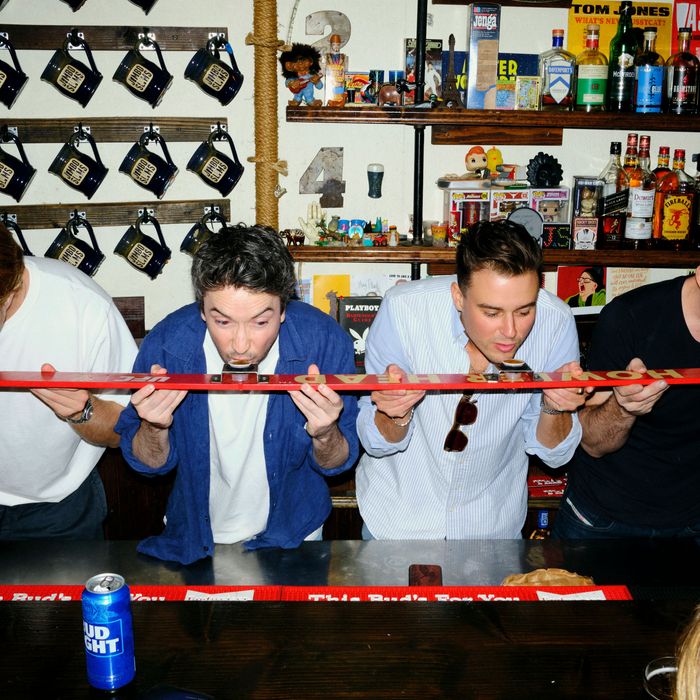 Just another night at Jimbo Slims. Photo: Hugo Yu
Our usual diner-at-large, E. Alex Jung, is on vacation. Filling in this week is Chelsea Peng, a senior editor at the Strategist.
If I do anything in this life, I wish to do it with the conviction of a white guy I overheard the other week on Greenpoint Ave. Pointing to a new sign for Taku Sando, he explained to his New Balance 550–wearing friends that the soon-to-open shop's namesake offering will be crumbed pork on milk bread. "So good," he said. "They're Korean," he added. Then they walked into Lingo, a restaurant on the same stretch that serves Japanese food — just like Taku Sando.
Sando Man is hardly alone. Across Greenpoint, I've noticed more and more people who feel like they should live in Murray Hill: holding court with their logomaniac buds in the outdoor area of Threes, debating strategies to identify potential gold diggers ("ask to split the bill on the first date"), and buying vintage streetwear at auction. This kind of stubbornly unaware, no-drip Chad has helped to raise the neighborhood's average rent to $4,485 and brought a wave of gentrification that's split Greenpoint into distinct quadrants whose inhabitants crowd into vastly different dining habitats, making northwest Brooklyn the most cobbled-together restaurant scene in the city.
What I wanted to know was: Between Eavesdrop and Esme, where does the old Greenpoint end? Among the $35 arctic char entrees and $19 house martinis, was it possible to find some of the neighborhood's old kielbasa-shop and social-club flavor?
On a Saturday afternoon at Karczma, the crowd in the 15 year-old establishment's farmhouse-themed dining room mostly consisted of youngish pairs and trios, including one who greeted the server with "Dzień dobry" before asking for pierogies and cutlets in Polish, and another weighing the pros and cons of leaving a finance job to work for the government. ("Nobody makes a lot of money, but they do have access to tremendous power.") But there was also a smattering of families and groups of older folks — and a formidable lady in Merrell slip-ons who gave her name as Janice after rattling off numerous dishes with even more substitutions without consulting a menu. My cold summer borscht came with a generous ladleful of mashed potatoes, as did my main, a chicken special draped in dill sauce that transported me to Warsaw, where as a teenage vegetarian I developed an aversion to the herb (since cured) after weeks of finding nothing to eat except dill potatoes. Both dishes were well-cooked and comforting in a "we have aunties in the kitchen" way, and I left with such a comically large portion of leftovers that my arm started to ache from carrying it.
The atmosphere was a lot less homey at Lingo. Under the glow of a Verner Panton Flowerpot lamp, a host obligingly wedged a single stool between two couples at the bar for me. The woman to my right guarded her $26 dish of somen like I was trying to reach over and grab a fistful; her Vuitton Sac Plat BB nearly brushed the floor. Her partner, meanwhile, sawed into a hunk of pork belly and bemoaned the dearth of Airbnbs in Napa Valley.
None of this was too annoying given that Lingo is the highly anticipated return of a well-respected chef, and historically, these sorts of openings have a long tail of attracting clout chasers and Resy Guys. But it would've been more tolerable if the fried cauliflower one of the affable bartenders insisted I try contained any of the curry that had been promised on the menu.
I ordered the same noodle dish as Elbows, since she seemed so protective of it. Four scallops nestled into the somen had a nice, golden trust, but the tsuyu, a condiment used as a soup base, could have benefited from more dilution — it was so salty I could feel my blood pressure rising, though that might have been because the guy on my other side was now nudging me with his arm, too.
Was there anywhere friendlier left? We got warmer at El Pingüino. I hadn't been since they opened two years ago, but the "Spanish seafood bar" seems to have remained relatively low-key — I saw a dude gulp leftover fish juice out of a bowl — and the lighting has blessedly dimmed. I sipped a mezcal paper plane and listened to the date nights surrounding me. One guest in a black Reformation dress kept asking after her piquillos, but the mood was otherwise all weekend-let-looseness and grinning, sloppy side hugs. Their voices were full of money, if you want to get Gatsbyish about it.
The conversations at Achilles Heel similarly centered around who went to Yale and how $3 million isn't nearly enough for a lighting budget. But on one of the first days it was almost chilly enough to build a fire in the stove where the kitchen staff used to roast turnips, it was hard to imagine a better corner to languidly enjoy a spritz while watching the designer dogs and strollers go by on West Street. I spooned chef Sunny Lee's silken tofu and oyster mushroom chigae between bites of banchan (the sesame-oil-dressed wood ears and squiggles of mung-bean jelly healed my Fashion Week–wrecked body) as a silver-haired gentleman recalled to his wife that this was where they'd had a last drink before lockdown. I would have been happy to walk into the night restored, pumped full of hot soup and probiotics — but as I was waiting to close out, I heard two oversize-T-shirt, skinny-jean-ed guys giggling about one of their colleagues' names. (Mr. Dong, if you're reading this, I'm available to throw hands when I'm not on assignment.)
Jimbo Slims. Photo: Hugo Yu/
The closest thing to old Greenpoint, strangely, was Jimbo Slims, established in 2017. A dear friend had stopped in recently and witnessed a septuagenarian patron using a racist slur, so my guard was up. And it's true that when I went last Saturday, I immediately heard a pair of customers commenting on someone's tits. But the bartender shook my hand before asking for ID, and because he was nice, or trying to get a big tip, or it was the part of the evening when face blindness sets in, he said he remembered me. (I'd been there probably twice before in my life.) But this small lie suddenly made me no different than the other regulars singing along to Kenny Rogers under the Christmas lights.
Little moments of instant familiarity like this kept coming up when I asked some Greenpointers — who've lived here for ten, 20, 30 years — how they felt about the mix of new and old in the neighborhood these days: how the servers at Peter Pan would all stop pouring coffee to sing happy birthday to Kelley Shields's daughters. How excited Doron Max Hagay was to find the Photoplay video store after moving here in 2011. How Ashbox Cafe was reborn as an "iconic neighborhood staple" that Natasha Pickowicz calls part of her old Greenpoint. And how Paige Lipari, the owner of Archestratus, said she plans to keep running her Sicilian café and bookstore as long as she feels like she can offer a sense of belonging and usefulness to the area.
And so, at Jimbo's I turned to my neighbor — a Pakistani reproductive-rights lawyer who's been going since 2018 — and we discussed the Dobbs decision. When the bartender asked me what I'd been up to earlier, I said I'd seen Phoenix at Madison Square Garden. He told me he'd play them, and by the time I wondered if he'd forgotten, the shivery synths of "1901" came on over the speakers.