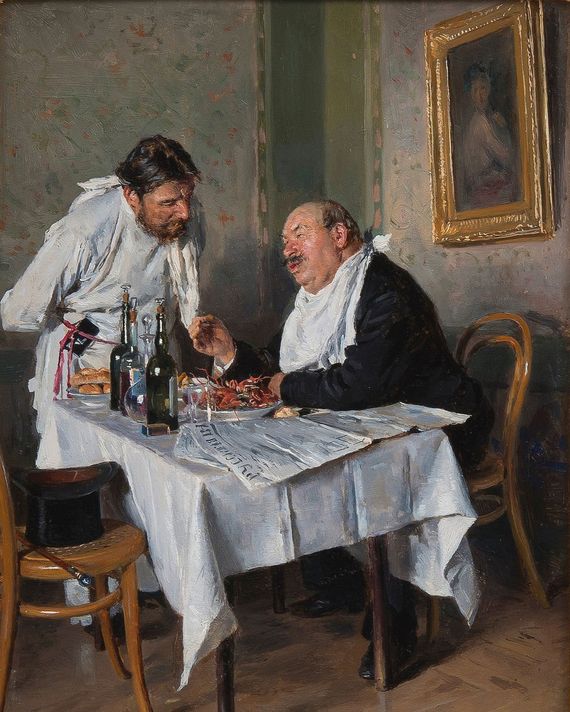 Above all, we want to be even better customers.
Photo: Heritage Images/Getty Images
The reviews are in: Last year kinda sucked, right? We aren't here to dwell on the past, but the whiplash effect of Omicron means we're entering 2022 in a way that feels eerily similar to the darker moments of this pandemic. That reality is increasingly true for the restaurant industry, which has once again been hammered by safety-related closures, labor droughts, deep uncertainty, and ever rising costs for, well, just about everything.
And what does that mean for diners — even the boosted among us who want to support these businesses and enjoy ourselves but also know that one night in a crowded dining room could lead to a week of self-isolation? It's a question everyone must navigate according to their own appetite for comfort and risk and their desire to have someone else do the cooking for a change.
We don't have any one great answer. Instead, we are heading into another already strange year with our own lists of goals, wishes, and plans to help steer us in 2022 and beyond (hopefully).
1. Ask my servers for more menu suggestions …
I so rarely ask for server recommendations, which is dumb. I should! In 2022, I will. It's not that I always agree with them — and certainly I don't want to know what's popular or what "other people" like, which are annoying deflections — but I really do love it when a knowledgeable person tells me what to do. At the very least, it greatly increases the possibility that something interesting and/or memorable is going to happen culinarily or experientially. — Rachel Sugar
2. … or just abandon the menu entirely.
I can't be the only person who's been overwhelmed by decision fatigue for what feels like the past 100 years. It's totally freeing to run with a dealers' choice dinner. "We're pretty hungry and we eat everything — can we just do whatever you're excited about?" can be the extent of an order. Does this approach open me up to the possibility of price gouging or eating a few things I might not love? Sure, but there's no guarantee I would only pick winners myself, and besides, it's a worthwhile trade-off if it means that after almost two full years of cooking dinner nearly every night, I don't have to think at all about what I'll be eating. — Alan Sytsma
3. Stop making so many reservations.
Historically, I have hated reservations — can't pin me down! — but in 2021, I lost the ability to leave the house without a very concrete plan. This is partly a consequence of pandemic-era living, when nothing is spontaneous, partly the tyranny of Yelp, and maybe partly aging. (Old people love plans.) But I can't remember the last time I ended up at a restaurant by happenstance simply because I was hungry and it was there. I miss that! I worry these past two years have calcified me into a more boring person generally, but in 2022, I am committed to more nondirected wandering during mealtimes. — R.S.
4. Bribe my friends who bought cars during the pandemic.
It's about time I got around to promising one of my friends delicious dosas in exchange for a ride to the restaurants in Edison, New Jersey, where we can eat them. In fact, I've done the math, and treating my friends to a meal if they're willing to chauffeur me somewhere I can't get to by train or bike is still way cheaper than owning a car myself. I get the benefits of automobile ownership without ever having to worry about alternate-side-of-the-street parking. And my friends can parallel park much better than I can. — Chris Crowley
5. Buy some new thermals …
We can't swear off cold-weather streetery dining just yet. I am investing $8 in these. — R.S.
6. … and get some portable seating when it warms up.
I need to start bringing a compact folding chair when I go to a destination food truck or a pop-up anywhere outdoors that doesn't have its own seating. That way I can have my food there while it is still hot instead of having to hunt for a bench or wait for a spot. Trying to dip birria tacos in consommé while standing is no joke. Neither are cold tacos. — Tammie Teclemariam
Finally get around to trying …
7. … the Chicago bagel at Edith's. — R.S.
8. … yeung yu sang choi bao at Bonnie's. — A.S.
9. … rice rolls at Yi Ji Shi Mo Noodle Corp. — R.S.
10. … the Alexandria-style liver sandwich at Foda Egyptian Sandwiches. — C.C.
11. … salt-and-pepper coconut at Wau. — R.S.
12. … pistachio-and-cheese flatbread at Al Badawi. — C.C.
13. … that whole rabbit from Dhamaka that you have to order two days in advance. — A.S.
14. Recalibrate our expectations as customers — again.
It's always seemed like a thankless, impossible task to run a restaurant in New York. And right now, it seems somehow more impossible. There are no workers; there are no ingredients; everything is too expensive. The people who are able to work are forced to do too much and are paid too little. Operators must navigate a nightmare scenario. And customers still expect the same level of care and attention they received before the pandemic. There is no easy way out of this, but taking the time to be even more patient, more empathetic, more gracious, and more generous with our compliments — trite though it may sound — certainly won't make things worse. — A.S.
15. Do our part to support New York's 65,000 deliveristas.
I never got into the habit of ordering delivery regularly. It always seemed like a bad deal for me (pay more money for worse food), and it is really a bad deal for the people who have to work these delivery jobs for the app services. Though I try my best never to use the third-party delivery apps, I don't maintain any illusions about changing the direction of the world by avoiding them. Instead, I want to support the efforts of people working these jobs to better their situations through organizations such as Los Deliveristas Unidos, whether they be co-ops, unions, or whatever else. On-demand delivery isn't going anywhere, but now is the time to make sure it moves in the right direction. — C.C.
16. Eat less meat.
But never, under any circumstances, say or use the term "plant-based." — A.S.
17. Find a new go-to drink.
My ongoing campaign to transform the appletini into the must-order drink of 2022 has thus far failed to gain the kind of traction necessary to affect real, lasting change. I realize it might be time for a pivot. A few weeks ago, a couple of friends came over for dinner, and two of us had the classic after-dinner digestif: Disaronno. Since then, I've been making Amaretto sours with abandon. I may not be able to convince New York's drinking public to order these in the "Is it a joke or not?" fashion that made espresso martinis such a hit last year, but I can at least continue to enjoy them myself. — C.C.
18. Stop drinking cloudy wines and bitter cocktails.
I've had enough. — T.T.
19. Embrace the new.
I'm as guilty as anyone of seeking out the nostalgic comforts of familiar restaurants during those few months last year when things opened back up and everyone was feeling hopeful. I wanted a sure thing, and I wanted to reconnect with specific experiences I'd missed. It felt wonderful, obviously, but every time I went back to an old favorite, it came at the expense of trying something new. There is so much I've missed that I feel as if I'm starting off the year scrambling to catch up. — A.S.
20. Every winter, I remember I've been meaning to get a tortilla press for a decade.
Looks like I'll be spending more time than usual at home this month; I think this is my year.  — C.C.
21. Really eat lunch.
I am a dinner person. Other meals, to the extent they exist, are necessary maintenance like tooth-brushing: not unpleasant but hardly an event. Everything good, in my mind, happens after 6 p.m. This is a problem because it means missing any culinary operation that closes before dark. This is the year I get over it, if only long enough to try the green chile fried mushroom sandwich at Ursula. — R.S.
22. Start a project.
I bought a bag of hominy last year with a plan to make a lot of posole — pig's head and all — which I never did because I was distracted and neglected to buy a pig's head. This year is the year. — C.C.
23. Pay way too much for a drink.
I want to drink a stupidly expensive cocktail on the roof of a hotel in midtown. I don't know why I want it, and I don't care where it happens, but I really do want it. It will be like going on vacation inside someone else's Instagram. — R.S.
24. Stay too late.
I don't know if it officially counts as good manners, but it certainly seems like common courtesy to vacate your table when you are done with your meal at a busy restaurant. But with fewer people dining out and more people pouring into restaurants on the early side, it seems there is an increased opportunity to linger over a coffee or final glass of wine for hours with some friend I haven't seen in forever, the way people tend to do in old movies but never in real life. Does the restaurant want the table back? Then we'll split. But if the coast is clear, we might just stay a while if that's okay. — A.S.
25. Cross off the Bronx eating experience I can't believe I've missed all these years.
I'll confess I'm a procrastinator, which every December I promise myself I will change. I'm finally going to do it this year … but before I do, I'm going to make a long-overdue trip to the Bronx Night Market, which returns in April and has hosted vendors serving things like Jamaican-Mexican tacos and jibaritos, the Puerto Rican sandwich made with tostones in lieu of bread. I'm really going to do it this time. I promise. — C.C.
26. Make a special trip to Queens.
There is a restaurant in Richmond Hill called Veggie Castle II that I have been meaning to try for at least seven years. I keep thinking it will be "on the way" to something and I will just "pop by," which means, obviously, that I haven't ever been. It is about 75 minutes from my apartment by public transit — not that bad, all things considered — suggesting it is time to take matters into my own hands. — R.S.
27. Remember how quickly it can all go sour again.
Even a so-so meal out is better than yet another night at home; we shouldn't take that for granted. — A.S.