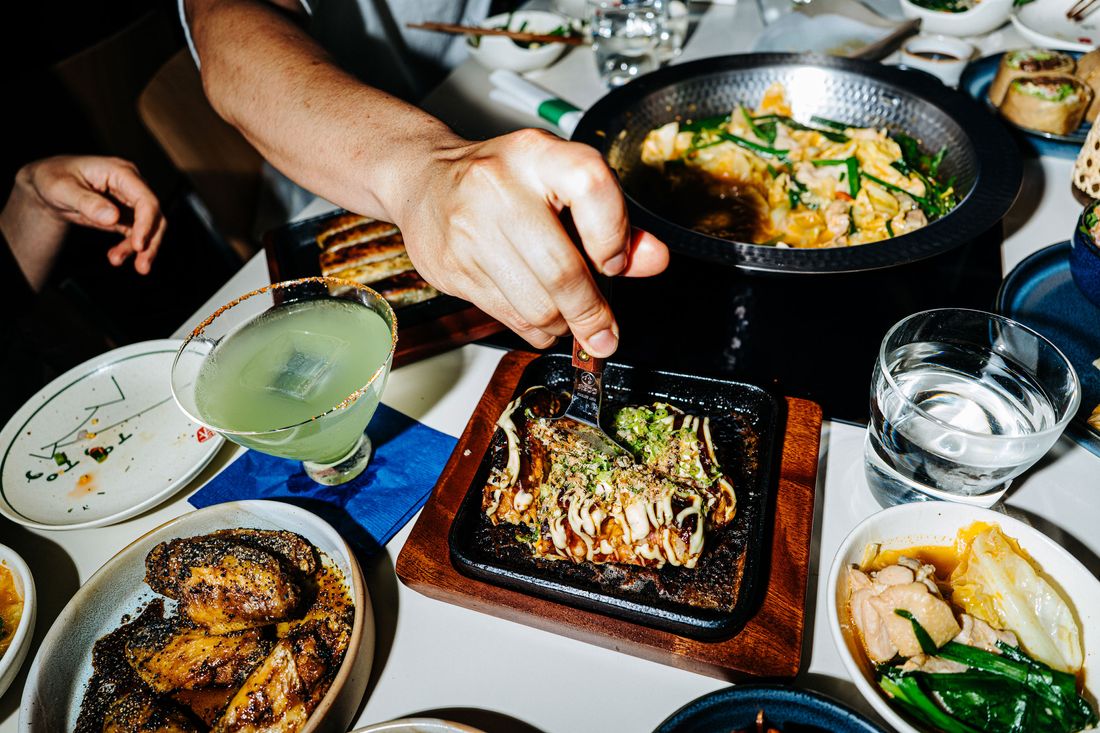 Hakata TonTon has moved uptown with new owners and a revamped menu.
Photo: Janice Chung
When it opened in 2007, Hakata TonTon quickly developed a following among the city's offal-loving masses thanks to specialities like veal-liver sashimi and an unyielding love of pigs' feet. In a review published that year, the New York Times called the West Village restaurant "an impressive and intimidating temple to the very strange idea that trotters are the missing ingredient in just about everything."
It was singular in its focus, helping it stand out during its impressive run, which, like so many others, came to an end during the pandemic. There is more to this story, however. One of the restaurant's many regulars was Kihyun Lee, the founder of Hand Hospitality, and after Hakata closed in 2020, he bought it. Hand Hospitality has made its mark with inventive Korean restaurants such as the perennially popular Her Name Is Han and by partnering with Junghyun and Ellia Park to open Atoboy and Atomix. It expanded its gaze to include Izakaya Mew, which opened in 2013, and later Nonono. Since last year, the group has been on an expansion tear, opening LittleMad ("New American Korean"), Random Access (its first Thai spot), Towa (a Japanese restaurant), and Palpal (Korean Tapas). Hand has even refurbished extant businesses: In 2016, it took over Koreatown's Cho Dang Gol, which opened in 1997.
And now the group will do the same with Hakata TonTon, having moved the restaurant uptown to an 1,800-square-foot space on 35th Street that will debut to the public Thursday, August 18. The space has the industrial aesthetic of the group's other restaurants: hanging lamps that look like they could be in a mine shaft, a concrete floor, and thick wooden beams. There's a blue tile divider separating the dining room, and some tables bask in the glow of a green neon sign. (It looks ideal for a near-future sci-fi thriller, if any location scouts are hunting.)
While Hakata was a destination for liver lovers, it was best known for its Japanese hot pot, which has also made the move to the new space — though you probably don't want to take advantage of the induction burners right now, when 90-degree days can arrive at any time. The team at Hand knows this, which is why it's expanded the menu. "We still have the core items, but we've added more izakaya-style small dishes as well," says general manager Ikumi Murakami. "We hope to bring in customers all season because hot pot is only for the fall and winter. That's why we switched."
There's gnocchi with cod-roe sauce in the style of mentaiko pasta, grilled black cod with cacao nibs, braised pork with Japanese mustard and mayo sauce, and a yakiniku wrap with barbecue Wagyu beef, lettuce, pickled vegetables, and mayo wrapped in a scallion pancake.
The idea that everyone at the restaurant seems most excited about is chef Koji Hagihara's "Shake Shake" Ramen, cold noodles with lots of fresh produce and more than a bit of restaurant-style theater. (It's brought to the table and shaken in front of customers, hence the name.) There's boiled chicken breast, fried garlic and onion, and raw tomato, cucumber, and radish. It's light but not subtle thanks to a seasoning mix that includes sesame sauce, chile oil, and … other things? "There are some ingredients the chef wants to keep secret," says Murakami.
Beyond the noodles, other new dishes include bloomed tomato, which is not a Bloomin'-style tomato but a whole pickled tomato, as well as goma hamachi, or baby yellowtail tuna with scallion, seaweed, and sesame sauce. There's also a version of mabo tofu, the Japanese version of mapo tofu, a speciality Hagihara learned during his time working in Chinese restaurants in Japan.
All told, Hakata TonTon is one of the more exciting restaurants to (re)open in recent memory. Veal sashimi and all the pigs' feet you can eat aren't essential parts of the established formula for New York restaurants, which is exactly why its arrival feels so refreshing — not only because it's back but because it's been reimagined with additional resources and support to make it the best possible version of itself.