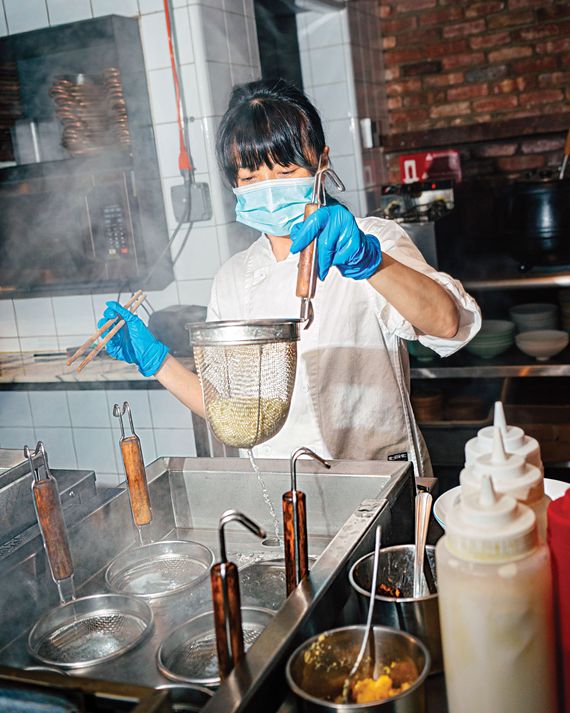 Zhu Rong in her Chelsea restaurant's kitchen.
Photo: Poupay Jutharat Pinyodoonyachet
Chongqing-born Zhu Rong runs 12 restaurants at various levels of capacity and distress in China and the U.S. — two of them here in New York (the Hao Noodle branches in Chelsea and Greenwich Village) and another ten in major cities like Shanghai, Hangzhou, and Beijing. We sat down with her recently in the darkened, deserted dining room of Hao Noodle and Tea on lower Sixth Avenue to get her unique perspective on the different approaches to the COVID calamity in China and New York City. She talked about how her businesses in both countries have been affected (hint: Things are an awful lot better right now back home), how the local governments in different cities have gone about dealing (or not dealing) with fraught issues like testing and contact tracing, and how when it comes to the most fraught issue of all for the restaurant community — indoor dining — a certain mayor of a certain great American city didn't seem to care at all.
So are your restaurants up and running in China?
Yes, all of them are busy again, no masks, no distancing, and only Beijing is below the kind of capacity we were doing before the government shut everybody down in late January. I have ten restaurants in China — two in Hangzhou, a large city west of Shanghai; six in Shanghai itself; and two in Beijing. We shut them all down on January 28 on government orders, about a week after the Wuhan lockdown. I was in Beijing visiting family for the Chinese New Year, and we thought the government was being a little rash at the time. I flew back to New York three days later. I thought New York was going to be safe!
What's been the biggest difference between the Chinese government's response to this crisis and what you've seen here in New York?
Well, obviously in China, the government — and in our case, the restaurant regulations have come mostly from local city governments — has been very direct, very strict, very organized, where I would say here in New York, which might be the most "organized" city in the USA, it's been the opposite. I have 800 employees at my restaurants back home. Most of them stay in dormitories, which is very common in China. Everybody got their temperature checked in the dorm twice a day, and the rooms were cleaned on a daily basis. We paid them for two months and purchased three months' worth of ingredients so our employees could come into the restaurants and cook for themselves. Then they would go back to the dorm because many of them are from other cities in China and couldn't go home.
That sounds a little different from the situation here in New York.
We were lucky here in New York at first. We got the PPP loan very quickly. In China, there was no PPP. The banks gave many restaurants favorable rates on loans, but others didn't get them so it's been very harsh, just like here, and lots of places have gone under. But for those of us in New York who are trying to stay in business, I'm sorry, our PPP loan was five months ago, and nothing has changed. In China, after two and a half months, we were open for business, and people were coming back to eat.
What are the inside-dining regulations like in China?
It's different in different cities, and Beijing has been the harshest, mostly because they had another outbreak and had to close down again. All of our tables were eight feet apart at the beginning; only two people were allowed at each table at first. Now we are mostly at full pre-COVID capacity. Everyone has a WeChat app, which gives a green light if you've tested negative and have no temperature, and everyone has to show their green bar codes before they sit down. Our servers all wear masks, but these days customers don't. Last month, business was 20 percent better in Hangzhou and Shanghai than before the lockdown. I think it's because there was so much pent-up demand. After being locked in their apartments, people wanted to eat again.
Looking at the crowded outdoor scene around town, I think people want to eat again in New York, too.
I was surprised by how quickly our customers came back in China, but here in New York, I'm not so sure. Some of that is our particular situation. We used to have many Chinese students here as regular customers; they are all back in China now. We used to have many Chinese tourists; they're gone now. Staff are hard to get back for many reasons, but I think some don't want to work because they're waiting for that extra unemployment check. When we did a deep cleaning of this dining room the other day, I did it myself — wiped the walls, scrubbed the floors. Back home, we had managers and teams all ready to start scrubbing when the government said we could open our dining rooms again.
How do you feel now that our state government has given the green light to open New York's dining rooms?
I'm an optimistic person, so I'd have to say I'm happy, and yes, I'm optimistic for the future. When we reopened in China, the regulations were the same — 25 percent capacity, tables many feet apart — so I know if everyone is careful, it's a plan that can work. At the same time, I'm a little surprised it took so long to happen. For a while I was thinking, Does the mayor have enemies in the restaurant business? Is he trying to punish us? I love New York, but I think it's just a different situation compared to the very strict policies back home. My housekeeper's mother here got sick from COVID a few months ago. Happily, she recovered, but did the government contact her? Did they come to do tracing? In China, she would have been put in quarantine immediately. All of her friends would have been tested. The bar codes on her phone would have been checked again and again. Here in the USA? Nothing happened. Nobody seemed to care.
*This article appears in the September 14, 2020, issue of New York Magazine. Subscribe Now!