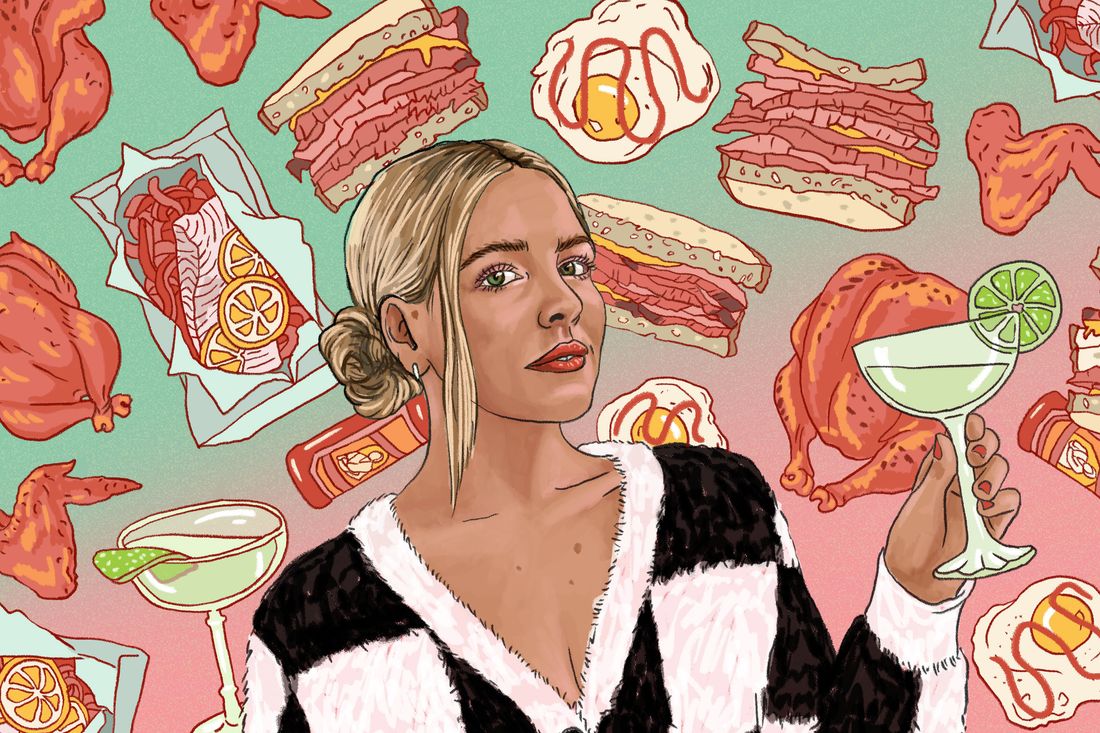 "This was a very unusual week for me in that I did not cook anything from Alison Roman." Illustration: Margalit Cutler
Heléne Yorke has always tried to find the best possible food. When she was still a struggling actress, that meant seeking out new friends to help: "I was like, I need to date somebody real quick, because I really want to try this restaurant." Now, married with a baby, The Other Two star is test-driving New York's finest salad dressings for her son, making time in her schedule for two of her three favorite sandwiches "of the moment," and — not unlike her character on the Max comedy — hoping her industry clout can help with a table at a trendy restaurant. "I posted an Instagram Story, like, 'How do I get into Torrisi?,'" she says. "Rich Torrisi messaged me, 'You can show up at 5 p.m. for a bar seat if you want.'"
Monday, May 22
For breakfast, I had two scrambled eggs with Cholula, the best condiment on the market. I know people will fight me on this. Everyone's crazy for Frank's or some other shit, but it's Cholula. I also had an iced latte with almond milk and a bite of my son's banana.
I didn't have a babysitter, so I headed to R&D Foods for lunch. That place is a gift to Prospect Heights. It's so wonderful. I love that little back-garden area. When I was in newborn hell, staring at my baby, who gave me absolutely nothing back all day long, I would stroll over to R&D Foods and get a massive sandwich. I'm eating full loaves of bread, but it's worth it. I would always get the Ode to Saltie, but they were like, "You've really got to try the tofu." I'm usually kind of a dick about vegans and generally anyone who is vegetarian, but at R&D, I do accidentally have these vegetarian lunches sometimes with the baked tofu and Vietnamese-salad hero. It's almost vegan — if you get it without the mayo, but you really shouldn't. It's tangy and perfect. A top-three sandwich of the moment, in my opinion.
Usually, when I go, I ask my husband if he wants something, and his go-to is a chicken-satay sandwich on a sad, gluten-free whatever. I don't know why he does this. He's not gluten-free. He read a book called Grain Brain, and it messed him up forever. He cares about his body, which is a big issue. He looks so hot all the goddamned time. He's lactose intolerant, but I started sneaking him butter, because I knew it didn't affect him. He would eat it and feel fine, and I'd be like, "Ha! There's butter in that!"
For dinner, I made Claudia Roden's chicken thighs with apricots, cinnamon, cardamom, and pistachios over brown basmati rice plus a butter-lettuce salad with my signature lemon dressing. Monday is chicken day. I altered the recipe a little bit, because otherwise it doesn't get the skin crispy enough. You need to really blast that skin, so you get that crisp layer. That's the thing about a chicken thigh. It's the king of chicken. The apricots really gave it something too.
I had leftovers to give to the baby, and he was obsessed. I'm desperate to get the baby to have a good palate. It's to the point now where if I give him a plain piece of salmon, he looks at me, and he's like, "What is this?" I have to give it a seasoning. I'm thinking about adding some vinaigrette to his broccoli next. Maybe I'll make the Via Carota salad dressing. He would really appreciate that.
Tuesday, May 23
I had my same egg-and-Cholula breakfast. My son always eats a third of a banana — he's small, so he can't fit the whole banana — then mom eats the rest.
I was leaving the house to get my hair colored and thought, Shit, I'm really hungry. What do we have? Well, we only had Zabar's rye and expired tuna salad. I think expiration dates are a myth. I rolled the dice and toasted the rye. It was perfect. I love Zabar's so much. When I had my baby, I arrived home to a basket of Zabar's, and I was like, Oh my God. Who sent me all this Zabar's? It was Molly Shannon. She sent bags of rugelach, a babka, several bagels, cream cheese, lox.
I always get my hair colored around lunchtime, after the babysitter comes in. I end up starving while I'm in the chair, so I order something to the salon. I got an Almond Butter Bliss bowl and daily detox juice from Juice Generation. Juice Generation is the best juice place in the city. Juice Press is garbage.  
I needed to kill time before meeting a friend, so I went to the new Ritz rooftop bar, Nubeluz. My husband had been there and told me about it. I don't think a lot of people know about it yet, but it's really beautiful, and the views are crazy. It has one of those batshit cocktail lists. I got a Floral Cloud cocktail. It was $32, just because it's some fancy cocktail that they set on fire? It looks like it's from The Phantom of the Opera. They're going to break into "The Music of the Night" or whatever. I think you're really paying for the view.
Then I met a friend at Bar Centrale before going to the theater. I'm a little remiss about mentioning Bar Centrale, because it's a secret, technically. It's a New York treasure. I used to go when I was doing Bullets Over Broadway at the St. James Theatre with Brooks Ashmanskas, who was my in. We would go post-theater and run into Sarah Jessica Parker and anybody who was nominated for a Tony at the time. Everybody's just always there, and it's fun and cool.
I got my slutty Broadway-show wine at Shucked. I loved it. I saw a bunch of understudies, and they were fantastic. Robert Horn is the best book writer in New York. It's such dextrous joke writing. I was very excited to see Shucked because of him. I actually auditioned for it in February 2020. It was the nicest audition room I've ever been in.
Wednesday, May 24
I had my same Cholula eggs and the bite of banana. A pattern. Pathetic. I always make my own breakfast. It takes eight seconds, and it's nourishment for the day. I think buying breakfast is insane. I would rather buy a $32 cocktail. It's a waste of money — unless you're going out for breakfast, which is one of my favorite meals to go out for.
I went to La Colombe to get an almond latte and answer a couple of emails, blah, blah, blah. I was meeting my best friends Max Jenkins and Sas Goldberg for lunch at Westville. I hadn't been in a while. I think it holds up! It's like going to your own house for lunch.
I had a weird day, where I had a babysitter but because of the writer's strike, I didn't have anything going on. I'm a big proponent of getting yourself a babysitter regardless of whether you've got something going on. There are few things as perfect as a beautiful spring day to wander New York, see friends, pop into Zara, and see what's going on at Acne Studios on Greene Street. It's perfect. I drive a little Vespa. I go everywhere on that little thing. You can park anywhere, because you park between cars, then, typically, they don't really fuck with you. They're like, Eh, whatever. She's not really taking up a spot.
For dinner, I made another Claudia Roden recipe. This was a very unusual week for me in that I did not cook anything from Alison Roman. I usually do at least two Alison Roman situations a week. For whatever reason, this week, it was two Claudia Rodens. This one was spaghetti with anchovies and olives. My husband makes me do gluten-free pasta. This is, of course, deeply lame to me. However, I found a brand that suffices. It comes in a bag that makes it look like real pasta, even though it is not. It's a corn-flour version, but at least it's Italian. Something about it that feels rustic, even though it's garbage.
I did our beloved butter lettuce with olive oil, red-wine vinegar, Dijon, and pomegranate molasses.
Thursday, May 25
I did not have my eggs, and I did not have a babysitter, so for lunch at home, I made a butter-lettuce salad with salmon, hemp seeds, pumpkin seeds, and saba as the sweet element. I'm auditioning a little bit, but it's mostly self-tapes. I'll usually walk down Eastern Parkway to my manager's house to take a little stroll. He'll always have a Topo Chico waiting for me, because he knows I love Topo Chico.
The craziest thing about being an actor is the time you spend not working — and that's the work. Being an actor is all about how to manage your brain and life between things. It's hard to enjoy yourself, because you spend time thinking, Oh, that's the end of my career. Nobody will ever call me again.
My husband has this thing — and I love this about him — that when we eat dinner together, we light candles and sit at our dining-room table and chat about our day. But that means that he never wants to do TV dinner ever, which I want to do every once in a while. Because he was out to dinner, I could order in and eat on the couch. I got the pasta with crab meat, bottarga, cheese, and fava-bean salad from Evelina, one of the treasures of Brooklyn, and sipped a little glass of natural white. It's embarrassing, but I watched Ted Lasso by myself. I love Ted Lasso. You have to stay loyal to your spouse, so I couldn't watch Succession or Dave, which we've been watching together. You can't go rogue.
Friday, May 26
I got an iced coffee and a chocolate croissant from Paris Baguette, because I was going to do my final ADR for episode ten of The Other Two — the finale. It's always a little sad, because it's the official end of working on the season. I love this show more than any job I've ever done. I would do the show until I died. I love Chris Kelly and Sarah Schneider — they are truly brilliant. What they come up with is uniquely of the moment in ways that are always surprising.
The recording studio is in Flatiron, so I got to have my No. 1 new sandwich of the moment: S&P's Flatiron Delight with corned beef. S&P is a gift. I can't do the egg cream — there's just something about the name that gets me — but the bread is insane. The matzo-ball soup is also really good. They've passed me a rugelach. I fucking love it there.
The baby was asleep by dinner, so we lit our candles and had Shabbat sushi. We always do sushi on Shabbat, and we do the wine prayer over Sapporo and sake. This week, we ordered from Ozakaya in Prospect Heights. Tuna, spicy rolls, and (ooh, baby) we took the uni train too.