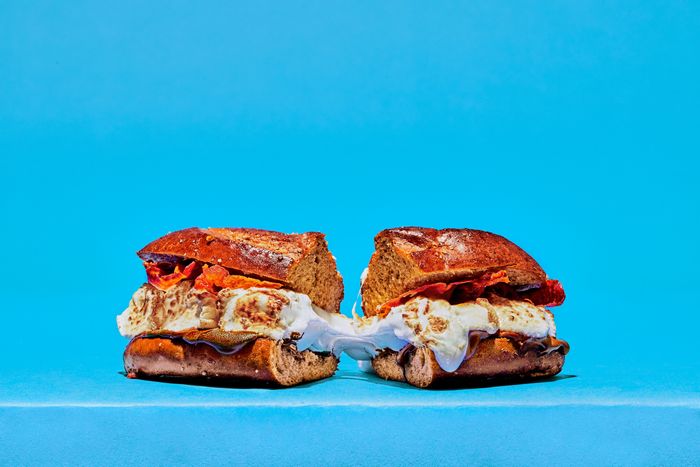 This is what innovation looks like.
Photo: Jet-Puffed
The wheels of innovation keep spinning, even in trying times like these. Yesterday, you could not have a S'moagie, which is a s'more in the form of a hoagie, unless it is a hoagie that has been turned into a s'more. Today, you can. The S'moagie did not exist, and now it does: This is what progress looks like.
But what is a S'moagie, and how does it affect you? Don't worry. On this, National Sandwich Day 2021, we're here to help you navigate this new and fast-paced world.
What is a S'moagie?
A collaboration between Alidoro (the Italian specialty-sandwich shop) and Jet-Puffed (the marshmallow brand), the S'moagie challenges conventional boundaries of sandwichery. It is sweet, but also savory. It is dessert, but also dinner. It evokes the rolling hills of Tuscany, but also the Boy Scouts of America. It inspires nostalgia, but also embraces forward motion. It is a "graham cracker–infused" hoagie roll stuffed with toasted marshmallows, dark-chocolate sea-salt spread, and crispy prosciutto, and topped with a brown-sugar glaze.
Why is a S'moagie?
According to both the sandwich press release and Jon Streep, CEO and principal of Alidoro, the S'moagie is designed to refute the insidious notion that a s'more is not a sandwich. "There's going to be no room for dissent on this one," Streep assures me. The S'moagie will prove once and for all that s'mores are sandwiches, especially when they are hoagies.
But do I want to eat a S'moagie?
There are no universal answers; we are all on our own journey. Streep's journey, for example, includes the development of the S'moagie, a meticulous process stretching the boundaries of sandwich possibility. "We went through probably 20 iterations of the bread," he explains — the bread, infused with graham crackers — "because the trick to this sandwich is the balance." Balance is why the dark-chocolate sea-salt spread is made in-house — Nutella, which they'd tried, was out of balance.
"Isn't balance the trick to all sandwiches, though?" I ask Streep, who emphatically agrees. "Balance is everything!" he enthuses. In a sense, this is only further evidence that the S'moagie is a sandwich.
When do I eat a S'moagie?
Streep assures me this is a "really good" question, but that, in fact, a S'moagie can be eaten any time at all. "It's got that kind of breakfast thing going on with the crispy prosciutto," he points out, but then it could "absolutely be a lunch item for the same reason." Which is not to say the S'moagie is limited to mealtimes. "It's also a really great snack or dessert," Streep says, reflecting on the patterns of modern life. "Honestly, it's a pretty versatile application."
S'moagie availability, however, is somewhat more limited: The sandwiches ($10) are for sale from today until Friday at two Alidoro locations — Rockefeller Center and Bryant Park — and on Goldbelly, the DIY S'moagie kits ($59) will "probably" be on offer until sometime next week.
And that's it?
While Streep, a self-professed "s'mores fanatic," is a believer in the culinary and cultural merits of the S'moagie — it is even arguably true to Alidoro's Italian roots, between the chocolate spread ("really inherently an Italian ingredient") and the prosciutto — there are no current plans to make it a longer-term addition to the menu. "We'll see how it goes," he says. The S'moagie may be a work of art, but like any artist, he knows the risk: Not every masterwork is appreciated in its time.