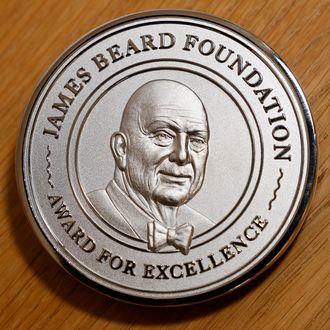 Photo: Jeff Schear/Getty Images for The James Beard
The James Beard Foundation held its annual chef and restaurant awards ceremony last night, handing out its oversize medallions to two dozen or so different winners. New York City's showing was muted. Despite nominations for New York businesses in a number of categories — including Best New Restaurant and Emerging Chef — the only winner based in the five boroughs was Junghyun Park, who was named the region's best chef.
This year's ceremony was not without controversy, as well: Several high-profile disqualifications called national attention to the Foundation's new audit system, intended to identify and weed out bad actors. The chef Sam Fore, who runs the Kentucky pop-up Tuk Tuk, recently told the New York Times that a call she received regarding a complaint was "an interrogation" and commented, "I realize that my presence is a good look for Beard, but I cooked my way across the country to get to this level … Now all I've done can be dismissed because someone on the internet called me a bully?" Separately, the chef Timothy Hontzas, who owns Johnny's Restaurant in Homewood, Alabama, says a complaint that ultimately led to his disqualification was unwarranted. (The development caused another chef, John Currence, to post an Instagram photo of his own James Beard award certificate, smashed with a brick.)
The ceremony itself went on, of course, and this year's list of winners admirably manages to express the diversity about which the Foundation had previously — and publicly — been concerned.
Rob Rubba, Oyster Oyster, Washington, D.C.
Friday Saturday Sunday, Philadelphia
Kann, Portland, Oregon
Ellen Yin, High Street Hospitality Group, Philadelphia
Damarr Brown, Virtue, Chicago
Yoli Tortilleria, Kansas City, Missouri
Margarita Manzke, République, Los Angeles
The Quarry, Monson, Maine
OTOTO, Los Angeles
Bar Leather Apron, Honolulu
Justin Pichetrungsi, Anajak Thai, Sherman Oaks, California
Tim Flores and Genie Kwon, Kasama, Chicago
Chutatip "Nok" Suntaranon, Kalaya, Philadelphia
Itaru Nagano and Andrew Kroeger, Fairchild, Madison, Wisconsin
Kris Komori, Kin, Boise
Junghyun Park, Atomix, New York City
Sherry Pocknett, Sly Fox Den Too, Charlestown, Rhode Island
Vince Nguyen, Berlu, Portland, Oregon
Natalia Vallejo, Cocina al Fondo, San Juan
Terry Koval, The Deer and the Dove, Decatur, Georgia
Andrew Black, Grey Sweater, Oklahoma City
Benchawan Jabthong Painter, Street to Kitchen, Houston
Oliva Watkins and Karen Washington, co-founders of the Black Farmer Fund
Cookbook author, writer, teacher, and actress Madhur Jaffrey CBE.
Joe's Bakery & Coffee Shop, Austin, Texas; Owner: Paula Avila
La Casita Blanca, San Juan, Puerto Rico; Owners: Jesús Pérez Ruiz (deceased), Mildred De León, Leonardo Pérez De León, Jesús Pérez De León
Manago Hotel, Captain Cook, Hawai'i; Owners: Britney and Taryn Manago
Nezinscot Farm, Turner, Maine; Owner: Gloria and Gregg Varney
Pekin Noodle Parlor, Butte, Montana; Owner: Jerry Tam
Wagner's Village Inn, Oldenburg, Indiana; Owner: Dan Saccomando