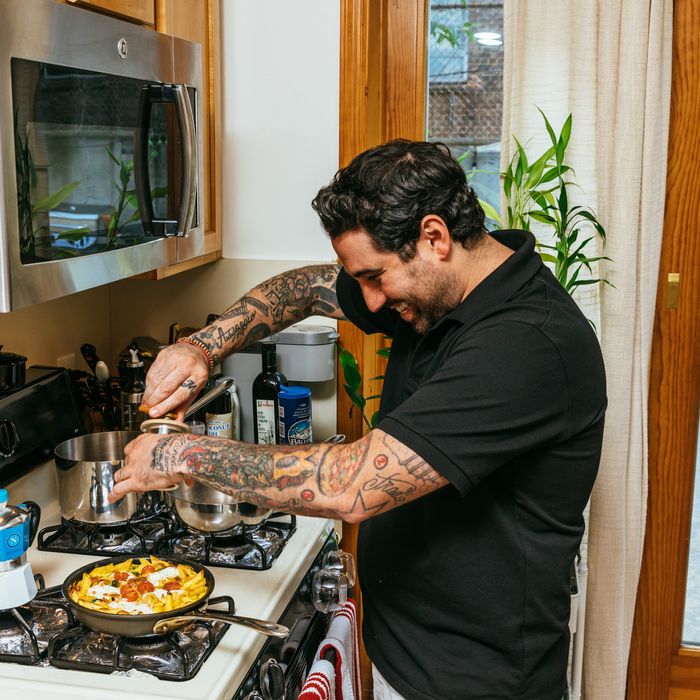 Chef Sal Lamboglia cooking — what else? — pasta at home.
Photo: DeSean McClinton-Holland
It is a matter of public record that the Murray Hill restaurant House of Lasagna has the world's most perfect name. It doesn't matter if you've been there, and the endorsement of the name should not be confused with an endorsement of the actual restaurant. But when you see a phrase like "house of lasagna," you're instantly drawn in. This house — the main thing they do there is … lasagna? It's made of lasagna? It's the place where lasagna was invented? There are no wrong answers; whatever conclusion you reach, it will sound like a wonderful place.
I was most recently reminded of House of Lasagna when I saw the news that the chef Sal Lamboglia, who until a couple weeks ago ran the restaurant Bar Primi on Bowery, was leaving to open a place of his own, and he planned to christen it with an equally exquisite name: Cafe Spaghetti.
I quickly reached out to see if he wanted to grab coffee and tell me more. And, a few days later, when we get together, I am shocked to learn that Lamboglia almost — almost — went in a different direction. "It was either going to be Cafe Spaghetti, or Sal's," he says. He liked the simple, timeless punch of the shorter option ("Where are you going tonight? We're going to Sal's!"), but in the end, he realized you can't argue with a name like Cafe Spaghetti.
Really, the name tells you everything you need to know about the restaurant, but here are a few more details: It will be located at 126 Union Street in Carroll Gardens near the Red Hook border, 300 feet from Ferdinando's Focacceria. There will be espresso and breakfast sandwiches throughout the day with a full-service dinner at night. There is a back garden surrounded with ivy where Lamboglia pictures neighbors hosting parties and celebrations. And the plan is to open the restaurant, "in some capacity," before the end of the year. "There are a bunch of people here who make delicious food," Lamboglia offers. "I just want to fit in." If by some miracle, the space is finished sooner than December, "I'm ready to go," says the chef, who has been thinking about running his own restaurant for more or less his entire life.
Growing up in Bensonhurst, he worked in catering from the time he was 12. "Deli, rice balls, all that stuff." Even after culinary school and landing a job at the original A Voce with Andrew Carmellini, he kept at it because, he says, "it was cash. A Voce, my first check was 180 bucks. I was like, I'm going to die." So he worked both jobs until his profile in Carmellini's kitchen, and his paycheck, rose. He stuck with the chef, who left A Voce in 2008, opening new projects and eventually running the show at Bar Primi when it opened in 2014.
Carmellini's company owns Bar Primi, but Lamboglia was a partner and the menu was his — Italian, yes, but closer in spirit to Brooklyn than the rustic old-world dishes he'd cooked in the kitchens of A Voce and Locanda Verde. There was mozzarella with peppers. Stuffed meatballs. A plate of linguine with "eight cloves of garlic" and "clams casino" spaghetti. Sal's antipasti salad (another triumph of descriptive nomenclature) was as much a salumi plate as it was a salad. New York Times restaurant critic Pete Wells called it "impossible to dislike."
There was also tiramisu. Jiggly, fluffy squares of cocoa-dusted, espresso-soaked excellence. Normally when chefs say they are serving family recipes, they mean that they are serving regular restaurant recipes from which they derived some degree of childhood inspiration. Lamboglia's tiramisu, on the other hand, is an honest-to-God family recipe: at Bar Primi, his father, who was born in Naples and immigrated to the U.S. in his 20s, made every batch. "He's 70, and he's making 50 trays of tiramisu, three days a week," says Lamboglia. "It's crazy."
That tiramisu will be at Cafe Spaghetti, too, and dad will still be the person who makes it. The rest of the menu, however, is up in the air, but Lamboglia has a note on his phone, a scratchpad filled with 200-plus ideas that, when taken out of context, read like the highlights of a red-sauce vision quest: "stuffed calamari," "tuna Calabrese," "mom's baked pasta," "polpo insalata," "burger Italiano."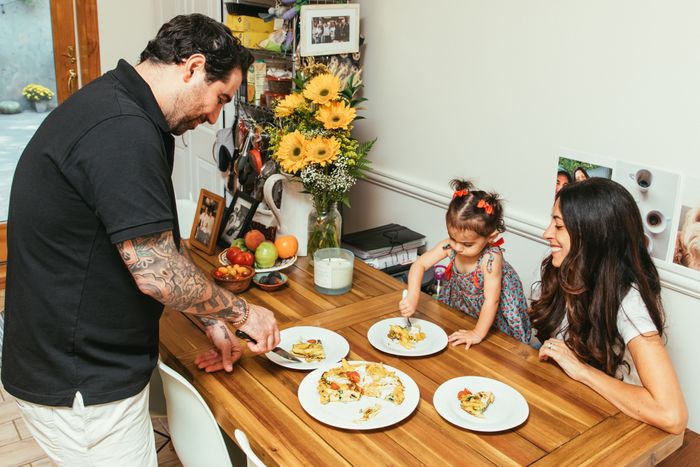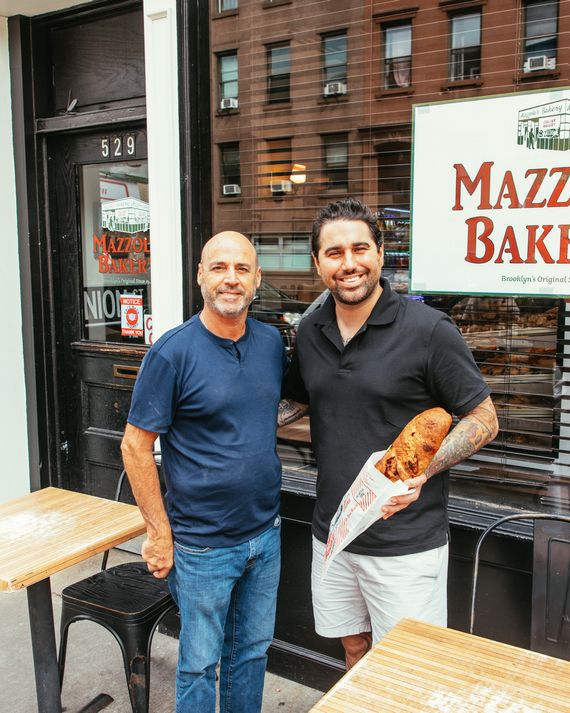 Whatever form the final menu takes, it's clear that Cafe Spaghetti will not be a place that serves precious $500 dinners with tableside carving and dishes sauced in front of guests. It is going to be easy and affordable, the kind of place your kids want to go because you live nearby and the food is always delicious. "Do you want to go to Cafe Spaghetti tonight?" you'll say. And the answer will always be, "Of course we want to go to Cafe Spaghetti."
Right now, Cafe Spaghetti is still a construction site. The only two design details that Lamboglia is ready to show are a statue of San Gennaro that he found in the basement, an apparent relic from the location's time as a butcher shop, and a baby-blue 1964 Vespa, which will be permanently parked somewhere in the restaurant. (Lamboglia has two other working Vespas for riding purposes.) The indoor dining room will be quite small — 20 seats — and even in its unfinished condition, the area that will become the kitchen dominates the room.
It's a considerable change from the sprawling Manhattan spaces where Lamboglia worked before and where he likely could have remained comfortably situated for the rest of his career. (Another Bar Primi is slated to open in midtown next year.) But if the pandemic has taught the hospitality world anything, it's that any sense of security can be fleeting. Lamboglia knew it was the right time. "Owning something where I live, in this neighborhood, in Brooklyn, means so much," he says. "People already ask, 'What are you going to do after? What comes next?'" He's got no idea. "I'm just going with the flow — this is all I want to do."