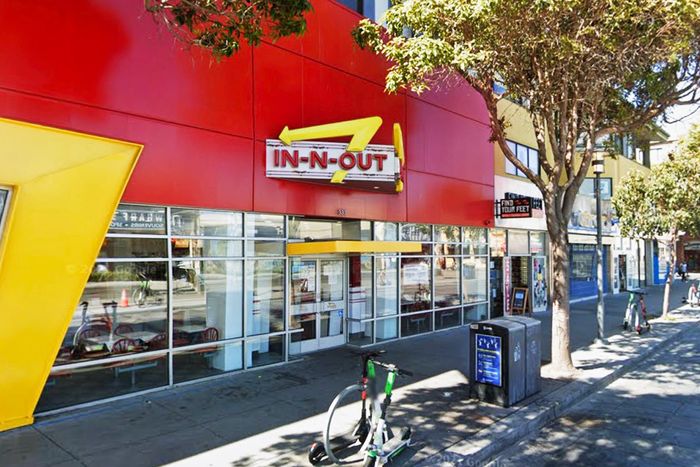 In-N-Out in San Francisco.
Photo: Google
New Yorkers have a long history of pining over In-N-Out, the West Coast burger chain that has, for its entire existence, refused to open in America's largest city. Undoubtedly this is because of the constant propaganda that streams out of California — and especially that In-N-Out next to LAX where New Yorkers inevitably Instagram themselves eating after they fly into Los Angeles — where the chain is so well loved that only a few brave residents will risk admitting that In-N-Out is basically fine. The main things people know about In-N-Out are that it has a secret menu, its fries are terrible, and its packaging espouses Christian values. As of this week, In-N-Out is also known for being at the center of a vaccine-mandate controversy: On October 14, its lone San Francisco outpost was shut down for refusing to comply with the city's requirement for diners to be vaccinated.
The location was shut down after being warned multiple times. Local news station KRON4 reports that employees let customers in without checking their vaccination statuses. Taking a page from Kyrie Irving's playbook, management then responded by coming out swinging, the San Francisco Chronicle reports, and has treated this as an opportunity to decry the mandate as "intrusive, improper, and offensive."
In a statement shared with the paper, the chain's chief legal and business officer Arnie Wensinger writes, "We refuse to become the vaccination police for any government." He also describes it as "unreasonable, invasive, and unsafe" for employees to "segregate customers." (While the location in question has since reopened, it is only for outdoor dining.)
This development does present New Yorkers with a fresh opportunity to reconsider their adulation of In-N-Out: Is this really the fast-food burger chain we want to drool over, constantly wondering if or when they'll come to New York, where we already have plenty of good burgers? In the case of In-N-Out … the art does not justify the artist, friends. Let go. Eat Shake Shack. Better yet, go eat veggie burgers at Superiority Burger or Lekka Burger. You do not need In-N-Out and its drama.