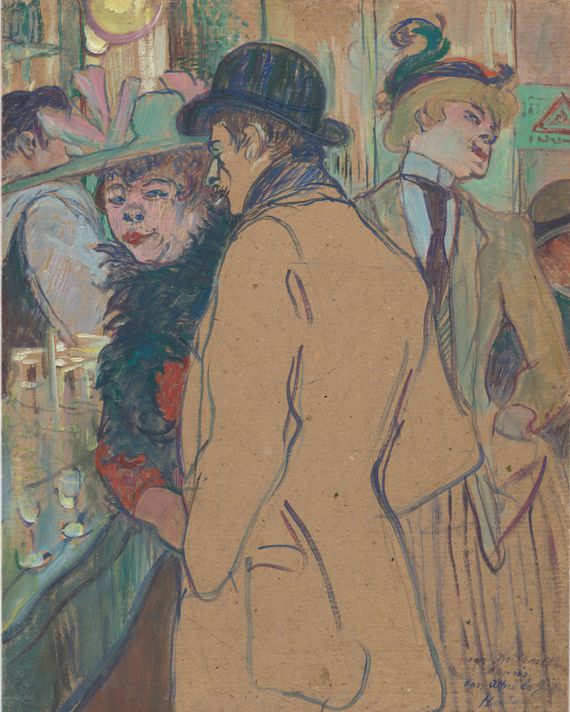 Photo: Courtesy of National Gallery of Art
Saraghina Caffè
195 Dekalb Ave., Fort Greene
Edoardo Mantelli already runs Bed-Stuy's Neapolitan pizzeria restaurant, Saraghina, and, down the block on the corner, Saraghina Bakery, where you can get everything from a rustic Piedmontese-style loaf of bread to a jar of piennolo tomatoes grown in volcanic soil on the slopes of Mount Vesuvius.
And yet the Milan native felt remiss in his duties as culinary and cultural ambassador. What Brooklyn needed, he thought, was a proper Italian caffè. "So I got inspired by the 1930s-era Viennese cafés of Torino and Milano," he says. "And while my aim is not to live in the 1930s, that was my starting point." Come July, he plans to unveil Saraghina Caffè, the type of all-day spot where you can have a cappuccino and a cornetto in the morning and return in the evening for an expert aperitivo paired with a salty snack or something a little more substantial. Think tramezzini on Saraghina Bakery bread washed down with Negronis, Spritzes, and Cardinales. Think crudo bar with a focus on carpaccio. Think Italian-marble floors and countertops, lots of oak, a "historically correct" mahogany façade. And think pizza, too, but smaller than the ones you get at Saraghina restaurant, and radically designed to be eaten with a knife and fork in the manner not exactly popularized by Bill de Blasio on Staten Island a few years ago.
Another radical–for–New York thing about Saraghina Caffè is the seats: 50 inside, 40 outside, and not a one of them at the strictly standing bar. What, you ask, does this man have against bar stools? "Standing is more convivial," he explains. "For me, it's super-Italian; there's so many places I go in Milano and Torino and Paris where you really have to wedge yourself through to get a drink, and I think it's fantastic. Even though we're still living through the pandemic, and shoulder to shoulder is not cool right now, hopefully we'll be out of that soon," he says. "My grandfather lived through World War I and, right after that, the Spanish flu, and he told me that everybody was so ecstatic when it was all over that there was, like, an explosion of happiness and people getting together. So I think it's going to be kind of like that."
146 W. 72nd St. and 340 W. 145th St.
The bad news: Harlem legend Charles Gabriel closed his fried-chicken restaurant on Frederick Douglass Boulevard and 132nd Street in February after the landlord cut off the gas. The good news: To make up for the loss, he and his new partners are opening two Manhattan branches in July, with a Brooklyn location in their sights. The focus will be on pickup and delivery, but there's outdoor seating and hopefully Wet-Naps should you wish to eat your chicken-biscuit feast on the spot.
Sixty Three Clinton
63 Clinton St.
Few things signal the rebirth of the restaurant industry more than the return of the tasting menu, a dining format whose intimate chef counters and innate undeliverability have made it especially vulnerable. So we take the July arrival of Sixty Three Clinton as a sign of hope for the future of six-course meals prepared in open kitchens by ambitious chefs like Samuel Clonts, veteran of Chef's Table at Brooklyn Fare and Bar Uchu. His partner here, Raymond Trinh, worked front of house in both those venues, but he and Clonts go back even further, to the kitchen of the Ritz-Carlton in Tucson, their mutual hometown. They've divided the two-room premises into a barroom serving items à la carte and a 40-seat dining room reserved for the modern American tasting menu. Clonts plans to make use of his inherited wood-burning oven in dishes like roasted caraflex cabbage that's been poached, pickled, and layered with Comté and hazelnuts and Berkshire-pork short ribs. And he promises some "Tucson flair" in the form of a first-course "breakfast taco": homemade flour tortilla, salsa verde, ajitama (seasoned ramen egg), and smoked trout roe.
99 Scott Ave., East Williamsburg
Last summer the owners of event space 99 Scott outfitted their 6,500-square-foot back lot with tropical plants and socially-distanced booths, creating an urban jungle stage set of sorts in the wilds of industrial Brooklyn. For its second season, the space hosts two of New York's best-loved pop-ups, Ha's Dac Biet and Kreung Cambodia, whose chefs have collaborated on a Southeast Asian-inspired menu served Thursday to Sunday through early September. Dishes include grilled corn with coconut milk and scallion, wood-oven-roasted chicken with makrut-lime-leaf glaze, and grilled-pork satay accessorized with a roti from A&A Bake & Doubles and pickled Greenmarket ramps. It's a Brooklyn cookout infused with fish sauce and strewn with herbs. And to wash it all down: tropical cocktails, Nicaraguan beer, spiked seltzer, and a natural-wine list compiled by Frenchette's sommelier.
Runner Up
367 Seventh Ave., Park Slope
When Daniel Eddy opened Winner in March 2020, he envisioned it as a two-pronged project: an all-day café and bakery plus a cozy wine bar in the carriage house next door. While the bakery thrived, quickly becoming a neighborhood fixture even in takeout-only form, the wine bar was shelved until pandemic restrictions were relaxed. This month, it finally opens as Runner Up, a casual meeting place for wine and batched cocktails, including a Negroni made with apricot-infused gin. "It's a bar first," says Eddy. But there will be food: salt-cod-and-smoked-trout croquettes, sardine toast, seasonal vegetables like asparagus, charcuterie and mortadella. Plus the rotisserie chicken made famous at Winner, available to eat on-site for the first time — even if on-site means at sidewalk tables for now. As at the bakery, where guest-chef pop-ups add variety to the regular menu of sandwiches and pastries, Eddy plans to share the bar space with a chef-in-residence who will run the tiny kitchen on weekends. "We'll have great food and great wine and great cocktails, and it's going to be a bit rugged," he says. "And for the moment in time we're in, that's okay." —Rachel Sugar
Pier 17, 89 South St.
With 155 seats inside and 50 outdoors, spread over two lacquered-wall, terra-cotta-tiled floors, Andrew Carmellini's "Italian chophouse" is ready to serve Fidi workers returning to their offices and the hoped-for tourists flocking to the Seaport District's Pier 17 for food and views. The Italian (and Italian American) part comprises bar snacks like mozzarella sticks with caviar, the Don Lasagn', and a scampi of king prawns and diver scallops. On the chophouse side, Carmellini and chef Brendan Scott dry-age the Wagyu strip loin with a Gorgonzola cure and apply a porchetta rub to the roasted prime rib. The menu and décor indulge in some retro nostalgia that includes tableside service. "I wanted to create a restaurant where you can just meet at the bar and have oysters and some great drinks and snacks, or grab a group and have bistecca Fiorentina with great salads and sides," says Carmellini. "It's definitely a feel-good kind of place."
283 W. 12th St.
After a year of keeping her comfort-food-craving West Village neighbors in fried chicken, roast-beef sandwiches, split-pea soup, and an impressively broad range of pies, from steak-and-Guinness to apple-brown-butter, former Beatrice Inn chef-owner Angie Mar is ready to run a proper (i.e., very French) fine-dining restaurant. What exactly will that fine-dining restaurant look like, and how will it depart from her previous work at the Beatrice? Mar isn't saying, other than to tell us to expect less meat but not necessarily more vegetables. No word yet on pie.
1 White St.
Nebraska-born chef Austin Johnson used to run the kitchen at Frenchie, one of Paris's most celebrated, and annoyingly difficult to get into, restaurants. (The Frenchie wine bar across the street is slightly less impossible.) But what he really wanted to do was to open a restaurant in New York. This summer, he gets his wish with One White Street, the converted four-story townhouse in Tribeca where he'll operate the ground floor as a small-plates, à la carte wine bar and devote the second and third levels, each equipped with an open kitchen, to tasting menus. "Exactly what Frenchie had, except vertical," says the multitasking chef. Look out for dishes like summer vegetables with sorrel hummus, with much of the produce grown on the restaurant's upstate farm.
87 Macdougal St.
Before it served its first official dinner early this month, Dame shifted shape from meatcentric tasting-menu pop-up to a fish-and-chips-themed one to an off-season deli and bottle shop. Now, finally, it's a fully-formed English seafood restaurant with a built-in clientele of pop-up fans and industry friends, many of whom cooked at the pop-up's guest-chef Sunday series last summer. [Read more.]
Emmett's on Grove
39 Grove St.
Emmett Burke of Macdougal Street dive-bar-restaurant Emmett's has done plenty to convince New Yorkers that the foods he grew up eating in his native Chicago — deep-dish pizza, ridiculously garnished hot dogs, Italian beef sandwiches — are not abominations, but, on the contrary, delicious. The mission continues next month with spinoff Emmett's on Grove, a space devoted to what Burke describes as midwestern American Italian supper-club fare: steak, fish, pasta, vegetables, and baby-back ribs, plus the Chicago thin-crust bar pies he introduced at the original Emmett's.
More on the return of restaurants