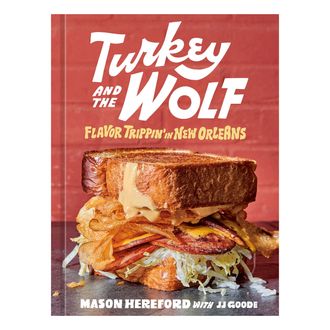 Now landing in June
Photo: Ten Speed Press
Mason Hereford's Turkey and the Wolf has been a sensation since it opened. In 2017, Bon Appétit named the New Orleans sandwich joint the magazine's Best New Restaurant. Its much-anticipated cookbook was supposed to be released February 15.
Unfortunately, it has been delayed. Because all the copies sank.
There are problems you can anticipate, and then there are problems you cannot anticipate. A problem you cannot anticipate might be: "All the books are at the bottom of the Atlantic Ocean." And yet here we are.
On Instagram, Hereford explained the situation, as much as that is possible: "There was a container collapse on the cargo ship that contained the Turkey and the Wolf books. The good news is that there were no critical injuries, as can happen in these situations. But the bad news is the books might be in a cargo container at the bottom of the Atlantic Ocean."
Extrapolating from The Maritime Executive, the cookbooks departed from Kaohsiung, Taiwan, in late November, and were idling in the mid-Atlantic waiting for congestion to clear at the Port of New York and New Jersey — "supply chain" — when the ship "encountered heavy weather." Sixty boxes were lost overboard; 80 more were damaged. The vessel has since arrived in Charleston, South Carolina, where it will recover from the collapse. The whereabouts of the Turkey and Wolf cookbooks are less clear. It is, Hereford notes, "perhaps the most hilariously 2022 thing to happen yet this year."
If it is any comfort, Hereford is not alone. Last night, New York Times food writer Melissa Clark announced on Instagram that her latest cookbook, Dinner in One, had also been on the ship and might now be deep underwater.
"I like to think that if the books are at the bottom of the ocean, they're teaching whole schools of fish some very tasty recipes," she wrote. "Poseidon and his nereids are dining in style."
The new release date for the Turkey and the Wolf cookbook is June 21. Dinner in One, originally slated for March, will now be released September 6. We can only hope for calmer seas by then, metaphorically and literally.