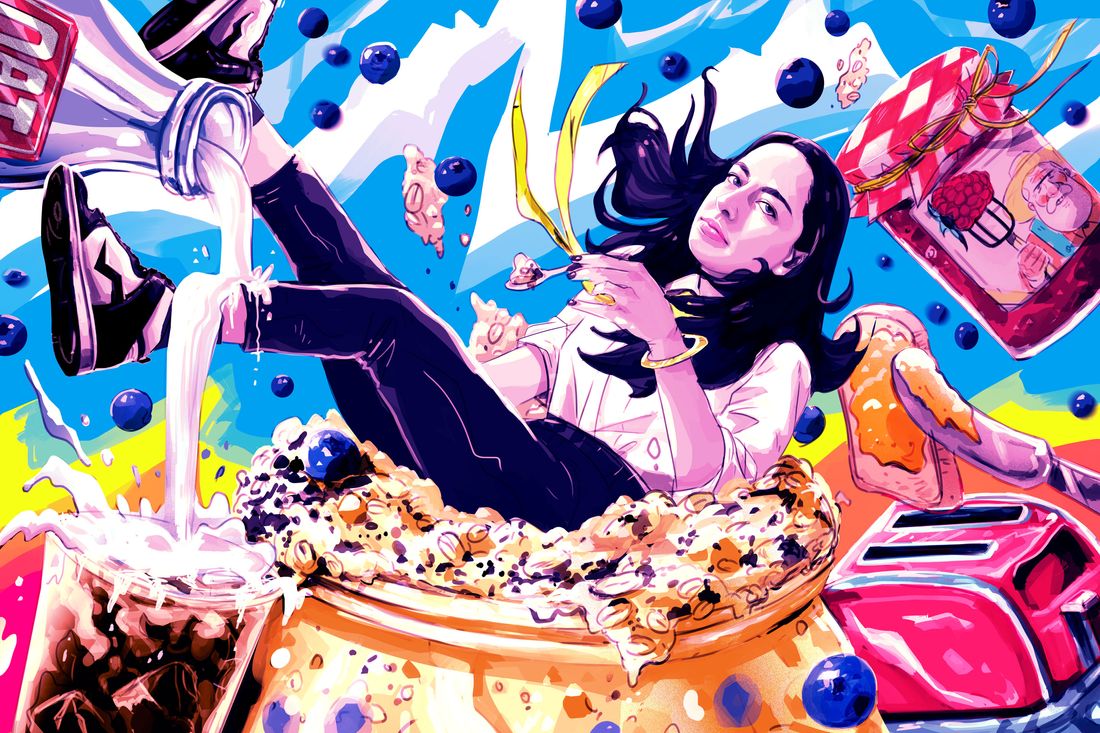 Willa Bennett finds comfort amid a busy and chaotic work schedule. Illustration: Ryan Inzana
For Willa Bennett, who took over as editor-in-chief at Highsnobiety a few months ago, a typical day might involve overseeing a photo shoot in London while simultaneously meeting with contributors from Berlin or New York or flying to Paris for Fashion Week. So when she's at home in Manhattan, she finds comfort in the homemade coffee and overnight oats she can't make while traveling. "My overnight oats," she says, "are a grounding force."
Saturday, January 7
We're shooting a musician for the March issue today in London. I wake up at 7 a.m. to find some coffee while I answer emails. The photo shoot is a 30-minute ride away, and I have an Americano with oat milk from the Standard in one hand and my phone in the other, FaceTiming with Matteo, our visuals director, to go over the shoot's creative direction.
I have my second Americano with oat milk from a small café across the street from the shoot and grab some multigrain oats with berries and seeds from set to start the day. As I go over the looks for the shoot with our fashion director, Sebastian, I finish my third coffee of the day before New York wakes up.
As talent arrives, I check in with the New York editorial team in the next room. Over four hours of calls, I snack on almonds, a fig bar, and berries. I take a break from my phone to eat lunch — sweet potato, beans, rice, and a chopped salad provided by the shoot — and return to set until we wrap around 7 p.m.
Sebastian insists on celebrating the photo shoot at Dishoom in Shoreditch. We share okra fries, vada pau, and lamb samosas, which I love.
Sunday, January 8
I'm terrible at eating on planes. I'm traveling a lot more than I used to, and there is something about flying that makes my appetite disappear. Since I know this about myself, I eat scrambled eggs on toast at my hotel before I head to the airport. My weird airport tradition is Smartwater and Twizzlers after security, but I fall asleep before I touch either.
Ten hours later, I'm back in my apartment in the West Village and immediately steam and hang up all the suits from my trip. I'm very particular about my suits. When I go to any new hotel room, the first thing I do is unpack and steam my suits. Even if it's a red-eye at four in the morning, I'll unpack my suits, hang them up, and steam them in the hotel. Always.
I'm only home for a few days, since I head to Paris Fashion Week the following Sunday. I go to the grocery store thinking, What should I eat for six days? I get broccoli, tofu, my typical stir-fry stuff. I gravitate toward lots of vegetables and proteins — especially when I've been traveling.
After dinner, I prepare my overnight oats for the next day with almond and oat milks and yogurt and put it in the fridge overnight … or at least until 5:00 a.m., which is crazy, I know. My Zooms start at 7 a.m. — sometimes earlier.
I eat most of the blueberries I bought straight from the container as I schedule some emails for the next morning and fall asleep embarrassingly early due to jet lag.
Monday, January 9
I wake up at 5:30. While having my overnight oats (with added blueberries, honey, and chia seeds), I write a draft of a piece I'm working on for our next issue and check in with our senior editor Jake in Berlin about the week ahead. In less than 30 minutes, I've made my way through the French press. I appreciate being able to make my own coffee so deeply after I've been gone for a while — especially with Fashion Week coming up. My schedule is so inconsistent. With my Zoom schedule so global, I'm always on my phone and on the go. It's grounding to have my coffee and oats while I'm here. I've never tried to make the oats while I'm away. It wouldn't be the same. It's my New York thing.
I eventually make my way to my office to start my Zooms. Since I moved to Manhattan almost two years ago, I've walked to work as much as possible. My dream growing up was always to be a gay writer in New York and work in men's fashion. I lived in Fort Greene, and when my lease was up, I was like, I have to go to the West Village. It's definitely not what I imagined. In my head, I was smoking cigarettes on a fire escape with all these queer people around me. It's noticeably different, but there is still something romantic about living in Manhattan. I can go back through my old diary entries that talk about wearing ties as a teenager and dreaming about being out and queer in the West Village. I do not take that for granted.
When I get to the office, I have five Zooms in a row. I go over our monthly traffic numbers with the audience-development team, then have a brainstorm with the social team followed by three one-on-ones. As I talk to our news editor (a different Jake) about 2023, I have a rosemary chicken, brown rice, and broccoli bowl and a lavender lemonade from Dig at around 2 p.m.
I finish the day with a series of meetings in my office followed by a long visuals meeting. Matteo and I completely lose track of time. Suddenly, it's 9 p.m., and I'm late for dinner in Brooklyn. I head to the C train to meet my partner, Celeste, who has graciously invited me over for spaghetti and meatballs. They have a secret meatball recipe that includes Ritz crackers and ricotta (don't tell them I told you). They're a writer at SNL, so they relate to my intense work hours. We both take our work really seriously, so I think it's romantic that we make time for each other. I eventually have to make my way back to Manhattan and give edits on a few features.
Tuesday, January 10
I triage some timely emails as I brew my French press and enjoy my beloved oats — this time with blackberries, almond butter, and honey. I leave for the office around 6:45 a.m. and quickly grab a large iced coffee and a raspberry scone from Café Grumpy near my office in the Financial District. The extra caffeine helps me power through some executive meetings followed by meetings with HR and finance. My assistant Shay brings me even more coffee — an oat-milk latte from Starbucks — when she arrives at the office close to 10 a.m. An hour later, she puts rainbow Goldfish (my favorite) on my desk.
I make my way through a series of meetings about Paris Fashion Week and give edits on a few different projects. At 3 p.m., I head to Tacombi to meet a frequent contributor for quick tacos. I enjoy my 30-minute power lunch of two fish tacos, a sweet-potato taco, and Diet Coke, but have to run back to the office to spend the afternoon in a mix of meetings with writers, editors, designers, and social managers.
I leave the office at around 7 p.m. and head uptown to a fashion friend's apartment. A few of us share some natural wine, homemade squash ravioli, and a hanger steak. I love catching up with them, but it's getting late, so I take the 1 train back down to Christopher Street, stopping at the grocery store to get some fresh fruit for my overnight oats.