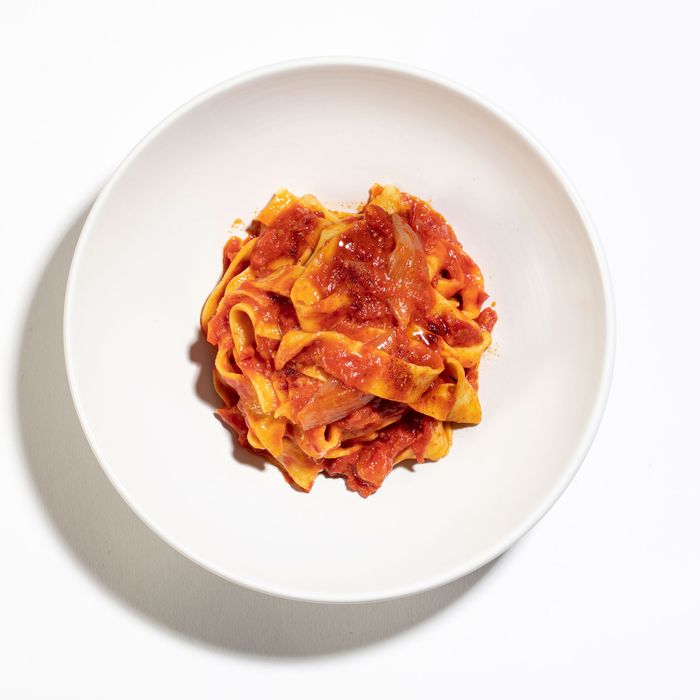 Ci Siamo's tagliatelle with tomatoes and buffalo butter.
Photo: Melissa Hom
Hillary Sterling spent nearly seven years at Vic's in Noho firmly establishing herself in the top tier of New York's Italian-food chefs. (Before that, she studied the cuisine at Lupa and A Voce.) But then Danny Meyer made her an offer too good to pass up, involving that ultimate form of chef bait, a custom-built showcase wood-burning grill, not to mention the chance to create a brand-new restaurant in Manhattan West, the newly skyscrapered parcel of the West Thirties tucked in between Hudson Yards and the Moynihan Train Hall.
The place is called Ci Siamo, slang for "are you ready?"; it can also mean "let's go," "here we are," or "we're ready," a sentiment Meyer feels encapsulates this back-to-work, back-to-school, back-to-life moment in pandemic-muffled midtown. "It's all the things I love," says Sterling. "Pasta, breads, the wood-fired cooking I've never been able to do professionally." Ci Siamo was conceived as predominantly traditional Italian, but unlike Meyer's other Italian kitchens, Maialino and Marta, it has no regional focus, and will also draw inspiration from Spain and France as well as New York City, which made menu development challenging. "I was racking my brain," Sterling says. During an early meeting, Meyer said, "I just want it to feel like we're going out to come home."
Oh my God, what does this mean?, Sterling remembers thinking. She pondered the koan for days. "On Friday, I got home, and my wife was out of town. I sat down at my dining-room table and poured myself a Campari-soda, and of course I needed a snack. So I opened up a bag of pistachios, and I sat there by myself eating pistachios and drinking a Campari-soda, and I was like, This is what he means. That's what it would be like if you came to my house. I would always open something, a bitter spirit or an aperitif and some pistachios or potato chips. Not overthinking it is sometimes the most comforting experience we can provide."
Because you can't open a restaurant and offer your public only nuts and spritzes, Sterling plans to make all her own pastas, including gnocchilike topini and a tagliatelle with tomatoes and buffalo butter, the chef's ode to Marcella Hazan's tomato sauce to end all tomato sauces. Sterling will trade in Vic's featherlight round pies for variants like pizza bianca and "cast-iron" focaccia, and many of the main courses, from whole trout to bistecca fiorentina, will touch the open flame. Desserts along the lines of lemon torta and pistachio bomboloni are the province of Claudia Fleming, the former Gramercy Tavern pastry chef who actually did come home, professionally speaking, to Meyer's Union Square Hospitality Group. She'll join Meyer and Sterling in saying, Let's go. We're ready. Here we are.
Ci Siamo, 100 Manhattan West Plaza; October.
*This article appears in the August 30, 2021, issue of New York Magazine. Subscribe Now!
More From Fall Preview 2021