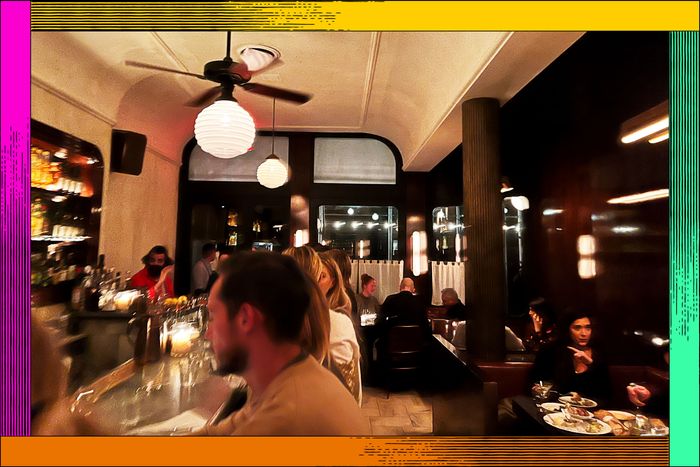 Inside Frenchette, where the kitchen currently closes at 9:30 p.m.
Photo: Tammie Teclemariam
This article originally appeared in The Year I Ate New York, a newsletter about eating through the city, one restaurant at a time. Sign up here.
Last week I got a real taste of "normal" after visiting New York Magazine HQ for the first time, followed by happy hour at a nearby bar — a little employer-supported socializing to remind us that it's not so terrible to be together after all. And it worked, because all of a sudden, this happy hour became three happy hours, and it was 8:30. p.m. I dipped out and decided to walk over to Frenchette only to see on my phone, to my horror, that the restaurant was "closing soon." It wasn't even 9 p.m.
As I hoofed it in a fresh pair of loafers, checking the time at every "don't walk" sign, it felt strange to rush when I didn't have a reservation or anyone waiting, and was only just hoping to make the last seating. Granted, Frenchette is in Tribeca, a neighborhood that — thanks to its concentration of both wealth and children — is like the Connecticut of lower Manhattan. The streets down here may clear out in the evening, but I was still not expecting this restaurant's bedtime to be earlier than mine.
I made it, barely, and was surprised to see the room completely full. Elegant couples and trios shared booths littered with bottles of wine and Vichy Catalan mineral water, while people at the bar drank espresso martinis and posed for Instagram. There was one empty bar seat, perfect for me. (Next to, it turns out, a woman who happened to be a newsletter subscriber — hi!) When I sat down, I asked the less hirsute of two tall, skinny bartenders whether the restaurant really closes so early, and he confirmed that, yep, the kitchen tries to shut down at 9:30, but will stay open to fire food for anyone who comes in before then. It seemed odd, given the crowd, but it turned out I would be among the very last people to come in that night.
I got my half-dozen oysters and noticed women to my left sharing a garlicky special of razor-clams casino. "Definitely don't get food like this in Ithaca," one commented. A couple down the bar split an enormous lacquered shank of some sort, and the bartender was simultaneously stirring two drinks while shaking another. But by the time my two desserts landed a little after 10 p.m., the dining room had already started to clear. When I left, the restaurant was empty.
A few nights later I found myself at Buvette, the tiny French brasserie in the West Village, and experienced the same strange "Nitehawks" sensation at a surprisingly early hour. I arrived around 8, but once again I was at the tail end of things. There was an empty four-top up front, some older couples scattered in the dining room, and a table of young guys in the back. I sat at the bar, my favorite place to sit in this restaurant because you can watch them plate everyone's salads and tartines and desserts, and asked what was up. Is it always this slow now? The bartender said it was different on weekends, but that rush hour was around 7.
The counter person in charge of firing the appetizers explained they close at 11, "but our last seating is at 10:30." Are people still coming in then?, I asked. "Not so much coming at that time, but still some people hanging out."
I am not a planner, which in the past meant that if I wanted to eat anywhere without a reservation, my options were limited to walking in when some place opened at 5, or waiting until the dinner rush died down closer to 10. Now, though, the traffic patterns are all thrown off: 6 o'clock is hotter than 9 o'clock and if I had gotten to Frenchette at 10, I would have been out of luck completely.
It wasn't always like this, of course — Frenchette's original closing time was the much more reasonable midnight — but I still have to wonder if this city really has become as boring as Mayor Adams seems to think. I'd harbor that it probably has more to do with the tight labor market, fewer people going out overall, and the fact that the high earners who might've stayed at the office until 8 or 9 before heading out to eat on a Wednesday are only now getting back to their former routines.
My Buvette bartenders' observations also line up with something I've noticed, which is that people are arriving early and simply staying put. I remember being granted a 9:15 bar seat at Sofreh, the popular neighborhood spot in brownstone Brooklyn, on a snowy Friday night, even though I was warned, "The kitchen is closing." They made it seem like they were doing me a favor by letting me sit at all, so I ordered quickly. Still, it was weird: Tables all around me were in the thick of conversation and the night didn't feel anywhere close to over. But almost all at once, the exodus began. By the time my kofteh arrived, the chatter had nearly silenced and the closing-time vibe was undeniable.
I suspect the return of warm weather and the mayor's unyielding campaign to help New York "become a city of excitement" will encourage some people to push back their plans at night, but I also wonder whether too many of us have gotten used to the idea of meeting up at like 6 p.m. and then calling it a night.
I don't share our mayor's enthusiasm for returning home at 4:18 a.m., but it seems bad for everyone — the restaurants, especially, which would benefit greatly from stretching out the hours during which they can actually make money — if arriving for dinner at 9 p.m. feels a bit like showing up to a concert just in time to catch the band's last song or two. But then, right when you're ready for the encore to start, the house lights come up instead.