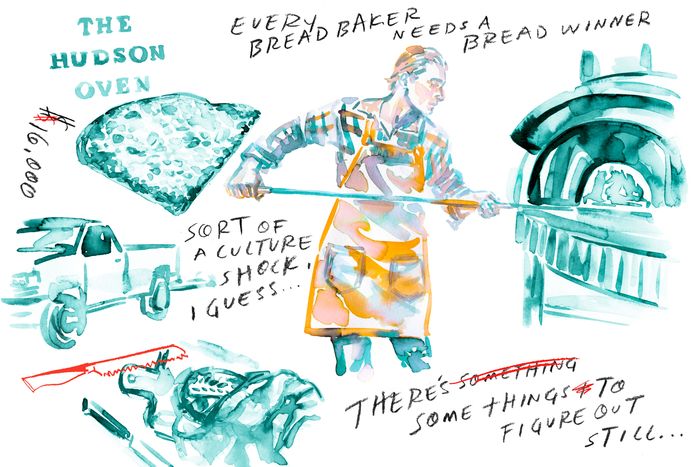 Illustration: by Samantha Hahn
On misty weekend mornings, sometimes a strange cabinet would appear on a rural corner or riverfront promenade in a town like Peekskill or Chappaqua. Signage would indicate it contained fresh homemade bread and that you could take what you want and pay what you want. Locals, a little obsessed with chasing down free sourdough, signed up for email alerts or followed the bread's account on Instagram. I never indulged but watched and waited patiently for the big reveal: Was this Entenmann's, or Heaven's Gate?
But the rationale of this bread, when it was revealed, turned out to be stranger: One day, it was announced that you could become a bread subscriber, which granted you a skeleton key to your own personal bread cabinet at a brewery in Ossining and the ability to order bread at a decent price. This charmingly addled business model, in which you paid money for the right to buy bread, melding high-end exclusivity with charm and carbs, was perfect for this rural-suburban chunk of Westchester.
This is the Hudson Oven, a business that began in hobbyist philosophical praxis and is now zooming toward being an official brick-and-mortar bread creation and distribution system. Chase Fox Harnett, 28, makes his bread quite near the former homes of the idealist Corliss Lamont, who was for many years America's most famous socialist, and the nihilist John Cheever, the writer and sometime fireman who was a hilarious and self-loathing chronicler of the suburbs. Both are dead, but the tensions of idealism and selfish desire are still a staple of the rich suburban lives of people who might buy $12 loaves of handmade bread but who will also ensure their luxuries can only be enjoyed by the few — living in towns where residents cling to minimum two-acre zoning for single-family residences, aggressively watch for any incursions by Orthodox Jews, and put up "no parking" signs on streets surrounding nature preserves during a pandemic.
That the person behind this sweet stunt was a thoughtful former model made the whole bread thing even more fun and goofy. In 2016, Chase, then a young college student at Pace, took $16,000 of the money he made modeling and bought the bare bones of a baking business, including his 8,000-pound portable stone-and-steel oven, a real challenge to the towing power of his Silverado.
That boys were brought in like steers had started to sour him on modeling. "I got a chance to see what I might become if I kept at it. It was a very competitive industry, and I began to strongly dislike the casting calls," he told me. He went to Paris for a semester and stopped working and started going for long walks to think about his future. While he still loves fashion as much as he dislikes the modeling side of the business, what he found was that he was really interested in how we make food — in the whole path of wheat to bread.
He returned home to his parents' basement in Rockland County, where his family has a printing business, transferred from Pace Manhattan to Pace up in Westchester, and got an internship at Stone Barns. He studied silvopasture, looking at pigs as tools to work forested land, which led to work as a farm assistant. His high-school girlfriend turned fiancée, Madison Goldrick, got a job there too, as a pastry chef in the Blue Hill kitchen, though just for a little while.
At his parents', he started using his huge outdoor oven to make bread. These early loaves were often gluey or rocky, and his friends were sick of eating them, so one day he dragged a cabinet out on the street with free bread in it. He kept doing it. A tip bucket would net maybe $40. From his bedroom window, he could see cars line up every weekend. Eventually, the police gave him a talking-to. Being a bread man on the lam is why he started the scavenger hunt.
Madison and Chase hopped to the Westchester side of the river, establishing a home base from which to trial a number of pandemic-era experiments: frozen sourdough ready-to-bake blocks sold in stores; backyard socially distanced pizza parties with the oven; building garden beds and teaching planting. And Madison got a straight job, bringing in money as an office manager for hedge funds in the city and in Greenwich. "For the longest time, it was me soloing the bread," Chase said. "Every bread baker needs a breadwinner."
Now bread ordering is open to nonmembers. Anyone can order a loaf to pick up at cabinets in eight locations, from Croton to White Plains (plus Nyack). He works backwards from demand to supply for each of these locations: If ten or more people write to say they want a bread cabinet nearby, he'll find the place. So Chase spends his non-baking days wandering around, wooing local businesses with bread. Lots of people know who he is, he said: "'You're the crazy dude putting the cabinet out.'"
These days, Wednesday at 8 p.m. is the deadline for customers to place their orders. That's when Chase knows how many loaves he has to start in just a few hours. On Thursdays, early in the morning, the oven gets loaded with wood; inside his cozy garage-kitchen, dough is mixed. That dough hits the fridge around 4 p.m. At last, around sunset, the ashes in the oven get raked out and it gets closed up to cool overnight. Starting around 4 a.m. on Friday, he bakes in batches (the oven can fit as many as 24 loaves). Madison comes down to start bagging around 6 a.m., then he sets off on his delivery rounds around Westchester.
An oven full of loaves, at full price, grosses them a bit less than $300; he'll do three or four rounds. Meanwhile, the business costs about $5,500 to $6,000 a month. His biggest expenses are rent and the price of good flour, from Farmer Ground Flour, which is a buck a pound.
Every element of the story so far sounds like a weird if slightly pleasant dream, including the fact that the owners of the pickup locations are paid, in a handshake deal, with a single loaf of bread.
He also hit on a retail product that's slowly working — a "bread brick" kit. Just add water, directions included. It's doing "decent," he said, in 35 retailers and now Whole Foods on Wall Street.
Last year, Madison quit working outside the business, and he left Stone Barns. Now they're full-time unpaid co-workers who are also engaged to be married. (It's just his name on the company docs, though: "There's some things to figure out there still," he said mildly.)
He's recovering from a bit of a stumble over the holidays — he'd sold a lot of bread, and he thought it'd be easier to make more bread with less water, but it all went a little Play-Doh. "I'm still crawling back to the bread that I was making last summer, which was great," he said. He worries that the bad loaves scared off a few first-time customers.
This is a business on the edge, and every business like this hits the same wall. You can't wholesale, selling bread for half the price when the real value of the bread is your labor. And you can't hire five folks to make bread every day, because you can't pay them and don't have the infrastructure.
The other route is the most traditional path of all — get some money from outside (that's the real magic trick), go retail, and pray.
This spring, they'll find out how this goes, as they're about to open an 1,800-square-foot space in a Westchester river town. There they will, they hope, fulfill all the dreams of local bread-hungry mobs. That also allows them the space to bake daily, which is good, as it all needs to work out quickly.
"This place has to be generating cash flow in the next three months," Chase said. They're going to have to choose an oven first, and then? "I can't wait to just justify hiring somebody full-time, and paying them well," he said. He'd like to scale up and be putting bread in 50 locations each week. Also, Chase and Madison are getting married in September. Hopefully nobody thinks there'll be a honeymoon?