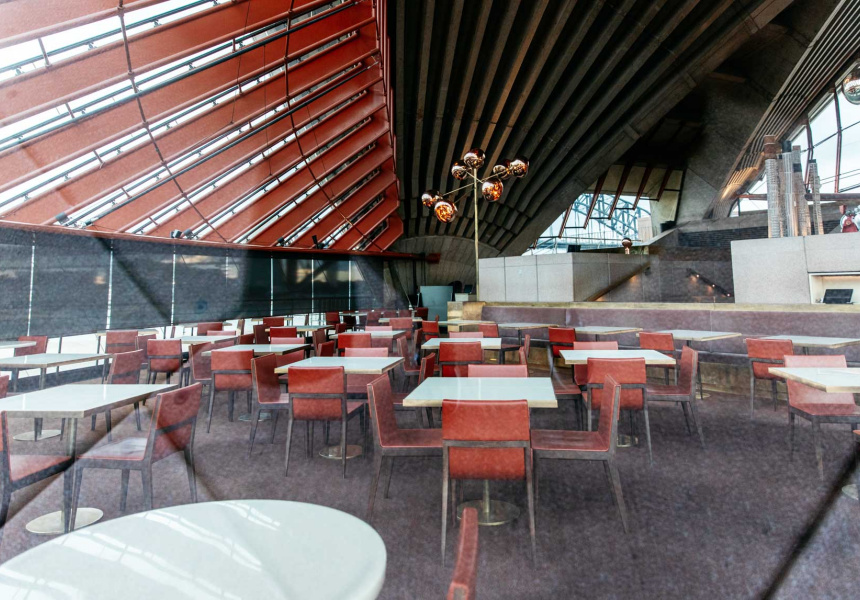 When Australia's restaurants closed in March, hospitality owners were already puzzling over how they'd reopen. When was it going to be? What was it going to look like? What were the challenges and potential pitfalls?
Even without the extra costs and processes required to enforce government health and safety requirements, reopening a venue after two months in effective closure was never going to be as simple as switching on the lights and opening the doors.
During this period many powered on with pick-up and delivery: dining rooms became holding bays for piles of takeaway containers and staff morphed into packers and drivers.
But for those who shut down completely, the simple act of turning machinery back on can be a stumbling block. Michael Ryan owns award-winning diner Provenance in Beechworth, and he's also run seasonal restaurants in the ski fields.
"Things stop working when they stop being used," he says. "Fridges don't like being turned off for a period of time – they might need new gas, a bit of attention. Stove pilots don't relight. Seals dry out on coolroom doors and dishwashers, so you get leaks. Everything is designed to be used frequently."
Along with coaxing fridges back to life, he's rethinking almost everything about his Japanese-influenced destination restaurant. "We're looking at smaller menus, shorter wine lists, fewer choices," he says.
With wages subsidised by Jobkeeper until September, he sees an opportunity to innovate. "You'd be crazy not to use this chance to look at doing another format for your restaurant," he says.
Provenance has accommodation too, and they're planning to offer in-room dining for the first time. "Nervous people may not want to sit in a restaurant but they would be happy to sit in their room." The restaurant menu, meanwhile, will shift to a kaiseki-style progression of dishes delivered in batches to reduce contact with customers.
"This phase feels, somewhat, like we're starting new businesses," says Zara Madrusan, co-owner of Made in the Shade, the group that includes The Eveleigh, Bar Margaux and Heartbreaker in Melbourne.
"We've talked a lot over the last few weeks of the rebuild, and that's exactly what is going on across the board at Made in the Shade. Every entity has a different timeline for reopening.
"Although we continued to offer delivery services during lockdown, we did this centrally out of one venue with a tiny team, so the blood really did stop pumping through the other venues for those two long months, and there's a lot of work involved in resuscitating."
That resuscitation includes bringing essential services back online for each business – such as rubbish collection, landline and internet connection, and cleaners. Add to that Covid-19-specific requirements that involve retraining staff, reworking service practices and booking processes, and adapting their venues to accommodate a full food menu (under Victoria's current guidelines alcohol may only be served with a meal).
"A big one to navigate behind the scenes is all suppliers moving to cash on delivery, no credit terms, understandably. This is a massive investment for businesses up front, at a time when cash flow is at its worst. It will mean we have access to less variety, and as a result those epic wine lists are out the window, for now," says Madrusan. "The effect of these nine weeks on every step of the supply chain has been tremendous. Some suppliers have either changed their offering or folded entirely."
In Adelaide, Soi 38's co-owner Daisy Miller is "absolutely looking at our reopen as if we're beginning a new business". The Thai restaurant has overhauled its menu – shelving its a la carte offering for a set menu – and transformed itself from a takeaway operation back to a dine-in restaurant in the space of 10 days. That meant hauling takeaway boxes and extra fridges and freezers out of the dining room
"To shift our dining room from a packing space filled with boxes, extra fridges and freezers – and with enough space for staff to practice social distancing – back into a dining room was always going to be a process," Miller says. "Then there was all the produce prep – reconnecting with suppliers and reps, many of who had been furloughed or stood down. Buying produce and stock without knowing how many people want to be coming into the city to eat with us – especially given we had changed our offering and begun to take deposits [for the first time]."
For Miller, the most time-consuming and difficult task has been making the decision on how, exactly, to move forward.
"Our lease is ending in August – should we take that option and run? Should we continue to offer a la carte? Should we keep delivering takeaway? Should we change our menu? Should we plan our budgets at 50 per cent capacity for three months? Or six months? Or a year? Should we, as owner operators, work longer hours to keep costs down? What will that mean for our kids? When you own and work in any business – especially as husband and wife with children – your work and personal lives are so intertwined that determining the best decisions can be paralysing. Then, of course, there are all the new rules and regulations and restrictions."
Across the country, venue owners are decoding a patchwork of state-by-state guidelines and scaled openings as they joyously, nervously welcome back diners. Being Covid-19-safe is a major concern: no one wants to be linked to an outbreak.
Restaurateurs are marking floors and arranging tables for social distancing, installing signage to separate customers as they enter and exit, developing systems for taking customer contact details, laminating menus or shifting them online and – in Queensland and Victoria – ticking off a government-mandated checklist to ensure workplace processes minimise contact and maximise hygiene.
Staff need to be trained in new systems, whether it's operating temperature guns to screen guests for fever or explaining new menu structures.
Adding anything new to a business comes at a financial cost. Restaurant and Catering Industry Association CEO Wes Lambert says members are telling him it's costing up to $1000 to implement basic Covid-19-safe changes such as disposable menus and floor markings. Some businesses are redeploying staff from serving to cleaning duties. "We've heard of the 'Covid sommelier', the person who hands out masks and hand sanitiser," he says.
Jessi Singh, founder of Don't Tell Aunty in Sydney and Daughter In Law and Mrs Singh in Melbourne, is also making changes.
"It's like starting a business again from scratch," he says.
The pandemic means some processes are utterly different. Delivery drivers who used to load produce into the coolroom must now stay off premises. Suppliers who visited many restaurants have been subbed out with local provedores with a smaller web of contacts. Non-perishable deliveries are even being stored off-site for four days in case of coronavirus contamination.
His first weekend of dine-in trading in Sydney was booked solid, though having just 10 customers at a time isn't profitable. "If we break even, that's good," says Singh. His motivation is more about giving work to his staff. Like many restaurateurs, he employs overseas temporary visa holders who aren't entitled to any government assistance. "They are around 85 per cent of our staff," he says. "I give them free food and groceries and try to give them enough shifts to scrape by."
Restaurants with local employees on Jobkeeper have no financial incentive to bring back foreign visa holders whose wages aren't subsidised by the government.
"We have two crutches at the moment – JobKeeper and rent relief," says Julian Gerner, owner of Morgan's on the Mornington Peninsula. "My massive concern is that when the rug gets pulled from underneath us, we as an industry are going to fall flat on our faces."
In the meantime, he's cranking Morgan's back up. "It's basically opening a new business except we're doing it in two weeks, rather than in a year," he says. Despite the challenges, he's looking forward to it. "We'll open our doors, light fires, pour beers, deliver hot food in a nice environment – all those things people have been craving," he says. "It's a wonderful thing for our staff, the industry and our society."