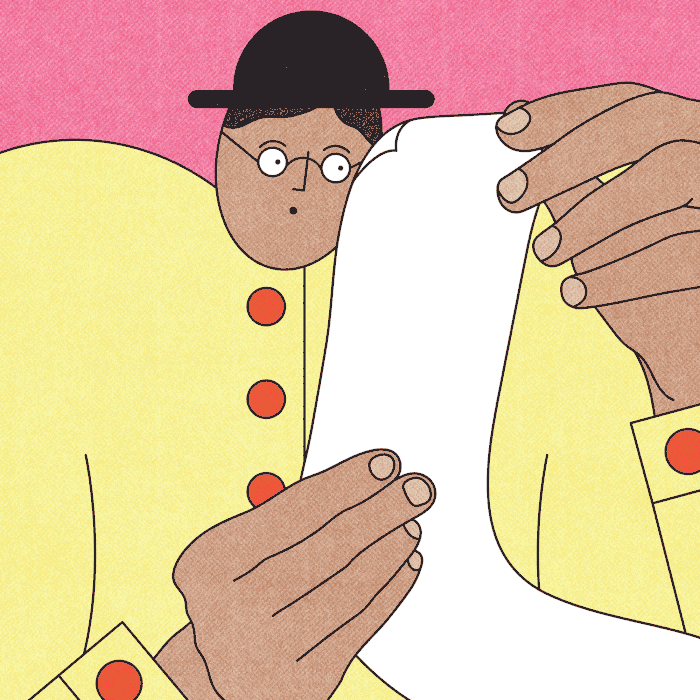 It's not your imagination: Restaurant prices are rising at unprecedented levels.
Animation: Allie Sullberg
When the restaurant Oxalis opened in Brooklyn's Prospect Heights neighborhood in 2018, it looked like a lot of other upscale dining rooms in the city. Chef Nico Russell's food was neatly plated, framed by plenty of negative white space, and favored in-season ingredients. At the time, the multicourse tasting menu cost $60. Three years later, after three separate price hikes, two of which occurred during the pandemic, the carte blanche experience at Oxalis now costs $105. Built into these increases are a few extra courses for diners, and better pay for the staff — plus the realization that restaurant math is far from simple. "We were already thinking about increasing the price pre-pandemic," says Steve Wong, the restaurant's co-owner, "but we never intended to jump over $100."
Oxalis is not alone, and rising menu prices are certainly not limited to fine-dining restaurants; eating out is most definitely more expensive than it used to be.
The food-service research firm Technomic pegs typical annual menu inflation at around 2.5 percent, accounting for natural fluctuations in costs of goods and labor. But according to the U.S. Bureau of Labor Statistics, prices at full-service restaurants have risen 4.3 percent in the past year, the largest 12-month increase ever recorded.
So, what's really going on? Well, restaurants are enmeshed within a vast and highly sophisticated ecosystem of supply and demand, which is being tested by a perfectly terrible storm of events. The economic devastation of COVID-19 is a factor, but Wong says that isn't the whole story. "We all knew the prices had to go up for this industry to be more sustainable for everybody involved," he explains. The pandemic just accelerated the timeline.
Food costs are skyrocketing.
Ingredients should account for about one-third of a restaurant's budget, according to conventional restaurant accounting. But in the current environment, wholesale food costs — what operators pay for bulk ingredient purchases — are going up, making that target increasingly difficult to hit.
At Jeju Noodle Bar in the West Village, chef and owner Douglas Kim used to sell a popular appetizer of crispy chicken wings seasoned with "umami salt." But when the price of wings hit $5 per pound a few weeks ago — more than double the previous price — it no longer made sense to spend several days prepping the dish, which would have to be sold at a loss. "It's a lose-lose situation," he says. "If I sell chicken wings for $24, people will think I'm crazy." Instead, Kim decided to take the wings off the menu entirely.
This is happening everywhere: In January of 2021, wholesale food prices began inching upward across the country, maintaining at least a one percent increase every month since then — a trend not seen since 1973 — according to the U.S. Bureau of Labor Statistics. In a study by the National Restaurant Association from June, two-thirds of restaurant operators said their total food costs were higher than they were before the pandemic.
It's not just core ingredients listed on the menu that have seen a bump in wholesale prices. For example, the prices of cooking oils, a so-called disposable ingredient, have nearly doubled since earlier this year. According to Kevin Liang, the CEO of a distribution company that supplies restaurants across the city with Asian products, specialized ingredients, like imported yuzu juice or fried garlic, are also experiencing wild fluctuations in pricing, or are disappearing altogether.
To account for this, some operators are tinkering with individual menu items while others are simply raising overall prices a few percentage points. Kim raised the cost of all his noodle dishes by about a dollar. He also includes a 5 percent surcharge to his menu, permitted by a restaurant relief program that was instated by New York City last year. An alternative solution is to overhaul menus by replacing expensive and volatile ingredients with something else entirely.
In economic terms, scarcity is what drives prices higher. In today's environment, that scarcity is the result of a number of factors. Aaron Adalja is an agricultural economist and an assistant professor of food and beverage management at the Cornell School of Hotel Administration; he points to the basic principles of supply and demand to explain what's going on. "When the pandemic hit, there was this oversupply," he says. "When the restaurants reopened, there's this really high demand and not enough supply to meet it — it takes time to rebuild the supply chain." Adalja adds that rising oil prices, increased commodity costs like grain for animal feed and even extreme weather are exacerbating supply-chain problems. (At Coast and Valley, a California-focused wine bar in Greenpoint, co-owner Stephanie Watanabe was forced to increase wine prices by about 15 percent after wildfires in Northern California, where the bar sources most of its bottles, drove wholesale prices up last year.)
Meanwhile, the supply chain itself — the literal boats, containers, and docks — is also under strain. Chris Pappas is CEO and founder of the Chefs' Warehouse, a national distribution company that supplies 34,000 independent restaurants. He says a container of tomatoes coming from Italy is five times more expensive than it used to be, largely due to logistics: "There are a lot of kinks, a lot of delays, it's forcing us to carry much larger inventories." If all of these costs are just getting shifted downstream, it's up to restaurant operators, as the penultimate link in this chain, to make the difficult choice between eating that cost, or passing it on to the customer.
When prices jump, independent restaurateurs have less bargaining power with suppliers than larger corporate restaurants and restaurant groups. Without the scale or volume, there is a greater chance that the volatility in food costs will disproportionately impact smaller restaurants. "Suppliers are so busy and short-staffed, they say it's just not worth their while to take the smaller order," says Richard Ho, of the 11-seat Taiwanese restaurant Ho Foods in the East Village. "Because we're small, things are actually more expensive for us."
Sam Yoo, who operates Golden Diner in Chinatown (which reopened this week after a kitchen fire), puts it another way: "We're just sort of subjected to whatever price is given to us by our supplier. It's like being stuck in limbo."
The labor market has never looked like this.
Like food, a restaurant's cost of labor is also expected to hover around the 30 percent mark. But the ongoing worker shortage and many operators' desire to provide fair wages that exceed the state minimums, both to attract employees and to correct historically low pay, can push restaurants over that mark.
On top of a sudden surge in demand for labor as restaurants rush to reopen, the pool of applicants is smaller. As of March, there were 993,000 job openings in the restaurant and accommodations sector, the second-highest amount since this data was first collected by the U.S. Bureau of Labor Statistics in 2000.
As Wong of Oxalis notes, higher labor costs are not an entirely new problem. In 2018, the same year Oxalis opened, fine dining restaurants like Eleven Madison Park and Per Se made headlines by bumping their tasting menu prices when the minimum wage increased from $13 to $15 (tipped wages also increased from roughly $8 to $10). According to a 2019 survey from the NYC Hospitality Alliance, 90 percent of restaurants said they increased prices in 2018, and 87 percent were considering another price hike that year.
But even though momentum for higher wages had been mounting, the issue exploded during the pandemic, and is now reshaping the entire industry. The moment has led some businesses to preemptively offer better pay. At Coast and Valley, in response to a year of extremely difficult working conditions, Watanabe and her business partner, Eric Hsu, decided to eliminate tipping, opting instead to pay their staff a universal living wage of $25 an hour. In order to make this change, they added a blanket 20 percent administrative fee to the menu.
Elsewhere, trying to staff up amid a worker shortage is becoming more expensive. "So many cooks have left the city. It's a much shallower pool now," says Wong. At a casual restaurant in Tribeca, the operator of which asked to remain anonymous for this story, competition for workers in the neighborhood is making hiring extremely difficult. At this particular restaurant, wages typically start at $16 an hour, but restaurants nearby are offering $20 to $25 for similar positions, plus hundreds of dollars in signing bonuses, per ads found on Craigslist.
Part of the issue is that the restaurant industry pays notoriously low hourly wages — the function of a flawed business model — and is competing with government unemployment benefits while also contending with the reality of working in the service industry: it can be back-breaking, demeaning labor. "Restaurants and hospitality are a lot of blue-collar work," says Pappas, of the Chefs' Warehouse.
And the labor issues extend to the supply chain, too. Pappas says he's down several hundred drivers nationally. Farms and factories around the country are also operating at reduced capacities due to the shortage of workers, yet another contributor to the cycle of scarcity.
COVID created entirely new categories of expenses.
Beyond food and labor, there are a handful of miscellaneous costs that are new to the era of the pandemic, are not insignificant, and are likely not going to disappear anytime soon. PPE is now a built-in cost for operators, and many say those prices are going up, too — the price for a box of gloves has doubled in recent months. Watanabe and Hsu at Coast and Valley started paying for takeout containers early on in the pandemic, when the restaurant pivoted to off-premise dining, something it had never done before. Third-party delivery fees remain a sore spot, as delivery continues to be a crucial option to offer. And finally, building and maintaining outdoor dining sheds is an added expense, too. At his restaurant in the East Village, Ho spent between $5,000 and $6,000 on a covered outdoor seating area — an estimate that he believes is on the low side.
How much worse will it get?
The Chefs' Warehouse supplies some of the city's most established fine-dining restaurant groups, giving Pappas, the CEO, a bird's-eye view of the restaurants making the best of the situation. "Some are thriving," he says, citing a receptive customer base as one explanation. "A lot of money has been made in the stock market and a lot of people had great jobs during COVID. We're starting to see people spending money, which is a good thing." A few lucky restaurants may be running at pre-pandemic levels, but many others are not. Coast and Valley, for example, may be buzzing on the weekend, but overall business at the wine bar is still just half of what it was pre-pandemic.
Now, operators are tasked with projecting certainty onto a very uncertain future, and one bad call could make or break the business. Patrick Griffin is the owner of an Oklahoma BBQ restaurant called Au Jus with a handful of locations in upper Manhattan and Brooklyn. Griffin increased his menu prices by about 4 percent in February — just before the wholesale market went haywire — which, as it turned out, was one month too early. Griffin's costs for chicken and beef have gone up since then, and since they're the main ingredients of his menu, there's not much Griffin can do. "Oklahoma barbecue is defined by the meat," Griffin says. "We have to use USDA Choice meats and we haven't wavered from that. That's why I know that I have a built-in price increase coming."
In fact, there is an historic precedent for higher prices; a number of meals used to be more expensive than their contemporary equivalents, indicating more recent pre-pandemic prices in New York may have hit an artificial ceiling. In 1995, a bowl of pasta at Felidia restaurant in the Upper East Side might have cost $35, adjusted for inflation. In comparison, today, a bowl of pasta at a similarly celebrated Italian restaurant like I Sodi maxes out at $25. In 1998, the cheapest entrée at Gotham Bar & Grill cost the equivalent of $41, but when the restaurant closed last year, the majority of its entrees were less than $39.
The case for restaurants to increase prices may be loud and clear, but operators face one final consideration, which is the likelihood of driving customers away. Griffin, for one, is concerned about customers' ability to pay more for a meal at his restaurants, some of which serve a demographic of mixed socioeconomic backgrounds. "Half wouldn't care but the other half, it might affect." he explains of his customers at one location in particular.
Restaurants that rely on volume might also have a harder time justifying higher costs to consumers. Kelly Fitzpatrick owns Blue Park Kitchen, a fast-casual restaurant in the Financial District that specializes in pick-and-choose salad bowls. (Her competitors are chains like Sweetgreen and Digg.) Even though Fitzpatrick's food costs have gone up, especially for proteins like chicken and salmon, she hasn't raised prices because she fears it will hurt her foot traffic. "The prices are plastered on the wall. People will know when we raise them even 50 cents," she says. Frustratingly, Fitzpatrick could be serving the same workers who might visit a restaurant like Oxalis for dinner, paying higher prices for a tasting-menu meal without much thought, demonstrating just how dynamic the circumstances are.
Even if predictability is a pipe dream these days, persistent supply-chain volatility will likely translate to further price hikes on menus. We do know that the COVID surcharge program is set to expire this month, and unless it is extended, restaurateurs who took advantage of the cushion, like Kim at Jeju Noodle Bar, may be forced to resort to other price increases. If the supply chain stabilizes, and the spike in wholesale food costs becomes just that — a spike — labor concerns could still drive longer-term inflation in menu pricing. "It's not clear how the labor market is going to shake out," says Adalja, the economist, before adding, "There were some fundamental flaws in the restaurant business model that the pandemic exposed. It would be foolish for us to go back to that old model now."
Put another way, the effects of the pandemic merely forced people to make changes that were already long overdue. "The restaurant industry was at a breaking point before COVID," Wong says. "The only way to make your cost structure make more sense is to increase the prices."