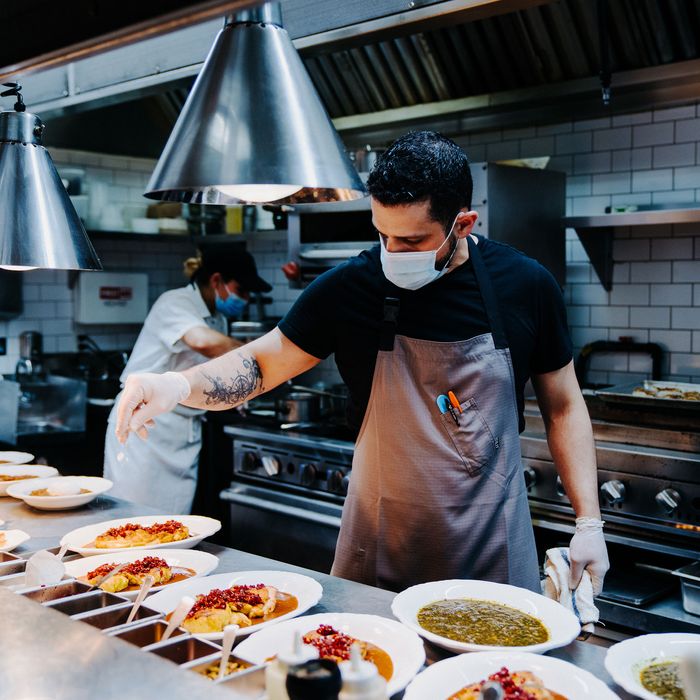 Chef de cuisine Ali Saboor, cooking in Brooklyn's Sofreh.
Photo: Janice Chung
This article was featured in One Great Story, New York's reading recommendation newsletter. Sign up here to get it nightly.
Every restaurant opening experiences unintended delays, but when Nasim Alikhani and Akis Petroulas signed a lease at 252 Varet St. in Bushwick, they couldn't have known that their new teahouse, Sofreh Café, would end up being delayed for more than a year because, well, the entire world was about to transform completely. The couple, like many restaurant owners, pushed through, and last month, Sofreh Café opened for business. In Alikhani's mind, there was no other choice. "We had to open," she says. "You sign a lease, you have construction, you have to move on. It's not like myself or my team can afford to say, 'Hey, we are in a pandemic!' We are paying rent with no customers for one full year."
That's not to say it was easy or straightforward. "It's been a struggle to keep going," Alikhani says. "Not only just in terms of finances, but also to keep the hope and the momentum." If that sense of urgency is familiar to thousands of restaurant owners across New York City, it was new for Alikhani and Petroulas, whose first restaurant — which they named Sofreh, the Persian word that refers to a patterned cloth on which a meal is served, as well as the gathering itself — was the result of decades of forethought.
"I'm a planner," Alikhani concedes, "but there's one lesson I learned from a year and a half of continuous adjustment: I am no longer planning. I only manage what I can see and what I can do." What was her strategy for navigating 2020 and 2021, trying to keep one restaurant in business while simultaneously launching another? "It was just a shock to me, the whole thing," she says, "and we kept rolling with it."
Now they have two businesses, with a third on the way, but they could just as easily have none. Every restaurant owner has been forced to endure the pandemic in their own way; Sofreh's story is, in many ways, the same — a scramble to adjust to ever-changing conditions and realities that shattered any sense of security we might have held before — and yet it remains unique to this restaurant and the people who built it and worked there.
In January of 2020, Alikhani had flown back to the United States after a two-week trip to visit family in Isfahan, Iran. At the time, life still looked mostly normal in both countries, but Iran was running slightly ahead of the U.S. on the global-pandemic timeline, and it wasn't long before Alikhani's sister-in-law, a doctor, began to tell her stories from her country's hospitals. A sense of dread began to creep over Alikhani. "Things are coming back to us," she told her husband, Petroulas. "We need to be prepared."
The couple debated closing Sofreh even before New York State's first confirmed case of COVID-19 arrived that March. When it turned out to be another woman who had just returned from Iran, Alikhani decided she couldn't risk closing, worried that people would wrongly infer some connection between this Iranian woman and her Iranian restaurant.
From the time it opened in 2018, on the ground floor of a brownstone in Prospect Heights, Sofreh was a sensation as much for its food as for its remarkable story. Alikhani came to the U.S. in her early 20s in the wake of the Iranian Revolution. It wasn't until she was in her mid-40s that she started to think seriously about opening a restaurant. In 2012, she and Petroulas bought the building on St. Marks Ave., just off Flatbush, that would become Sofreh. It took another six years to build. Alikhani was 59 when Sofreh finally opened, and the first reviews made up for any lost time. Alikhani's dining-room presence was "intuitive." Her ghalieh mahi — a traditional fish stew — was "hypnotically complex." A night at the restaurant could feel like "a giant dinner party" thrown in Alikhani's home.
The early attention also made Sofreh a desirable place to work, but as the pandemic began to take hold in America, the staff started to grow uneasy. "People were calling out because they're like, I don't feel safe," says one longtime server. Meanwhile, she picked up every shift she could. "I was actually more concerned about not having money than I was about getting sick, which is maybe something to talk about with a therapist," she says. "I was just like, I need to stack as much as I can before everything goes down."
Alikhani advised workers to gargle with mouthwash before bed, and, because people still thought the virus spread through surfaces, she placed buckets of diluted bleach around the restaurant. After every task, she told the staff, they should submerge their hands to kill the germs. "We're just like, That sounds awful," recalls Samantha, who worked as a manager at the time (and asked not to be identified by her last name). "How about we just close?" Instead, she did as instructed, bleaching her hands until the skin cracked.
That didn't last long, and it soon became clear Alikhani would have to close. She gathered her staff in the restaurant's downstairs dining room. "I don't know what's going to happen," she said, trying to affect a tone that would acknowledge the gravity of the situation but also offer some kind of reassurance. "Nobody knows what's going to happen." She talked about leaving Iran, about how they would all get through this. She didn't want them to be scared; they'd get paid for some amount of time, and she'd do everything she could to bring them all back when it was over.
Everyone who was laid off — almost the entire staff — got a week of pay, and instructions for navigating the New York State Department of Labor website to apply for unemployment. They would also end up with varying cuts from a GoFundMe set up for staff relief.
Alikhani did keep a few of the prep cooks on the payroll, which meant she still had a core team anxious to work. Soon, they began cooking and delivering meals twice a week to two different Brooklyn hospitals, donating both their time and the food. A mutual friend had introduced Alikhani to Nasser Jaber, one of the founders of the Migrant Kitchen, an immigrant-powered catering business that had just shifted to feeding medical workers in COVID-19 wards; now, she was responsible for hundreds of meals a week.
At the same time, Sofreh had the same problems as every other pandemic-era New York City restaurant: no customers, no revenue, and a mounting sensation of doom. Because Alikhani and Petroulas owned the building, they were spared the need to negotiate their rent, and they weren't blind to that reality, but except for their first PPP loan (around $200,000, which mostly went to payroll), there was no money coming in, no reopening date, and no foreseeable end to the pandemic. Alikhani had been staunchly against takeout since she'd opened — Sofreh had been precisely orchestrated according to her specific vision, and that vision absolutely did not include food sitting for 30 minutes in a box — but by mid-June, she'd acquiesced.
After the change was announced, orders streamed in. Money didn't. A restaurant makes money on alcohol sales and impulse additions  — another round, an extra appetizer, let's do a few desserts for the table — but online, customers ordered chicken and rice, and that was it. Sofreh wasn't breaking even.
The restaurant's chef de cuisine, Ali Saboor, hadn't been in New York when COVID arrived. He was in Orange County, California, spending time with his mother, who had suffered a stroke. When Alikhani emailed to tell him there was no need to come back, he didn't. Instead, he picked up a smattering of part-time gigs, helping friends pack meals, and extruding pasta with a buddy who owned a restaurant. It was, at best, a few hours a day of doing something to distract himself from all the endless thinking: What will happen to the restaurant? What will happen to all of us? If the restaurant didn't reopen, he had no backup plan. "This is what you've worked for all your life, to learn these things. Then the world changes, and you don't know if your skill set is worth anything anymore," he says. "There's nothing else I know how to do. This is all I know. This is my life."
Most of Sofreh's workers — along with the rest of the hospitality industry— were caught in different versions of the same situation. They didn't necessarily have an allegiance to Sofreh, but with every other dining room in New York City also shut, there was no place to go. One longtime line cook applied for a new job with the TSA. He had two young children. He wanted security, health insurance, and a government pension — and Sofreh, even with its critical acclaim, couldn't offer that.
Server Antonio Gross saw the shutdown as his chance to make a graceful exit from Sofreh, where he was starting to grow disillusioned. "I really feel like this pandemic has shown me hospitality's big lie, which is that they don't love the guest," he says. "We call it 'hospitality,' but really, it's service. They're paying for servitude. No guest is bringing their best self to a restaurant."
Another server, who asked not to use her name, contends that's part of the deal you make when you take the job: You can earn a living while maintaining a degree of flexibility that most jobs don't offer. "It's pretty good money for what it is, despite all the negative things," she explains. "I joke about it all the time, but it's kind of nice being a disposable worker."
Sofreh may have been something of a unicorn in the eyes of the media and its customers, but it wasn't immune from the same behind-the-scenes turmoil and unrest that affects every restaurant to some degree. "At Sofreh," says a former server, "things were definitely a little weird to start off with, just in the specific ways they did things." Some of the very characteristics that made the restaurant beloved by the public made it a difficult place to work, like the fact that Alikhani opened Sofreh with no prior experience running a restaurant. "I mean, you look at our uniforms, which are white, head to toe," explains the former manager. "We are covered in turmeric and saffron every day!" The aprons — custom-made for Sofreh — are cut from hand-stamped tablecloths that Alikhani imports from Iran, but they don't have pockets. "Nothing is about function there," the manager adds. "Everything is about the way it looks."
When, in June of 2020, Mayor de Blasio announced that New York City restaurants would finally be allowed to open for on-site outdoor dining, Sofreh was uniquely well-positioned to adapt, again owing to the owners' deep pockets and real-estate acumen. They'd bought the adjoining lot behind the building, and, the previous summer, had built out a lush back porch, with climbing vines grown from clippings that Alikhani's parents had brought from their backyard. That was in addition to their existing 16-seat front patio; even so, they were doing maybe 60 percent of the business they'd done the year before.
Alikhani did offer a job to everyone who'd been laid off, just as she'd promised in the haze of March. By June, most of the staff had returned. Alikhani had ordered special masks for the reopening, made from the same hand-stamped fabric as the aprons. They were beautiful — and sweltering. After a few weeks, she dropped them: Regular masks were fine. But, some staff say, Alikhani was still concerned with the aesthetic experience above all else. "Guests can't see that we're smiling," a former employee remembers Alikhani telling her floor staff at one point. "Feel free to lower your masks to show them that you're smiling."
The new safety regulations were not the biggest adjustment, however. Whatever morale cracks existed before the pandemic had widened into chasms. "I was literally risking my life for no reason," says a returning worker of her evolved impression of the job. For new hires, it was dismaying to learn that, despite Sofreh's reputation, working there was not some kind of restaurant idyll. "I definitely related to Nasim's story, because I'm a first-generation Asian American," says a server who worked at the restaurant until this past summer. "But during the pandemic, I never really felt safe while working there, and I never felt appreciated or cared about," she adds, before lamenting how widespread that feeling can be among servers: "I know this isn't uncommon in the restaurant industry."
So far, Sofreh has been lucky; over the last year and a half, a few individual staffers have had COVID, but there hasn't been an outbreak at the restaurant. "That's my biggest worry. More than one person gets COVID and we have to shut down and everyone's out of work," says Saboor, who returned to work in July. "It kind of keeps us on edge."
The restaurant struggled for months as business continued to tick up. New hires took the spots vacated by the staff who'd left for good, with most of the pre-pandemic employees leaving this past summer. Soshyan Petroulas, Nasim and Akis's 26-year-old daughter who works in music marketing, picked up a couple of serving shifts in August to help ease the staffing crunch. Kiana Shakeraneh, a 2018 graduate of the Rhode Island School of Design, came to Sofreh from a chain restaurant in Times Square, happy to make the hours-long commute from her home in upper Manhattan to work in both a Persian restaurant and a business that doesn't depend on (still-absent) tourists. "I don't have many Iranians around the area I live," Shakeraneh says. "This was, weirdly enough, an opportunity to just be closer to my own culture." (The pay is consistent, too.)
This summer, a new sous-chef arrived, as well. Christopher Marcano had worked in New York City restaurants throughout the pandemic. Before Sofreh, he'd been at Kindred, in the East Village, and picked up work at the Upper West Side coffee shop Gertrude, sometimes working in both. At one point in his career, before COVID, he'd experimented with private cheffing, which offered a more stable work-life balance, but he found that he missed the camaraderie of kitchens and the piles of herbs and the smell of garlic and onions sizzling in a pan. He came to terms with the realization that he was, fundamentally, a restaurant guy.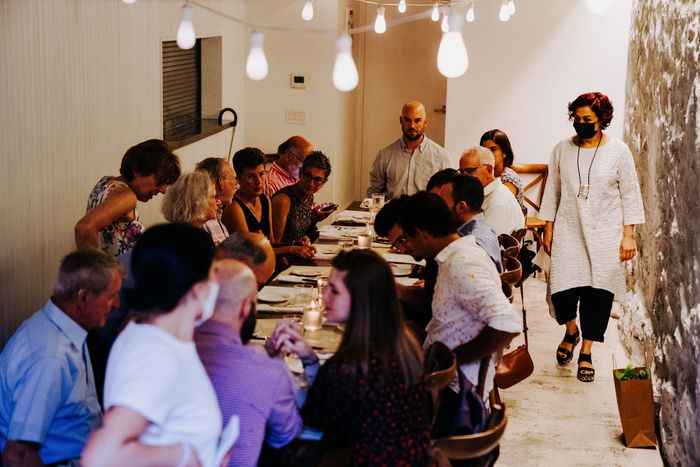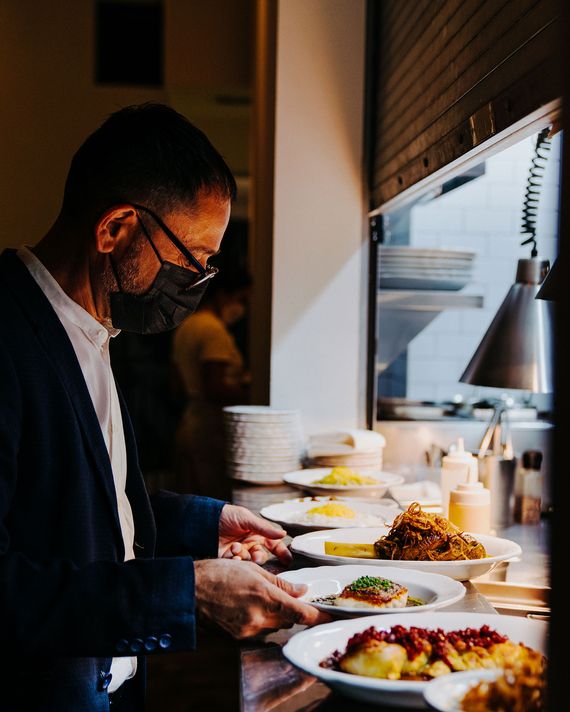 Marcano's hiring was also a necessity. Before the pandemic, Saboor — who'd worked at Sofreh since the beginning — had been charged with Sofreh's expansion. With the city reopening, those plans were back on. "As soon as they allowed construction to come back, we came back," Saboor says. "We had already invested so much that we figured, you know, we'll use the space one way or the other." Now, Marcano oversees the day-to-day at the original restaurant, and Saboor handles Sofreh Café. Under the same roof, the group will next open Eyval, a sibling restaurant to Sofreh, with Saboor more or less running the show.
"I think right now, we're in a good place," says Marcano cautiously. "Though we don't know if there will be another shutdown, or what's going to happen."
For now, the plan is to move ahead full force. What choice does anyone have? You can't sort of run a restaurant, especially Sofreh, which is intimately tied to its owners' everyday involvement. The neighborhood has changed — the barbecue restaurant next door was forced to shutter after a three-alarm fire, for instance — but with restrictions lifted, business inside the dining room is starting to resemble its former self. When I tried to make a reservation for dinner on a recent Friday night, I had to make other plans: Every table was booked.