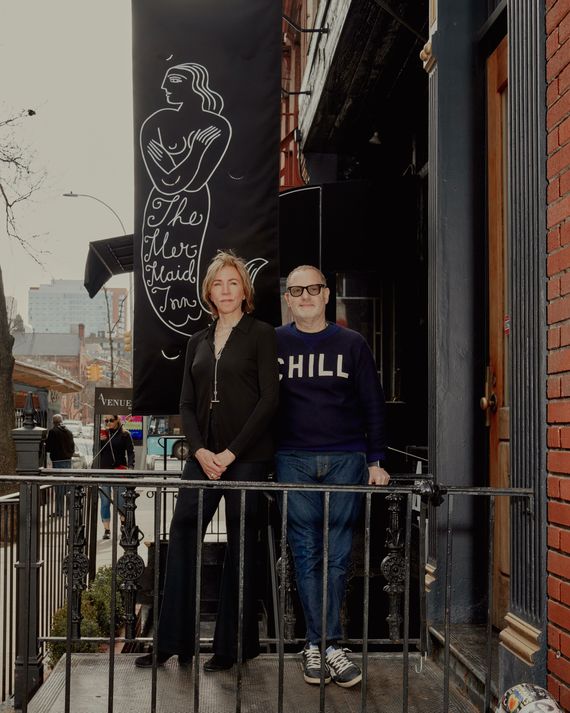 Cindy Smith and Danny Abrams, owners of the Mermaid Inn, outside the Chelsea location.
Photo: Victor Llorente
On March 9, 2020, Danny Abrams and Cindy Smith opened the Mermaid Inn in Chelsea — the fourth branch of an urban-fish-shack chainlet comprising three Mermaid Inns and one Mermaid Oyster Bar, all known for happy-hour deals, neighborly service, consistent cooking, and free chocolate pudding. The location held special significance for Abrams; it was where, 21 years earlier, he and the chef Jimmy Bradley had opened the Red Cat, the pioneering restaurant that helped make West Chelsea a dining destination and effectively launched his culinary career.
Less than a week later, the homecoming was cut short when COVID ended indoor dining and Abrams and Smith temporarily shut everything down, including their uptown pizzeria, Sirenetta, and the Greenwich Village outpost of J.G. Melon that Abrams and his brother, Steve, had co-owned since 2015. What followed is by now a familiar story: the failed lease renegotiations, the crushing staffing challenges, the inevitable pandemic pivots (to-go cocktails; a takeout-and-delivery fried-chicken-sandwich scheme). A low point came six months into the pandemic, when the couple were unable to renew a lease extension on their original East Village Mermaid Inn. They posted a farewell letter on Facebook functioning both as a heartfelt thank-you to 18 years' worth of customers and employees and a passionate plea for the kind of big-business bailout that typically eluded their industry. "Out of six previously operating restaurants," they wrote, "we're hoping we can salvage one or two and be in a position to rebuild our life's work."
Somehow, they've done more than that. Treating their business like a high-stakes chess game, they sacrificed some outposts in order to save others, manipulating the dwindling pieces on the board as circumstances dictated. "We were in full triage mode," says Abrams. When they couldn't staff multiple restaurants, they expanded the Upper West Side Mermaid Inn into the adjacent Sirenetta space. Unable to reach an agreement with either landlord on Macdougal Street, where they ran Mermaid Oyster Bar andJ.G. Melon, they returned the keys to both. "We didn't want to come out of the pandemic loaded with debt and leases we could no longer afford," says Abrams. "I think all the landlords adopted a wait-and-see attitude and were holding the line." The longer empty storefronts sat unrented citywide, though, the more willing landlords were to compromise, and the more bargaining power the couple found they had with their own track record becoming their most valuable asset. "I think they realized that everybody was in the same position," Abrams says. "You're gonna kick us out for another tenant who can't pay the rent? What's the point? You know that when we're back on our feet, we'll take care of the restaurant, we'll take care of the building, and we'll pay our rent on time."
They made a persuasive case. The partners came to terms with the East Village landlord and will reopen at 96 Second Avenue within the next month or so. The J.G. Melon landlord was willing to lower the rent enough to make a new deal feasible; Abrams and Smith moved the Oyster Bar there when they thought they had to abandon its original home down the block. When that landlord also came around, they signed a new ten-year lease, and they plan to reopen it as Mermaid Mexican this spring. "We were always super-excited about doing a Mexican restaurant; we just never found the right time and location," says Abrams. The culinary team, including Mexico-born Oyster Bar chef Victor Marin, will expand on Mermaid signatures like fish tacos and shrimp tostadas with new dishes such as enchiladas suizas, Idaho trout with guajillo aïoli, and chicken tortilla soup. More good news: Last summer, Jeff Bank, the owner of Carmine's and Virgil's, came into the Mermaid Inn for dinner and walked out with new business partners. He had the old Heartland Brewery space in Times Square and wanted Abrams and Smith to open a 300-seat Mermaid there with him, replacing its brewing tanks with an exhibition raw bar. Even better, he had the money, or he would soon: Bank plans to finance it through a government program called EB-5, which offers foreign investors American visas in exchange for creating local jobs.
This past November, Abrams and Smith finally reopened their short-lived Chelsea location, which they'd held off doing in part because of its lack of outdoor seating. But a solution presented itself: When they learned the Drunken Horse bar next door wouldn't reopen, they took that space and are connecting both properties, adding 40 indoor seats and 40 more outside. "We went from 90 in the winter to 160, 170 in the spring and summer," says Abrams. "We're under construction there, we're under construction at 79 Macdougal, we're under construction at Times Square, we're under construction at 96 Second Avenue. And they'll all probably open within four months of each other." After two tumultuous years of tempering optimism with pragmatism, and a few unexpected opportunities that allowed them to streamline operations and strengthen their brand, he and Smith seem poised to emerge in a better place than they were before. They were even able to extract a valuable lesson from the losses of Sirenetta and J.G. Melon. "Our focus became the Mermaid," says Abrams. "Nothing will open unless it has the name Mermaid in it for us. We're happy with where we are."