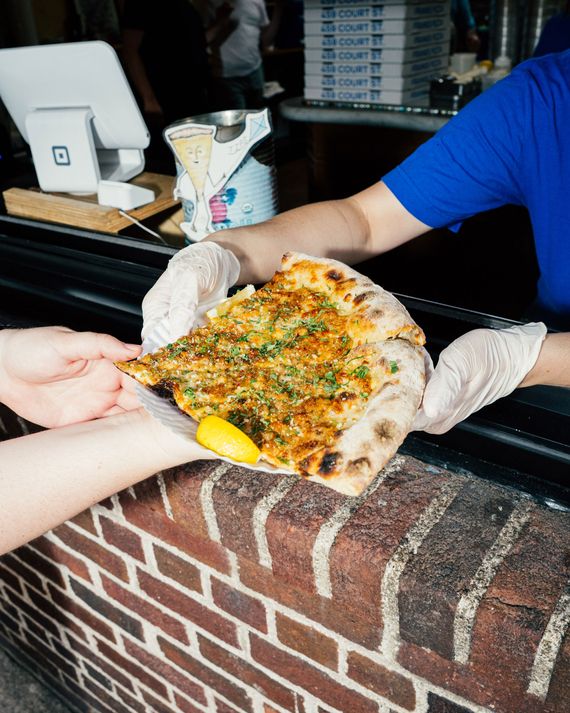 Behold.
Photo: Jutharat Pinyodoonyachet
Everyone knows that the best clam pizza in New York is in New Haven. I grew up around there, in the birth place of this Connecticut specialty, and traveling across the five boroughs from Tottenville's Reggiano's to Astoria's Milkflower only strengthened my belief. That was until last week when, lured by Instagram photos of a particularly promising clam pie, I dropped by F&F Pizzeria in Carroll Gardens and, for the first time ever, had my convictions tested.
The detail that most intrigued me was the fact that F&F appeared to be selling its clam pie by the slice. This is arguably the most important innovation in recent pizza history, since a combination of factors — low demand, quality control, the tendency of seafood to go rank pretty quickly — make clam pies notoriously fickle, requiring careful timing. Clam pizza is not something you want sitting on the counter in the hopes someone might order a slice. (At Bellucci's in Astoria, you actually have to order the clam pizza two full days in advance.)
So I biked through the heatwave to hopefully find the answers to two pressing questions: How did F&F owners Frank Falcinelli and Frank Castronovo unlock the secret to the clam slice, and can it possibly be as good as what you'd get in New Haven?
After I'd asked for two slices, the counterpreson asked if I was okay waiting ten minutes or so, since they'd just sold their last slice and needed to bake a fresh pie. This, I'd learn, is the first secret to the clam slice: They only bake one pie at a time to ensure freshness. And customers who want to order a whole pie can only do so at the pizzeria, not over the phone — an attempt to further minimize any time the pizza might sit around.
When the two slices finally came, I instantly wondered if I should have ordered another. This was the best clam pie I've ever seen in the city: Flecked with parsley, chili flakes, garlic, and oil-enriched breadcrumbs, each $7 slice is also served with a lemon wedge. A whole pie costs $50. (That's luxury pizza pricing, yes, but I'd argue it's worth if you want to splurge; also for now, the clam pizza is a summer special that will be available through the end of the month.)
It's a nostalgic enterprise for Falcinelli, both because of the trips he'd take with his dad to Frank Pepe's and Sally's in New Haven, and because he was chasing the memory of linguini with clams that he ate around Queens while growing up. "I wanted 1979," he says, which is part of the reason they decided to use littlenecks at F&F: "If you go to Don Peppe's" — the longtime red-sauce favorite — "and you get the linguini and clams, you get the big clams. That's the clam, and the most balanced in size and flavor," he says. "Yeah, you can use the quahogs or you can use some bigger ones or even smaller cockles, but they won't have the same balance."
Those littlenecks mingle with what is perhaps the slice's most controversial topping: cheese, an illegal combination in Italy and one that is strongly discouraged at Zuppardi's, which is New Haven County's premier clam-pie destination. But this has been thought through at F&F, and there is a reason for this madness: "We put the cheese on the bottom because it's like glue. It basically holds everything together," Castronovo says. "If you try to do it without the cheese on the bottom, it just doesn't really work out."
Over the phone, Castronovo told me that they try to approach each new pizza the same way they develop pastas at Frankies next door. And then he said all this talk about the clam pie had made him hungry, so he was going to grab the last slice. "I'm having it," he declared. "I'm going to make it so everybody's got to wait for a fresh pie. I took the last one — it was too old for our beautiful customers."