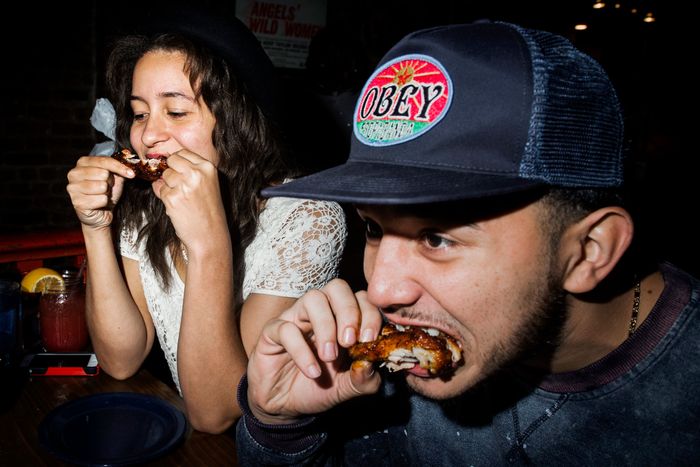 An actual chicken wing. Photo: Dina Litovsky/The New York Times
This week, it was revealed that a man from the Chicago area — "Chicagoland" to locals — has filed a class-action lawsuit against the Buffalo Wild Wings corporation because the chain's "boneless wings" are not, in fact, made out of actual wings. As the New York Times reports, the plaintiff, Aimen Halim, has "'suffered a financial injury' because of the restaurant's false and deceptive conduct." Is America being sold a lie? Are wings (one of America's most important contributions to the global culinary canon) really all that complicated? For anyone who's confused by this whole mess, we're here to help.
What are chicken wings?
They are the wings of chickens.
What are Buffalo wings?
Also the wings of chickens, but cooked and coated in sauce.
Then why are they named for a different animal?
They are named for the city of Buffalo, New York. Common wisdom has it that they were invented by the Bellissimo family at Anchor Bar in the mid-1960s, though there is of course some dispute over the true origins. A Black cook named John Young has a legitimate claim to the invention of wings as well, having first doused wings in "mumbo sauce," which is something like the progenitor of modern Buffalo sauce, a mixture of butter and Frank's Red Hot. There does seem to be some agreement, though, that it was at Anchor Bar where the wings were first separated into "flats" and "drumettes." Anchor Bar was also the first place that served wings with celery.
Then what are boneless wings?
They are not wings. They are big nuggets. They're usually made with breast meat. In the case of Buffalo Wild Wings's boneless wings, they are, according the company's own website, "JUICY ALL-WHITE CHICKEN / LIGHTLY BREADED / HANDSPUN IN CHOICE OF SAUCE OR DRY SEASONING."
Who had the idea to call breast-meat "boneless wings"?
According to the National Chicken Council, ABC News notes, the boneless buffalo wing was invented by … Buffalo Wild Wings. Many Americans now prefer them, after years of being conditioned by chicken nuggets, but some, like Halim, are still fighting to protect the sanctity of "wing" as a word that refers specifically to that part of the animal.
Does anyone else care about this at all?
Sort of? Ander Christensen, a citizen of Lincoln, Nebraska, told ABC News that in the course of his surveys, he has discovered that most Americans are, in fact, unaware of the deceit being perpetrated by Big Wing.
Shouldn't it really be called Big Breast?
A fair point.
Why would Americans want to eat one part of an animal that is named for another part of it?
Real chicken wings are a little messier and gnarlier to eat, probably. (They have cartilage. Either you like that or you don't.) Fans of "traditional wings," as Buffalo Wild Wings calls them, correctly point out that this is what makes them superior. Not to make an overly broad characterization, but the people who prefer boneless wings probably do so because they're a bit tidier and you don't end up with a big plate or napkin covered in the saucy, skeletal remains of the snack they just ate.
When you put it that way, wings do seem pretty gnarly.
Sometimes you just have to call a spade a spade.
But why would anyone try to rebrand nuggets as wings?
"Wings" feel less like something children might order than "nuggets" do. Besides, "boneless chicken wings" have benefitted from rising food costs and the chicken-wing shortage of 2021. "Boneless chicken wings" are now much cheaper to produce: $4.99 a pound compared to $8.38 a pound, according to Tom Super of the National Chicken Council.
So how do I know what kind of wings to order? This was supposed to help me, but now I'm more confused than I was before. Just level with me: Do I want the wings with bones??
Traditionalists that we are, we suggest sticking with classic wings. The bones make them better.
Actually, I'm more in the mood for mozzarella sticks instead.
That's your business, but you do know that they're made with actual sticks, right?