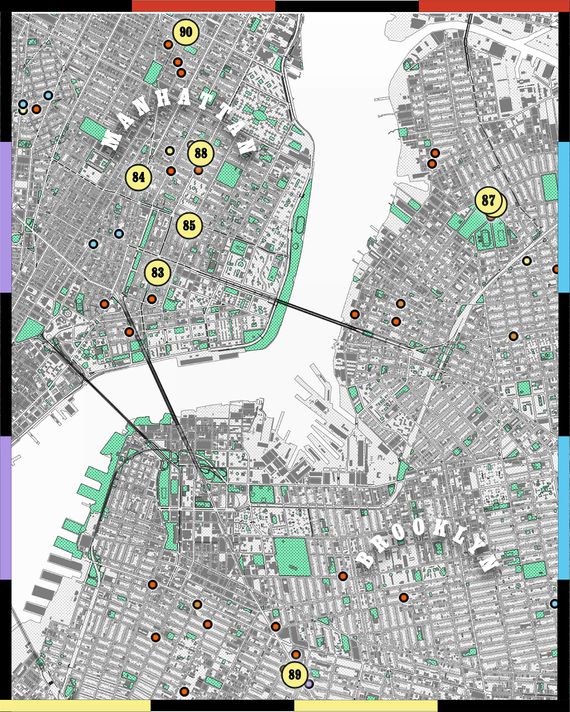 A running list of everywhere I've eaten, week seven: 83. Cafe Katja 84. Il Buco Alimentari & Vineria 85. Gazab 86. Pierozek 87. Tørst 88. Rowdy Rooster 89. Bar Goto Niban 90. Hawksmoor
The last thing I thought I'd be excited to eat this year was another chicken sandwich. From the Great Popeye's Frenzy of 2019, which helped make new fried-chicken sandwiches as ubiquitous as burgers, through 24-plus months of pared-down restaurant cooking — designed to combat ever-rising costs and dropping sales — that has left too many menus filled with reliable, easily assembled dishes like, yes, $22 chicken sandwiches, I am simply no longer intrigued by the idea of soft dough wrapped around crackly pucks of fried thigh meat. They're fine. They're whatever. I thought I was past the point of having to take them seriously.
But then I saw a line of presumably hungry customers stretched along First Avenue in the East Village, waiting to try the fried-chicken sandwiches at the new restaurant Rowdy Rooster. "Indian fried chicken!" said my friend, excitedly reading the restaurant's awning.
The restaurant, I would quickly learn, was from the same team that runs Dhamaka, Adda, and Semma, three of the most popular restaurants to have opened lately. The two main partners, Roni Mazumdar and chef Chintan Pandya, have managed to capture the entire city's attention with a combination of little-seen-in-New-York regional Indian cooking and high-energy dining rooms. Of course people would want to try this group's chicken-sandwich restaurant. (Based on my Instagram timeline, people really like photographing this group's chicken sandwiches too.)
All this is to say that of course I decided to try it. Inside, the restaurant screams "fast casual" with painted wood walls, a counter for ordering, and the classic help-yourself shelf filled with plastic utensils and little packets of wet wipes. I noticed a man with gray hair, already a regular even though it's been open for like two weeks, who had brought his Yorkie. He told me he was a friend of the manager.
There are some vegetarian options like fried cauliflower and a $7 potato vada, but the main draw is the chicken, which can be ordered bone-in or boneless, with a bun or without, and in three levels of heat: rebel, rogue, and rowdy. Live a little and go for rowdy, I say. After I made my selection, the cashier congratulated me: "It's better than a movie, what you just ordered."
The food was handed to me in a brown paper bag that was seeping red ghee from one corner — a good sign. My $12 Big Rowdy sandwich came topped with green-mint chutney and bright yogurt sauce dripping down the sides, which did little to hold back the spice of the chicken that slowly built and buzzed with every bite.
Six hours later, I was still thinking about that Big Rowdy, but not for the reasons you might expect. A few days earlier, I had been similarly captivated by a different restaurant, Gazab. The food is completely different from Rowdy Rooster's, but there seemed to be a strong overlap in the crowds that gathered at both restaurants. Under the gaze of Gazab's floor-to-ceiling dining-room mural — a woman with a Champagne flute staring out over her sunglasses — a guy wearing a Polo teddy-bear sweatshirt and a turban split some biryani with his partner while three women sipping mango lassis asked for an extra side of ghee. I didn't ask anyone where they were from, of course, but I took it as a good sign that they all seemed to know their way around the food.
I took cues from all of them and ordered the chicken biryani and lamb. When the women asked for an extra side of garlic naan, I ordered that, too. A hungover-looking group of three waited for a table, and I overheard two guys on a date talking about how the food was "just like India." (I skipped the dish called '70s Tikka Masala, though I appreciated the way the owners seemed to nod to its undisputed ubiquity while embracing its populist appeal.)
There's been a lot of talk lately about "crowd-pleasers" and "comfort food" — how we're all craving food right now that is overwhelmingly tasty and instantly familiar because of the various horrors we're still processing. Too often, those conversations center around food that is specifically familiar to Americans (burgers, pizza, caviar-topped Bloomin' Onions) and can quickly become boring when your job involves eating at several restaurants each day. What I found at Rowdy Rooster and Gazab were restaurants run by people who have no interest in challenging their diners but who are also creative enough to pull off a style of classic cooking that avoids dumbing anything down. They respect their diners, and they respect these dishes, and in doing so, they pull off something special. I still can't believe the most interesting thing I ate all week, the thing I want to eat again very soon, was another fast-food chicken sandwich. And that the line to order one will probably be even longer next time I go.