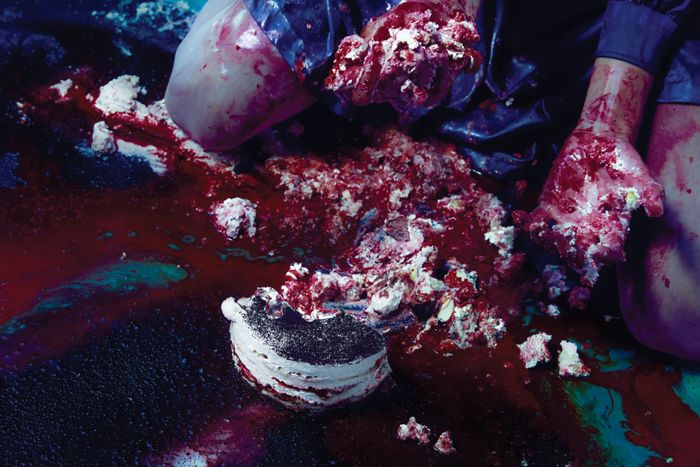 This is actually a delicious torte!
Photo: Justin J Wee
Until last week, the only time I associated the idea of food with the horror movies of A24 — the prolific production house responsible for Lamb, The Lighthouse, and Hereditary, among dozens of other films — was when I watched the unnerving feast scenes in Midsommar, which, in case you have not seen it, is not exactly a spiritual successor to Big Night. But then I learned about Horror Caviar, a new book of essays and recipes inspired by A24's oeuvre. The company's publicist assured me this was a real book and then sent me a PDF copy.
Spearheaded by editor Lin Yee Yuan, with the recipes staged by New York chef Libby Willis of KIT, Horror Caviar has 29 dishes and drinks divided into standard sections like "main courses", "desserts," and "drinks." This is not a conventional cookbook, though, which I found out when I actually dug into some of the recipes and realized it would likely be the only cookbook I read all year that required a brain-shaped mold for one of its dishes. Then I made the mistake of telling my editor I was intrigued by the book, and he suggested I spend a weekend cooking from it.
Where the hell am I going to find a brain mold on such short notice? I thought. The brain cake with red-berry sauce was going to have to wait for another occasion. Instead, I looked for things that were a bit more practical. Each of the book's recipes is inspired by a different horror film (and the selection is not limited to those released by A24), and each was created by a different chef, with accompanying photos (by Justin J Wee) and essays. There are, for example, lamb chops with marigold jelly styled after Midsommar's ättestupa. A Pet Semetary dish of rabbit is baked in clay molded to look like a dead cat. Baker Lexie Smith, in a nod to Audition, offers bone-and-pork dumplings impaled with a syringe, squid ink dripping out like some foul serum of evil. The photo is unnerving, even if the dumpling looks perfectly crimped.
Maybe this wouldn't be so bad after all. In the end, I landed on three courses: artist Laila Gohar's not-so-freaky fish stew; cook and writer Krystal Mack's sorghum-stuffed beef heart with glazed carrots and duck-fat potatoes, inspired by the vampire movie Ganja & Hess; and pastry chef Natasha Pickowicz's white-chocolate mousse and walnut dacquoise torte. (What is more horrifying, I figured, than an entire cake made of white chocolate?)
I may have saved myself the trouble of finding a brain mold, but I still needed to track down a beef heart. I called my friend, a hunter who always tells me about "the benefits" of eating heart. "I must be in this article feeding you deer heart," he said, before admitting that he didn't actually have any hearts on hand. ("I had one from last year like two weeks ago!") He offered to get me one — "easily" — while in Wisconsin, but I opted instead to call a butcher shop in Bushwick, which did have them in stock but warned that they were "small."
I debated listening to the theme from The Shining on repeat while I knocked the other items off my shopping list, but I've been on a Natalie Merchant kick lately, so I stuck with Tigerlily.
On the big day of cooking I decided to work first on the white-chocolate torte, which Pickowicz writes in the book is inspired by "the genteel, Old World–style tortes still sold at places like Café Einstein," the pastry shop seen in the movie Possession. I dutifully chopped and caramelized my white chocolate until it came time to prepare some gelatin for my mousse. It was going to take a few hours to set, so I moved on to other tasks, specifically the beef heart. Both the cake and heart were going to be two day tasks, so I wanted to get a move on them early.
The first task was chopping the veg, including some surprisingly potent red onions. Were they cursed? Was this hideous odor evidence of some underground wickedness finally escaping into my apartment? I left the kitchen until my eyes stopped burning and then got back to work. I was pleased to discover the carrots and celery were basically fine.
I worked away until a little after 7, the sun setting before my final task of the day, which was prepping the heart itself. I butterflied it and marinated it in red wine and the veg. Whatever malevolence had been contained within those onions had subsided, which was a relief.
I debated watching It Comes at Night before bed, but thought better of it and had a surprisingly restful night of sleep.
The next day, it was time to finish the heart. I cut and fried the potatoes in duck fat, as instructed, and tossed my carrots into a glaze of chicken stock and maple syrup. These sides made the dish feel almost wholesome, but it was impossible to look at the whole cooked heart, bulbous grains of sorghum spilling from its cavity, and not feel a little creeped out. It was all dark colors and evocative shine. I've eaten lots of offal in my life, but this was still pretty hardcore. I decided it probably wasn't going to replace turkey at Thanksgiving.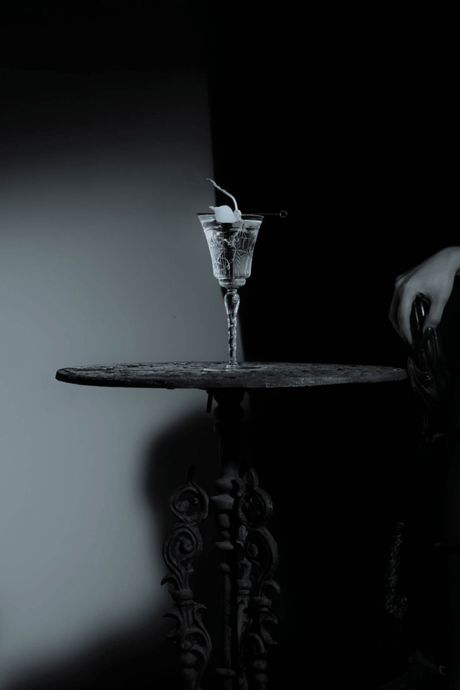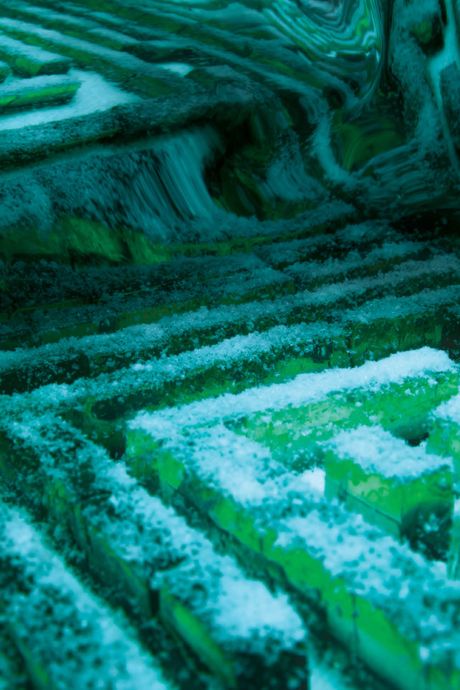 The cake was gentler. Delicate and light, definitely fancy, it felt cleansing. Was this temporary serenity a trap? I think it was probably just a good cake.
I decided to save the seafood stew for the next day, on account of a whole heart is too much food for two people.
On the third day of living with this book, I was relieved to find that I was not, in fact, being driven mad. In fact, I was excited to try the stew, in part because it's inspired by The Witch (which I like), and also because Gohar writes that it is "prepared in an Italian style called cioppino," a word I really enjoy saying. I started by cooking diced onion and fennel, before adding garlic and then saffron. Into the pot went two cups of chicken stock, followed by cubed potatoes. Then some bass fillets, squid rings, and clams. Off went the heat, and I added a final squeeze of lemon.
It was lovely. I could have been eating it along the banks of the French Riviera, or at least at a WASP's coastal cottage in Maine. I was living deliciously, I thought, before realizing that a coastal cottage in Maine is exactly where a mentally unstable killer or some paranormal force might hunt its human prey. The rocky beach would only make my escape more difficult, and in the end it is I who would become dinner for somebody or some … thing.
Maybe the book had driven me a little mad after all.