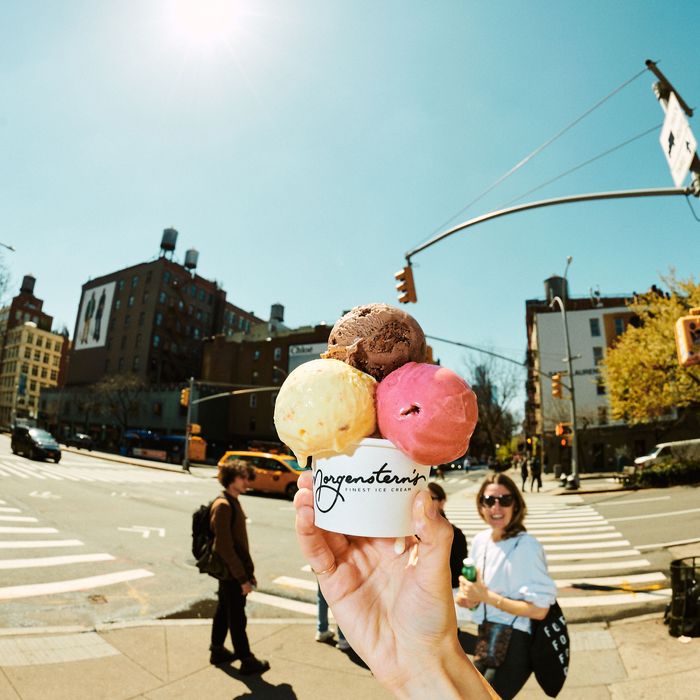 Plenty of options!
Photo: Christian Rodriguez
A new era dawns. Morgenstern's has changed its menu. It is the first time in four years the shop has undergone this kind of shift. Many — most! — of the ice creams we have come to know, the Vanilla Bourbon and the Chocolate Oat, the Black Licorice and Burnt Sage, are gone.
This isn't easy for anyone, least of all Nick Morgenstern himself. "It's bittersweet for me," he admits. "It's hard. I don't want to let go of Chocolate Oat. I thought that was genius, when I came up with that flavor! I loved it. And people love it so much. It gives people so much joy, when they eat that flavor. And now I'm like, 'We're not going to do that anymore.'" He was ruthless; beloved flavors and best sellers got the axe. But it was simply time.
"We need to continue to find new stuff and move forward," he explains. Time does not stop; neither can ice-cream innovation. He has begun playing with dehydrated fruits. He is leaning into jellies. "The menu now is even more nostalgic Americana than what we normally do," he says. There is bubblegum. There is Moose Tracks. "What I'm feeling is that we need a little nostalgia in our lives right now. We need something that's a little bit more reliable and dependable."
Part of that is shrinking the menu slightly, for operational as well as existential reasons. Instead of 88 flavors, he's offering a tighter 55. The sheer number of decisions had been overwhelming, he reflects. "I guess that's just what my vibe is right now: 'You could tone it back a notch here.'"
"Toned back" is in the eye of the beholder: 40 new flavors is a lot of ice cream. Transitions can be difficult. Allow Grub to help guide you through the changing of the guard.
American Classics
Bubble Gum
Morgenstern has wanted to do a bubble-gum-flavored ice cream for years, but held off until now because he "didn't feel like it was the time." Of course, once he decided to take the plunge, he went all in: Morgenstern starts with an intense bubble-gum-flavored base, then studs it with working gumballs.
S'Mores
"People respond well to marshmallows in general right now," Morgenstern philosophizes, "and so making a charred-marshmallow ice-cream flavor and then adding in the chocolate and the graham crackers was just a no-brainer." The marshmallows are charred by torch before they're blended into the base, which is mixed with chunks of chocolate (a milk-dark blend) and graham cracker.
Moose Tracks 
Traditional Moose Tracks is vanilla ice cream with chocolate fudge and peanut butter cups. Here, the fudge is chocolate peanut butter — "we're leaning into peanut butter on this menu," Morgenstern reflects — but otherwise, he is sticking with the classic formula.
Caramels
Crème Caramel 
Historically, Morgenstern has mostly not used eggs in his ice-cream bases; he has lately started getting into custards. For this new flavor, it's a rich custard base, cut with ribbons of orange-zest-spiked caramel (bright, barely perceptible as orange), with snickerdoodle cookies added for "texture and crunch." It is classic. It is sweet. It is a real golden retriever of a flavor.
Caramel Hazelnut
Morgenstern makes a hazelnut praline with Italian hazelnuts and then mixes them to a straight caramel ice-cream base. Upon scooping, the Morgenstern's crew adds even more fried, salted hazelnuts. The result is less sweet and more soulful; a sophisticated caramel.
Cookies
Oatmeal Cookie Dough
Rather than use chunks of cookie dough, Morgenstern explains that they're treating the dough "more like a variegate — something that gets swirled into ice cream." It is also designed to help fill the void left by Chocolate Oat, a longtime Morgenstern's classic that has now been excised from the menu. Like its predecessor, the flavor has oats and a hint of cinnamon, and while it is not chocolate, it does have chocolate chunks.
Nutter Butters N' Cream
"It's pretty self-explanatory," Morgenstern says bluntly: Nutter Butters in raw-milk ice-cream base. The purity of this concept makes so much sense, in fact, that there is very little to say about it. "Nutter Butters are delicious with a glass of milk. I mean, that's really all you have to think about for that one."
Thin Mints N' Chocolate
"Thin Mints have a specific, menthol kind of mintiness that is sort of refreshing, so balancing that with a bitter chocolate ice cream just made sense," Morgenstern explains.
Samoas N' Coconut
Part of the challenge of developing a robust menu of cookie-centric ice creams is making sure they are adequately different from each other — thus, Samoas. "It does something really interesting when it's in the ice cream," he notes. "The caramel gets really gooey and chewy." This is paired with a coconut base, which accentuates but does not overwhelm the cookie.
Strawberries
Olive Oil Chunky Strawberry
This is a strawberry ice cream for discerning palates, the thinking person's strawberry ice cream, with olive oil and fruit — a classic combination — evoking both "Italy" and "summer." The olive-oil custard base here is hyperluxe and super-smooth, cut with big bright gobs of homemade jam.
Strawberries N' Cream
The secret here is that Morgenstern dehydrates the strawberries before adding them to the ice-cream base, where they reabsorb some moisture, becoming "almost chewy." A personal favorite of Morgenstern's, it is also a testament to the still endless possibilities of ice cream. Dehydrated fruit, it could be the future! "This is something people are going to copy," he says, confidently, and probably correctly; it really is a standout.
Bananas
Bananas Frosted Flakes
Morgenstern mixes freeze-dried banana and Frosted Flakes into a milk-flavored base and brings it all together with just a dash of banana jam. "Frosted Flakes really give you that nostalgic trigger that we're looking for," he enthuses. They also stay remarkably crispy.
Banoffee
"The combination of those two things, banana and caramel, is outstanding," Morgenstern informs me. "That's really all the flavor is about. It's not too complicated." It is sturdy and well balanced and miraculously un-cloying; "a comfortable ice cream," I write down in my notes.
Drunken Monkey
It is a simple premise, really: What if the Chunky Monkey monkey was drunk? "We use Japanese whiskey," Morgenstern explains, because "certain Japanese whiskeys that are lighter — I wouldn't say complex, but more subtle — remind me of banana when I drink them." Based on this resemblance, Morgenstern mixes Japanese whisky, Picoso peanuts ("my favorite peanuts"), and peanut-butter cups into a banana base.
Vanillas
Buttered Bourbon Vanilla
This is not a substitute for Morgenstern's Bourbon Vanilla, which has been cut from the menu despite being of the shop's most popular flavors of all time, but it is "close enough that people aren't going to get too upset about it," Morgenstsern says. Buttered rum would be the more traditional liquor, but bourbon "marries with the dairy better." A dignified flavor, I think.
Salted Malted Vanilla
People would often ask Morgenstern if he had a malted flavor, and now he does: A just slightly salty vanilla ice cream laced with malt powder and dotted with the centers — just the centers — of malted milk balls, which become unexpectedly gooey when they're frozen into ice cream. Like all of Morgenstern's best flavors, it is just weird enough to be exciting.
Vanilla Brûlée
A revision of a classic, this is a vanilla ice cream with a caramelized sugar crust on top, torched to order. Most flavors are available in pint form. This, for obvious reasons, is not.
Coffees
Coffee Caramel Butter Pecan
"We were thinking about nuts with coffee," Morgenstern begins. Also, they'd just pulled butter pecan off the menu. And doesn't coffee pair well with caramel? The result is a creamy coffee base streaked through with butter pecan topping and caramel. "It's not a super-strong coffee, like the Vietnamese coffee. It's more like the Häagen-Dazs style of coffee ice cream."
Tiramisu
It really is a tiramisu transposed into ice cream: homemade ladyfingers soaked in espresso, mixed into a mascarpone custard base, with gooey rivers of espresso caramel swirled throughout. In Morgenstern's assessment, "a lot of bang for your buck."
Vietnamese Rum
You probably could not actually get tipsy off of this, but at 9:45 in the morning, when I try it, I do wonder: The boozy notes are strong. The base here is a dark-roast coffee ice cream, mellowed with condensed milk, and, in this case, rum, which "contributes to but also cuts some of that coffee harshness."
Nuts
Honey Almond Custard
First, the team makes candy out of honey and almonds. Then they grind it into a custard base. "That just bumps up the volume on this combination," Morgenstern explains.
Macadamia Coconut Lime
I had worried this would be oppressively beachy. It is not. The sheer fat-on-fat creaminess of the macadamia-coconut combo is, in fact, a perfect counterpoint to the acidic kick of lime.
Raspberries
Raspberry Lemongrass
One of the very few nondairy true ice creams on the current menu, this one leans on coconut milk. It stands up to the acidity of the berries, which, in turn, are balanced by the light tang of lemongrass. It is an unconventional combination, but "once we tasted it the first time," Morgenstern reports, "we knew it would work."
Raspberry Green Tea Jelly
"We really liked this idea of making a jelly out of matcha and green tea," Morgenstern says. "You get a really earthy, almost alkaline flavor out of the matcha, and it creates an interesting and lively combination with the raspberry."
Tropics
Coconut Guava
This is deeply guava. The most guava. "I love guava," says Morgenstern, who lived in Hawaii briefly and waxes rhapsodically about the fruit. "I think it's underappreciated." Unlike other, lesser tropical fruits, he argues, guava "just draws you in." It does not need adornments, and so it doesn't have any, although for substance and support, it is paired with coconut. It is also the only other vegan ice cream on the menu.
Pineapple Salted Egg Yolk
"For our audience, and being where we are in the world, this is a challenging flavor," Morgenstern observes. "But for people in other parts of the world, this would be nostalgic." A bright pineapple custard with umami undertones, it echoes, for example, pineapple pastries you'd find in Southeast Asia, although that, he says, is something of a coincidence: "I was just trying to figure out where to put salted egg yolk."
Chocolates
Chocolate Walnut Drambuie
This is, as Morgenstern puts it, the "adult Rocky Road": chocolate ice cream, spiked with Drambuie — a spiced Scotch, essentially — and studded with black walnuts, deeper and moodier than its more innocent counterparts.
Olive Oil Chocolate Eggplant
This is so smooth, overwhelmingly creamy, with sweetly vegetal notes. It is mysterious, and rich. "We basically take the eggplant, slice it, soak it in olive oil, season it with salt and then roast it in the oven with super-dark chocolate," Morgenstern explains, "and then you blend that into chocolate ice cream. It's a crazy combo." You can smell the earthiness of the eggplant, even if you can't quite taste it. It is a crazy combo, and it works.
"Misc."
Fig Newtons
This could maybe be in the cookie category, but it isn't, because Fig Newtons, obviously, are not exactly cookies. This is also, Morgenstern admits, a controversial flavor among the staff, because Fig Newtons are divisive. "I'm just like, Trust me," he recalls. And indeed, the resulting ice cream is somehow exactly like a Newton and also significantly better, figgier, and without the tinge of sadness.
Tahini and Jelly
The inspiration is Morgenstern's devotion to the Concord grape. "There are few things that I think taste better than Concord grape jelly," he declares. "It almost tastes artificial, it's so great and full of flavor." The jelly here, which is, of course, homemade, is mixed into a tahini base and is shocking in its profound grapeness.
Citrus
Salted Lemon Pine Nut
The gently acidic lemon base — creamy, summery, just salty enough — is cut with the fatty pop of toasted pine nuts.
Toasted Rice Yuzu
"We've been monkeying around with toasted-rice ice cream for about a year now and just fell in love with the nutty flavor you get," Morgenstern says. "It's sort of on the alkaline side of the scale." This is what makes it an ideal compliment for the "full-blast acidity of yuzu," which shows up here as a jelly that's swirled throughout.
Peaches
Honey Lavender Peach
What it tastes like is my conception of the south of France. The blood-peach purée is just acidic enough to cut through the sweetness of honey, while the lavender, he points out, comes from real lavender flowers, not lavender honey.
Sour Cream Canned Peaches
As a flavor, "canned peaches" is an underrepresented all-American classic. Here, they're puréed but left chunky and mixed into a sour-cream ice-cream base — a foil for all that sweetness — with another round of canned-peach jam mixed in right before scooping.
Sorbets
The sorbets are a straightforward bunch, says Morgenstern: "What you read is what you get." Passion Fruit tastes like passion fruit; Strawberry Rhubarb is the flavor of June. Raspberry Papaya and Mango Tangerine both have what he describes as "a candylike quality" with the sweetness from the mango and papaya countered by the acidity of the raspberry and the tangerine. Chocolate Chip, meanwhile, is an evolution of Morgenstern's previous bitter chocolate sorbet, with a slightly revised recipe, and — more important — the textural pleasure of chocolate chunks.