Fino is branching out from its Barossa base and bringing a 70-seat, all-day homestyle eatery and bar to Flinders Street.
After five years based at Seppeltsfield in the Barossa, Fino, one of South Australia's favourite regional restaurants, is set to open up a satellite CBD restaurant, Fino Vino.
Owner-operators David Swain and Sharon Romeo have taken up residency in a long and narrow ground floor space at 82 Flinders Street, which, come November, will become the spiritual sequel to their original 30-seat restaurant in Willunga.
"We really want to bring it right back to what we had in Willunga; a small dining space that is intimate, personable, and with a food focus on the regions," chef David says.
Fino Vino will seat 70 people, with a banquette at the front of the building, a bar to the right and booths opposite, with two long communal tables through the middle. The feature of the space though, Sharon says, will be the chef's table.
"The most special thing is that the kitchen will be part of the dining room, and you can sit at it," Sharon says.
"It's about bringing the kitchen into the dining room, because do you know how many people would walk into the kitchen at Fino in Willunga? That's important to us, because it's the connection to the diner, to the guest."
The food and beverage offering will be familiar to Fino fans.
"Our philosophy's our philosophy, so again, it's going to be all about produce and the relationships we have with vignerons, farmers, producers, growers – all of that is the same," Sharon says.
"The wine offering will be what we always wanted and what we did have down south, just a very small, eclectic list basically, and again, it's all about supporting South Australian small-batch producers, biodynamic, organic farming.
"Just supporting people, up-and-coming producers, wines that go with our food, predominantly. There'll be a European selection, but it'll be pretty diverse. Always value for money. Cocktails will be very simple."
The restaurant's will operate right through lunch and dinner, creating an all-day dining option in the centre of the CBD.
"It's just about time that Adelaide has that offering," David says. "Hopefully there's enough people in Adelaide who want that offering, but I think if you do start offering it, there are so many people who still want to eat at 3-5 in the afternoon."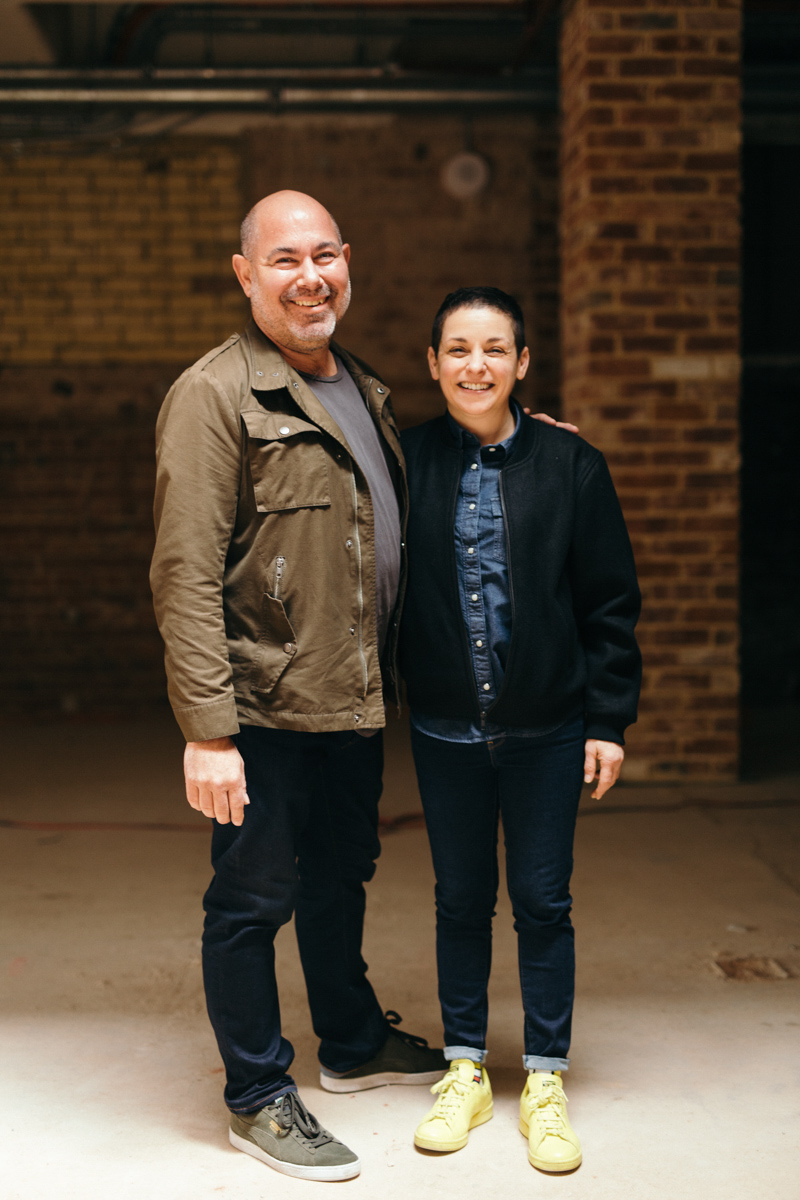 The fit out comes from influential Adelaide design firm Studio-Gram, and is based off David and Sharon's brief of bringing a country restaurant into the CBD.
"I was just curious to see how they would visualise our brand in a design, and they nailed it." Sharon says.
"They really listened to our brief, they really worked with our brief, and they've given us a voice right through. And that's what we've always wanted," David says.
Fino Vino's final design will be "a playful celebration of country and city, the contrast and the point at which two things come together," says Studio-Gram's Dave Bickmore.
David and Sharon have had their eye on the city over the last five years. At the same time they were being courted by Seppeltsfield's Warren Randall, they had been scouting for spaces in downtown Adelaide.
The Barossa project took off, and so the idea of a CBD-based Fino was put on the backburner.
With the city's dining scene now at its zenith, and the Fino at Seppeltsfield running smoothly under the guidance of head chef Sam Smith, the timing felt right to bring Fino Vino into reality.
"We were missing from the scene!" Sharon laughs. "I worked in the East End back in the late '90s. I'm coming back!"
Fino Vino is positioned in a ground floor tenancy of a Ginos Group building. David gives due credit to the Ginos business for how far Adelaide's dining scene has come to date.
"It's been really positive to see how, from 2014 to now, in six years Adelaide's offering has increased, which is fantastic [and] is a lot to do with Mr Ginos, by allowing restaurants to come in, and having Peel Street and Leigh Street, those precincts," he says.
"Really, these restaurants, you could move to Sydney or Melbourne and they would stand up, no problem, where, probably even 10 years ago that wouldn't have happened. Now, we have some real street cred."
As we speak about the upcoming project in the vacant space, Sharon remarks that even at this early stage, it feels a lot like 2006, when Fino first launched in Willunga.
CityMag asks the duo what has given the Fino concept such longevity – why they feel the restaurant they launched more than a decade ago still has a place in modern dining culture.
"It's actually quite amazing, because that little dinky regional restaurant is really what a lot of Australian dining has turned into," David says.
"We started all this shared dining, strangely enough, way back then, [and] people didn't get it. People were just scared – 'Where's my plate?'
"It's the concept of a really welcoming place to be able to just relax. We take all the effort away from having to work out what wine, what food to eat – just come in and we will feed you and find the right wine for the dish."
"The service will always be casual, efficient, warm and welcoming," Sharon says. "That's my service. I'm not fancy, I'm not trained; I just love looking after people."
Fino Vino is slated to launch in November this year. Stay tuned to CityMag for updates as the project progresses.