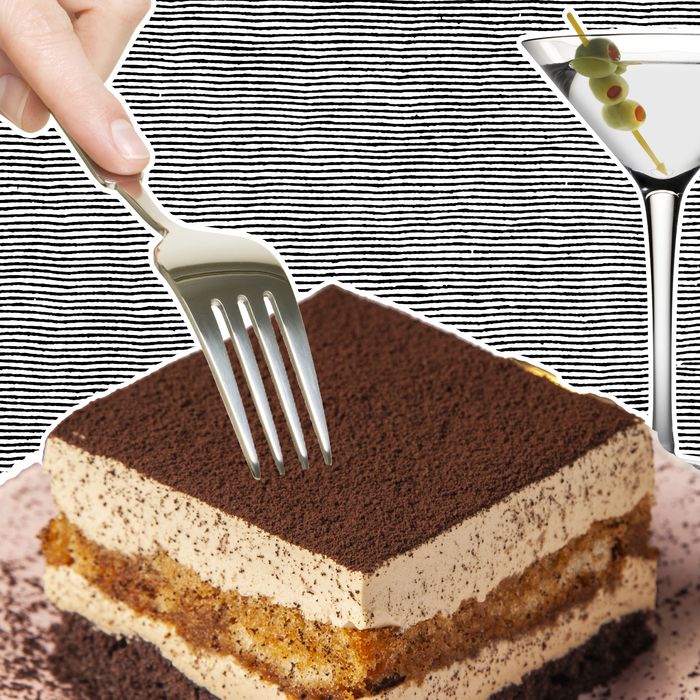 Photo-Illustration: Grub Street
I've never been particularly fond of the "such small portions" criticism of restaurants; good food can be expensive to buy and prepare. But even I was surprised by the $21 latkes at Gertrude's, a new corner spot in Prospect Heights. I'm no latke snob, and given the quality, the price didn't bother me at first (they're topped with trout roe but can be upgraded to "caviar" for $30 more). But when they arrived, I calculated a "per bite" price of $7, before tax and tip. This is not to say the restaurant is stingy, however, because dessert was a massive slice of black-and-white layer cake that felt more than fair at $15 (and, per the menu, serves two). When a friend asked me about the restaurant later, I only remembered that cake and my Dirty Gertie aquavit martini.
I love restaurants, but I — like many people — do not love the way nice meals manhandle my bank account. I'm not talking about $900 tasting menus at Per Se; $25 cocktails at Torrisi, $18 salads at Place des Fêtes, and $15 bread baskets at Raf's all add up. I don't think I'm imagining things, either, when I say that I've started to notice just how little some of these servings can be. At Foul Witch, the pasta is served in small soup bowls. And I get it: Ingredient prices are up, restaurants were essentially forced to take three years off and are only beginning to recover, and everything is just more expensive. I want to support new places and eat there as much as I can — but that's not as often as I'd like when $50 entrées are becoming the norm.
I realized after the Gertrude's meal that I'd have to rethink my approach to new restaurants. I came up with what I call the Inflation Special: Eat something filling at home (or grab something like a few slices of pizza), then make an easier-to-get late reservation at the bar for drinks and dessert. Am I saying this is the best way to dine out? Of course not, but it's at least one way to live like a TikToker, albeit without the trust fund or the groveling for free meals.
Next time I go to Café Mars, I'm going to start with the $15 Gibson and $11 negroni olives (which still count as a cocktail even though they're gelatin). Then a savory olive marble cake for $12 for a pre-tip total of $38. I might take the same approach if I ever return to Bad Roman since I agree with our diner-at-large that the tiramisu icebox cake is the best item on the menu, and I bet it'd go well with the mezcal-and-limoncello Ciao, Mama cocktail.
Beyond a method for trying new restaurants, it's also a way to check in more regularly on places where I'd be happy to pay for a full meal occasionally. Paying $67 for a dry-aged strip steak at Gage & Tollner is fine — but not on an otherwise regular Tuesday, when I mostly just want to meet up with a friend. Instead, the $20 martini and $26 Baked Alaska for two become a worthwhile night out, after I stop by the Shake Shack a couple blocks away for a Veggie Shack first.