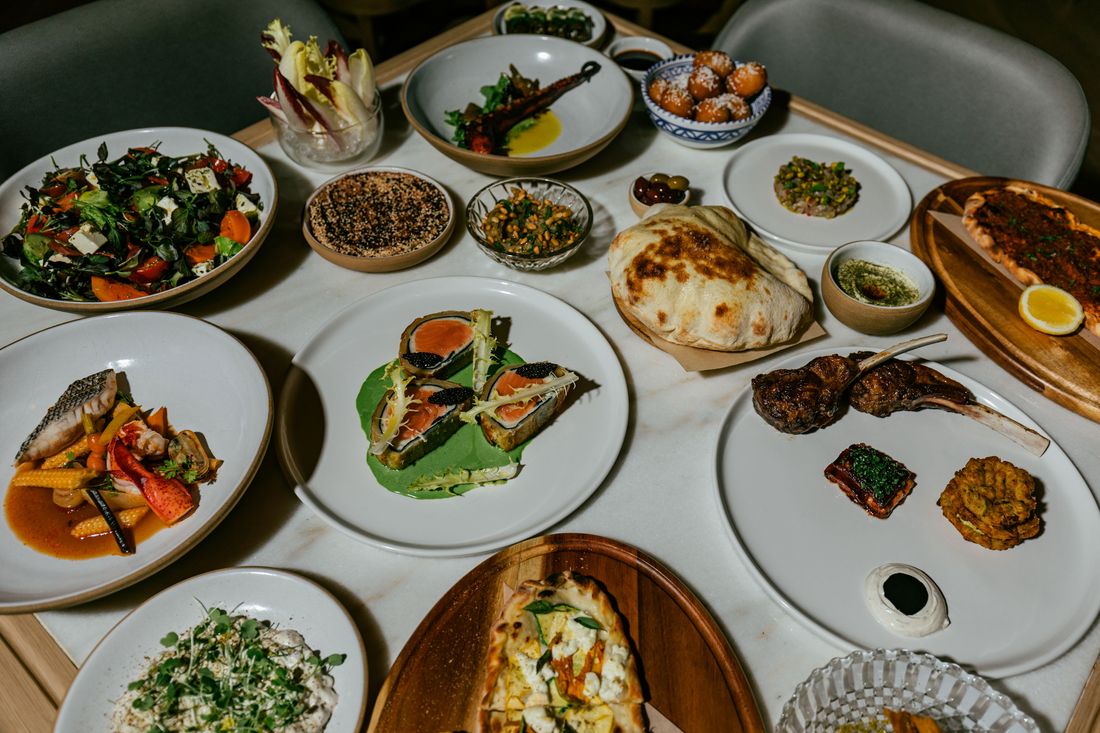 An Aegean-themed feast at Iris.
Photo: DeSean McClinton-Holland
In this perilous, storm-tossed time, when cooks and their restaurants are being swept under the waves and blown far out to sea, it helps to be an adaptable jack-of-all-trades. During the course of his long and varied career, John Fraser has worked in grand kitchens (the French Laundry and Le Taillevent), cooked wonderful Greek food (back in the aughts at Snack Taverna), and attempted (and failed) to introduce stolid Upper West Siders to the joys of modern haute cuisine (at the long-shuttered Compass and Michelin-starred Dovetail). Over the years, as fashions have ebbed and flowed, he has cooked up first-rate neighborhood cheeseburgers (the Loyal), mastered the art of glitzy hospitality hotel cooking (with André Balazs at the Standard), and helped pioneer the great plant-based craze (at Balazs's Narcissa and the late lamented Nix), which is still with us today.
Now comes the Aegean-themed Iris, a restaurant so welcome and weirdly unexpected that it has the look, on a quiet summer evening, of a small island oasis sitting in the becalmed shoals of midtown. The outdoor space, at the bottom of an almost empty Broadway office building below 56th Street, is furnished with parasols and fringed with boxes of wavy green vegetation. The room inside was mostly full on the evenings I dropped by, which is a bit of a miracle in this part of town, and with its tan-and-white color tones, it has the feel of a cruise-ship dining room from that long-ago era before cruise ships were the size of supertankers. There are potted plants here and there and round nautical-looking light fixtures on the walls. The waitstaff are dressed in breezy maritime-blue jackets and white shoes, and as we studied our menus, the soothing clacking sounds of cocktails being shaken emanated from the bar.
"It's nice not to be eating curbside in some outdoor shack," one of my guests said as we sipped our festive, oversweet cocktails, which had comical cruise-ship names like Melon of Troy (vodka with cantaloupe) and Calypso's Spell (tequila with mountain tea). The very good meze portion of dinner included mini-platters of hummus covered in drifts of sumac and fennel pollen, and hand-wrapped grape-leaf dolmas made with discernible kernels of rice instead of the usual mushy substance you get from a can. There was plenty of baked bread too (try the lightly fluffy sourdough pitas and the tear-shaped Turkish flatbreads spread with lamb or squash blossoms), and spindles of kebab (stuck with sweetbreads or roasted quail), along with what was quite possibly the finest Greek salad this salad-averse critic has ever enjoyed, made with cucumbers, blocks of fresh feta, and a bounty of late-summer tomatoes.
Fraser grew up with Greek cooking, but he operates a small fleet of restaurants now, and the man in charge of his kitchen crew here is a well-traveled professional named Rob Lawson, who has a talent for reprising familiar dishes with a light gourmet touch. That de rigueur pillar of the Greek culinary experience, the grilled octopus tentacle, was charred to a perfect tenderness when I tasted it and was flavored with a citrusy, faintly spicy combination of lemon, Turkish chile, and candied kumquat. You can get chunks of swordfish grilled the traditional way on a kebab or fashioned into an elegant tartare with crushed pistachios and mint, and the eggplant options are excellent and numerous (they come pickled with your dolmas, baked into a moussaka, and whipped into a nice baba ghannouj with golden raisins), but my favorite was the "fried" option, which the kitchen sizzles to a delicate tempura crunch.
Not surprisingly, lamb also features prominently on the menu at Iris (provided you can afford the hefty $65 price tag, I recommend calling for the lamb chops), though, as at most first-class establishments along the Greek or Turkish coast, seafood is the real star of the show. In addition to the swordfish, we enjoyed a bountiful, well-balanced Aegean seafood stew filled with Atlantic lobster and mussels, among many other things, plus a bowl of sweet diver scallops and shrimp dripped with plenty of brown butter and set on a polentalike substance made with the ancient grain trahana. For larger, more boisterous groups, there are several whole fish to choose from (red snapper baked in grape leaves, dorade and sea bass grilled by the pound) along with a melon-size boureki puff pastry that the chefs stuff with Alaskan salmon and a scrim of spinach and serve with dollops of caviar.
As befits any proper cruise-ship operation, you can addle yourself with all sorts of pleasurable potions and liqueurs at Fraser's newest restaurant (I counted 16 bottles under the ouzo-and-raki-filled "Aegean Spirits" section), but you'd be wise to focus on the impressive multipage wine list, especially the selection of crisp whites from Greece and Turkey. On my visits, an old-fashioned pastry cart was being perambulated to and fro among the tables, filled with traditional sweets from the region. There's a nice rice pudding, too, and a basket of fluffy, Mediterranean-style beignets flavored with sesame and cardamom, though if you want to forget the cares of the world just a little while longer, I suggest the sticky, fresh-baked baklava, which is brought to the table in a cut-glass bowl, dappled in pistachios, and sunk into a pleasantly boozy cloud of what the menu identifies as "drunken cream."