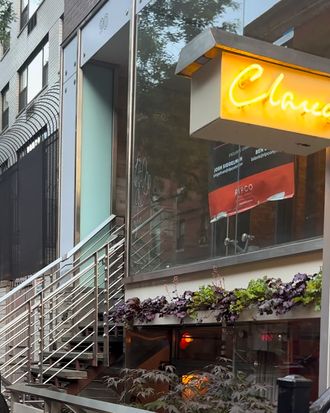 Last month, after the East Village wine bar Claud was forced to temporarily close (owing, according to its owners, to a liquor-license issue, only to reopen after an outpouring of public support), I wondered if this burst of news would make the already packed spot even more crowded. I've heard horror stories of multi-hour waits for non-tables, and earlier this year I waited 30 minutes or so for a seating situation that might most accurately be called a "shelf." Clearly, the restaurant would be an excellent contender for our ongoing look at the city's most "impossible" restaurants.
I returned on a recent Friday night, convinced I wouldn't get a table at all. Despite Claud's "walk-ins welcome" Instagram bio, I prepared for disappointment. But on my walk up East 10th Street, I saw the same window-shelf seats I'd occupied in the spring were open. I was offered the seat immediately, but the hostess was not thrilled when I asked for a "real table," as she informed me that "those are for reservations only." The only way I would get one is if a reservation canceled or no-showed.
The walk-in seats feel almost shameful. You face the wall, sit on your wooden stool, and arrange your plates along the shelf, all while your bad posture and dinner conversation are immediately on display to everyone entering the restaurant. There were two glimmers of hope — reservations that were nowhere to be seen — but both were dashed when the customers eventually showed up.
Then, 49 minutes into my meal, I was offered a real table in the center of the restaurant. Walk-in lovers and Resy detractors: I am sorry to report that the real tables are so much better. The leather benches are soft and cushy, and the square table was big enough to move around our remaining dishes, steaklike blackened swordfish and a hyperseasonal tomato mille-feuille table. The extra room was especially appreciated as my friend and I shared a massive slice of devil's food cake. After finishing the entire slice, I needed to luxuriate in a way that would have been impossible at our shelf.