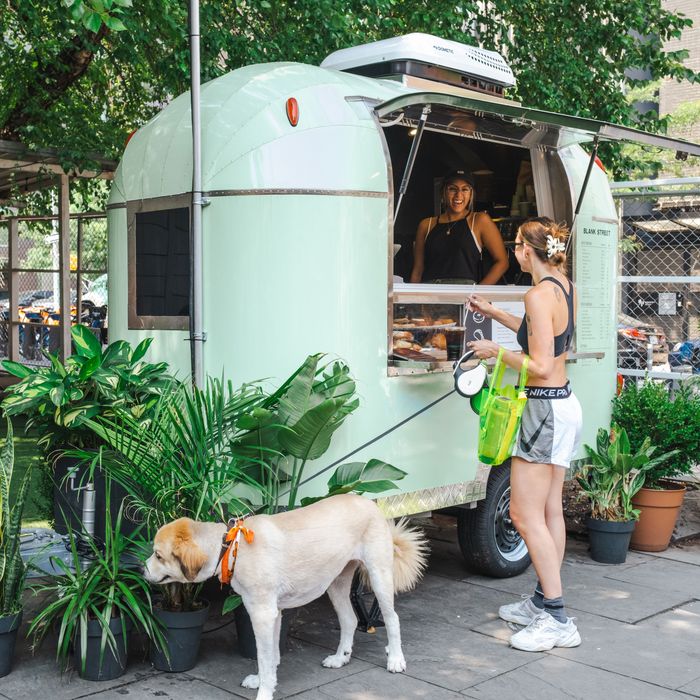 One of Blank Street's mobile carts. The fast-growing coffee start-up will open its 12th location this week.
Photo: Lanna Apisukh
Maybe you've noticed the pickup window peeking out on Lafayette Street in Soho. Or the seafoam-green cart that looks like a cross between a Vespa and an Airstream stationed in a former parking lot on the corner of Smith and Pacific Streets in Boerum Hill. In the past year, the coffee start-up Blank Street has opened 11 locations like these around New York City, a mix of zero-emission street carts and "micro-shops" less than a quarter of the size of an average café.
The first time I came across Blank Street, I wondered why anyone would open yet another coffee chain in what must be one of the most caffeine-saturated cities on earth — a place where you are never more than a block away from a boutique café, a Starbucks, a Dunkin', a bodega, a diner, or a classic chrome street cart. But Vinay Menda and Issam Freiha, the 20-something founders of Blank Street, say there is also room for the 100 locations they hope to have operational by the end of 2022.
"We went to everyone we knew and asked them how they thought about coffee, how much they spent, what was their favorite brand," Menda says. "What we kept hearing was, 'I would rather have La Colombe or Blue Bottle, but I end up going to Starbucks because it's right there — and the app is good.'" Cost, he adds, was another concern: "These third-wave brands are too expensive over time. So how could we take these high-quality products and make them more convenient and cheaper?"
A version of this pitch — a staple product, optimized, with aggressively cute branding and affordable pricing — has fueled countless start-ups, and Menda and Freiha have already raised a $7 million seed round primarily from three venture-capital firms: Base10, Quiet Capital, and FJ Labs. But a crucial difference between Blank Street and many of its millennial-baiting start-up brethren is that cups of coffee are not eyeglasses or suitcases or cookware. A coffee shop cannot simply cut costs by using the direct-to-consumer model that has been pivotal to the success of brands like Everlane and Away.
Still, Blank Street has managed to underprice the competition. A cappuccino costs $5 at Blue Bottle, $4.15 at Starbucks, and $3.90 at Dunkin' Donuts. At Blank Street, it's $3.50. To achieve this, Menda and Freiha have had to fundamentally rethink what customers like them really want from a coffee experience today, and what that might mean for the future of the beverage in New York City. Perhaps the most intriguing aspect of Blank Street is not just the way that the founders have fastidiously optimized their own operation but also the vision that Menda and Freiha have to update the thousands of coffee carts already doing business on city streets.
Menda, who is 28, was born in Dubai when it was still, as he puts it, "a desert with one shopping mall and one cinema." As he grew up, so did the city around him. "Because it was a new city, it didn't have a native cuisine or authentic local restaurants," Menda recalls. Dubai's culinary scene has relied heavily on franchised concepts from the West, often imported by young Emiratis who would leave the country for college and return with a deal to open a restaurant like Indochine. When Menda left home at 18 to attend NYU, he figured that one day he would do the same.
Once in New York, however, he found himself drawn to the city's nascent start-up scene. He interned at small tech companies and began to build a network of founders and entrepreneurs he met at industry events and conferences. Sophomore year, Menda met Freiha, a like-minded Columbia University student, and the two launched a venture fund out of their dorm rooms, raising $5,000 and $10,000 checks from friends, family, and even their professors. That effort grew into Reshape Ventures, and today Menda and Freiha have invested $100 million in businesses like Reddit, Imperfect Foods, and the scooter company Bird.
By 2019, when they were 24 and 27, respectively, Freiha and Menda decided to become founders in their own right. They homed in on a cluster of high-growth, mobile-first food-retail businesses making waves in Asia, such as Kopi Kenangan in Indonesia and the Chinese brand Heytea. Both achieved explosive growth by selling high-quality coffee and tea from tiny retail spaces. As Menda explains, "We saw that if you can optimize locations to be pickup hubs, with all the ordering happening through mobile, you can use the savings you get to make things cheaper for customers."
On a recent Monday morning, Menda stood in the parking lot of an empty diner on Wythe Avenue in Williamsburg. In front of him was a Blank Street cart about the size of an ice-cream truck, its stainless-steel interior packed tight with stacks of pistachio-hued cups, a glass case filled with breakfast pastries, a warming oven for breakfast tacos, and a cold-brew dispenser. A tabletop grinder sat loaded with beans from Parlor Coffee — a local roaster that got its start in the back of a trendy barbershop — ready to supply a brewer churning out drip coffee. Instead of a big chrome La Marzocco rig, which is the standard for espresso drinks for a certain stratum of coffee shop, the cart was outfitted with a slim automatic machine made by the Swiss company Eversys. A single employee calmly dispensed lattes and Americanos by simply pressing a button.
"It's hard for a specialty-coffee shop to switch to an automatic machine because when a customer is paying five or six dollars, they want to feel the experience of someone making something for them," Menda says. "Our view is, from a quality perspective, that isn't actually important."
When I spoke to specialty-coffee executives about Blank Street's contention that there's no magic to a handmade espresso, I expected resistance. Instead, I heard surprisingly consistent support for automation in general and for the Eversys machine in particular. "I love manual machines — I love the noise, I love the smell," says Nicolas O'Connell, a managing partner at La Colombe. "But it takes 15 hours to train someone to do just an okay job on a manual machine, hundreds of gallons of milk to train them to make a decent latte. You want to provide a product that's consistent day after day, and there are very few people who really understand how to do that."
Between the Eversys machines and a mobile order-ahead app, Blank Street's locations can run smoothly with just one or two employees, not five or six. Even though Blank Street says that by October 1 it will guarantee a minimum wage of $23 per hour for its baristas (including tips), the savings add up. Then there's the real estate. It's typical for a New York City coffee shop to spend $15,000 or more on rent, whereas Blank Street might pay a few thousand dollars a month to set up a cart in a parking lot or plaza.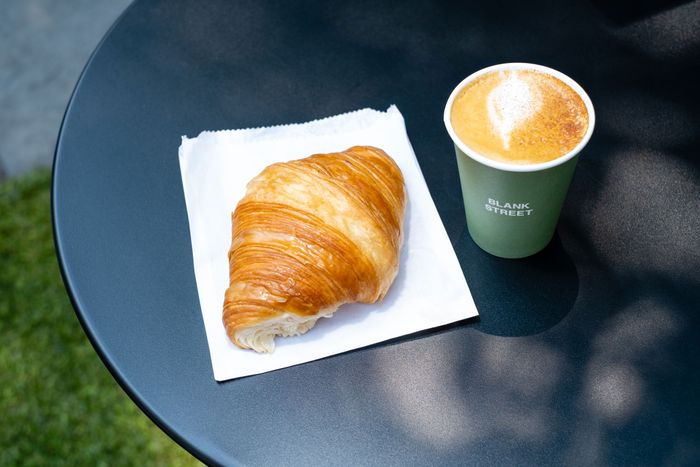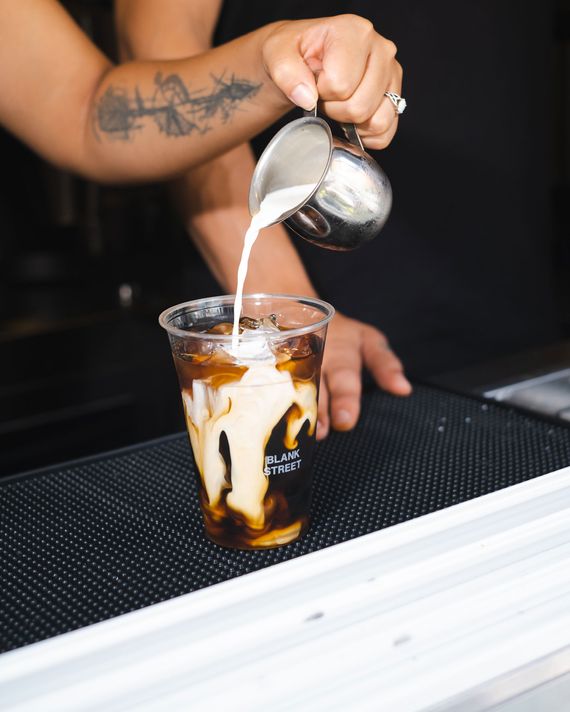 This real-estate strategy might be Blank Street's most important innovation. The vast majority of New York City's street vendors, from coffee and bagel sellers to halal carts, operate under what is known as a nonrestricted-area permit. Just 3,000 of those permits exist now. Though that cap is slated to rise over the next decade, excess demand nevertheless means that most vendors rent their permits for exorbitant sums on an underground market or choose to operate illegally.
Menda and Freiha discovered that would-be vendors can also work with landlords to set up vending carts on private land, which in essence makes them exempt from the permitting limits imposed on public street vending. Menda and Freiha reckoned that with sleek branding, battery-powered carts made in partnership with EVFoods, and their deal-making experience, these deals would be theirs for the taking.
For their brick-and-mortar locations, Blank Street's model focuses on exceedingly tiny shops. Over time, Blank Street also expects to work with landlords to wall off the front portion of larger spaces, activating those storefronts while leaving the rear portion for ghost kitchens, warehouses, or other features of the on-demand economy.
So far, the results are encouraging: Every Blank Street outpost is profitable, and the first location earned back its initial investment after just eight months. The company has stuck to its plan of establishing carts only in partnership with private landlords and has deals in place with Brookfield and the Parks Department as well as a number of independent property owners. But if Blank Street intends to expand from a dozen locations to a hundred or more, that will likely mean delving into the complex world of nonrestricted-area permits. They also have to make sure their coffee tastes good.
In the coffee business, "specialty" is a broad term of art that encompasses a certain ethos around ethical sourcing and meticulous roasting. Menda and Freiha — who say they and Parlor pay the same for their coffee as other third-wave outfits — are not the first to question what a cup of specialty coffee really needs to cost. In 2016, LocoL, a California fast-food concept founded by chefs Daniel Patterson and Roy Choi, began selling coffee brewed from high-end beans for $1 per cup. The person behind that initiative was Tony "Tonx" Konecny, a coffee-industry veteran who was instrumental in creating the retail experience at early third-wave roasters like Victrola and Intelligentsia.
Konecny says he was inspired to create something radically affordable for LocoL after tiring of what he came to see as needless complexity in the specialty-coffee world. "A lot of the pomp and pretense that emerged around barista culture in the early 2000s was coming out of an attempt to differentiate against Starbucks," Konecny tells me. In other words, if you were going to charge more than the big green monster, it helped to have $30,000 worth of equipment behind the counter and somber, highly trained professionals visibly laboring over the drinks.
LocoL shuttered in 2018, but Konecny says that the coffee didn't drag it down; it wasn't printing money, but it wasn't a loss leader, either. LocoL served brewed coffee, but when it comes to espresso-based drinks like lattes and cortados, Konecny — who now runs a coffee subscription service called Yes Plz — doesn't see automatic machines as a barrier to quality. "We've bench-tested a lot of fully automated machines, and it still requires you to have enough of a palate to be able to tune them," he says, adding that the technology is improving all the time. "But if the beans are good, you can fuck it up six ways from Sunday and the coffee will still turn out pretty tasty."
So how does Blank Street's coffee measure up? The flavor profile might best be described as gentle. Its espresso is distinctly floral, the drip coffee light in flavor, though not without body. The coffee lacks the bitter burnt notes that will be familiar to Starbucks drinkers as well as the more eccentric fruitiness found in some single-origin coffees. The auto-frothed milk is passable; offering the option of oat milk is a nice touch. Blank Street's coffee is, on the whole, unobtrusive and pleasant — just what you'd expect from a product devised with broad appeal in mind.
Menda says he doesn't want Blank Street's trailers to compete with New York's vast collection of existing street vendors but instead would like to partner with them, operating carts on their behalf, sharing technology, and guaranteeing a minimum income.
Like many New Yorkers, I have a deep affection for coffee carts and view them as a vestige of a quickly vanishing New York, not quite so full of gleaming salad bars and WeWork outposts. So as devoted as I am to the pursuit of excellent coffee, I confess that the notion of Blank Street "disrupting" the landscape and trading the idiosyncrasies of the aging carts for identical yuppie espresso trucks makes me squeamish.
Mohamed Attia, the executive director of the Street Vendor Project, a nonprofit group that advocates for street-vendor rights, thinks about it a different way. He views street vendors as New York's most harassed and underappreciated small-business owners and believes the outdated propane carts and lack of mobile-payment technologies severely impact their income. "Most of them, 90 percent, are immigrants," Attia points out. "They're limited by their English in dealing with financial institutions and then there's always the fear of the unknown." Many vendors are undocumented, Attia says, and it's nearly impossible for them to access lines of credit that would allow them to source higher-quality products and upgrades for the carts.
Attia suspects that vendors would jump at the opportunity for better equipment and more support. "At the end of the day, people are sick of dealing with the old carts and generators and the smoke," he says. (Several years ago, a start-up called MOVE Systems announced plans to provide newer, natural-gas- and battery-powered carts to city street vendors. Hundreds of vendors signed up, but the company failed to make good on its promises and had only a few dozen units on the street when it shuttered in 2019.)
Menda explains that part of his goal for Blank Street is to help immigrant street vendors thrive. How it all might work is yet to be determined. Blank Street is considering the idea of franchise agreements, or simply renting its carts and software to vendors while guaranteeing a minimum income. "If you could help them get a stable income and level up in the economy, which is why they came here in the first place, that's the main thing," Menda says. "So we'll try all the models, and what works best, we'll scale."
What remains to be seen is how willing New Yorkers are to sacrifice some of the city's distinctive character for better-tasting coffee and easier access to breakfast tacos. The money spent on rent for larger spaces, too, isn't exactly a wasted expense. For many New York City office workers — who, after more than a year of working from their makeshift home offices, are craving some human interaction — a meeting at a coffee shop isn't an optimized fuel-up. It's an excuse to step away from a desk and, perhaps counterintuitively, slow down a bit. "People want to connect," says O'Connell, the La Colombe partner. "And cafés are platforms for communities to form."