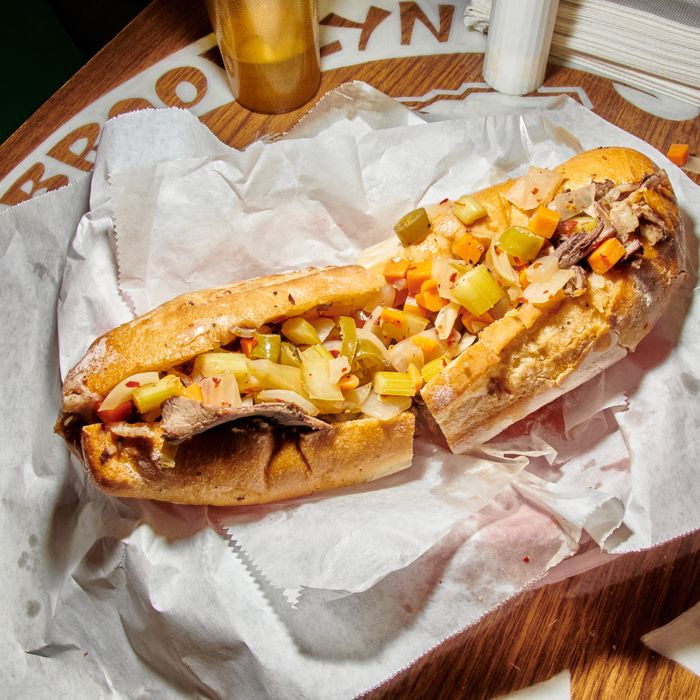 The namesake sandwich, with plenty of giardiniera, from Bobbi's Italian Beef. Photo: Marcus McDonald
When I first heard about Bobbi's Italian Beef — a two-month-old spot on Smith Street that specializes in Chicago delicacies like neon-relished hot dogs, tavern-style pizzas, and, of course, its namesake sandwich — I thought, as perhaps you did, of The Bear, the FX series that has done as much as any show ever to bring the idea of gently braised meat tucked into a sauce-softened roll to the forefront of popular culture. There are crucial differences, of course. Bobbi's is not fictional. It also happens to be in Brooklyn, not Chicago, meaning I could take the subway there, which is exactly what I did the other week, whereupon I ate the best Italian-beef sandwich of my entire life, even if my life up to that point had not included a true Italian-beef sandwich.
Yes, I was a first-timer, but consider me a convert. I have had other wet sandwiches in my life — beef dipped in so much "au jus" that I had to hurry before the bun disintegrated — but while those sandwiches have been moist and meaty, I would not say they were memorable. The sandwich at Bobbi's, with its smattering of crunchy, popping spicy pickles on top, was different.
You may recognize the name from a stall in Downtown Brooklyn's subterranean DeKalb Market Hall, where Bobbi's was situated until leaving in August. Then, in October, the team found the brick-and-mortar space the restaurant now occupies, a warm and inviting storefront with a jar of dog treats by the door and a giant window that is often steamed over with condensation.
Inside, bright booths and Windy City memorabilia line the walls, such as vintage ads for Vienna Beef (de rigueur for a Chicago restaurant, really) and a cardboard cutout of Mike Ditka shilling for his own brand of "Hall of Fame" Polish sausages. Bobbi's was started by Rob McBride and Jason Lux. McBride's wife is from Chicago, and the store is named for their daughter. Lux, meanwhile, tells me he's from Champaign-Urbana, "as close to Chicago as a New Yorker needs to know."
Given their history, it's not surprising to learn that Bobbi's predates The Bear. They're not piggybacking off Chicago's surge in popularity; they merely had excellent timing. And here is the best compliment I can give to their sandwich: It is so good that it easily stands outside the shadow of The Bear's acclaim. This is not a sandwich you seek out because you saw it on some show; this is a sandwich you seek out on its own terms.
It is available via delivery, or you can do carryout, but the sandwich is best in the restaurant itself, which is open every day except Monday, beginning at noon. The Italian Beef arrives in a red basket lined with multiple sheets of paper to contain the toppling optional peppers and giardiniera. You should add both. It's less of a "sandwich" and more like a long bread bowl filled with beef. The roll is commendably sturdy, but it cannot contain the meat's juice, which will dribble down your fingers and coat the spaces between them. You may need a fork, and you will certainly avail yourself of many of the folded paper towels that sit stacked at every table. A whole sandwich costs a very reasonable $19, though I haven't been able to eat more than half in one sitting.
"The beef takes me a few days to make," Lux explains. "It's about marinating the beef in our spices and then we braise it for about four hours." The top round cooks whole before sitting overnight to firm up and become sliceable. "We slice it, then put it back in the au jus, and steam it off for another few hours. Then it's ready to serve," Lux says.
I recommend getting your sandwich dipped, with extra dip on the side, because the jus is an herby, tangy consommé, and the bread can handle it. "If we were in Chicago, it would be served on a Turano Bakery roll," Lux says. But in Carroll Gardens, the restaurant's rolls are custom-baked to its specifications at the nearby Mazzola Bakery. The crust is tough enough to prevent the soaked bread from giving up too soon, and it stands up admirably to the jumble of elements. A beer list is in the works, which should bring in more people at night, but for now, it's worth stopping in during an afternoon when you can set aside a few hours for a nap afterward.