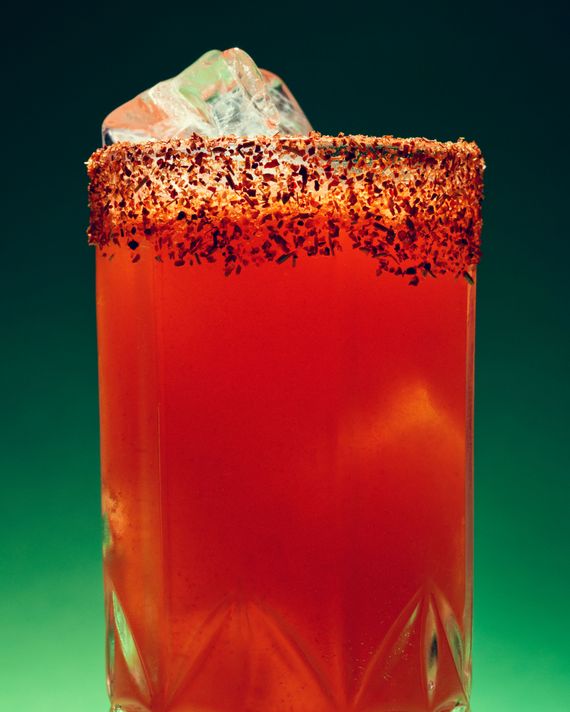 A cocktail from Seeyamañana combines fresh tomato puree with tequila infused with sun-dried tomatoes. Photo: Hugo Yu
The phrase "tomato drink" conjures a very specific type of beverage: thick, brick-red liquid, usually garnished with a stalk of celery. Whether it's a Bloody Mary, Clamato, or V8, these drinks somehow straddle the line between a salad and soup. For many of us, pre-bottled juice-from-concentrate is a nostalgic flavor, but bartenders have lately been embracing the flavor of fresh tomato, and in New York, that means a collection of drinks that make the most of the fruit, vines and all.
From a distance, they might not even track as "tomato drinks" because they're likely to be clear. And they are of course likely to be some kind of martini. It makes sense: Tomatoes and vodka are natural partners, and when a drink is made with tomato water — puréed tomato juice that's been filtered — the pairing can appear seamless. That's the case at Swan Room, the cocktail bar within the Nine Orchard hotel, where the $24 heirloom martini is finished with basil-scented eau de vie.
Heirloom is a popular word this time of year; Blueprint in Park Slope offers an heirloom sour with gin, Aperol, orange marmalade and freshly puréed tomatoes. G.M. Robert Giles compares tomatoes to strawberries in terms of acidity and sweetness, as well as his desire to work with them only when they are in season. Sayora Khamidova, who works at Jimmy in Soho, specifically prefers yellow tomatoes puréed with a bit of peach to help brighten the bar's Golden Fizz, a gin highball with fresh mint and a touch of elderflower-flavored St-Germain.
Juicing and purée are the most popular ways to add a bit of hyper-seasonal Greenmarket flair to a drink, but at Gabriel Kreuther in midtown, bar manager Michael Pedecine employs applewood-smoked tomato consommé for the the "tomate sauvage," which he says is "somewhere between a Bloody Mary and a dirty martini," going extra vegetal with the addition of Italian fennel-seed liqueur, the chile liqueur Ancho Reyes, and olive brine. Meanwhile at Lord's, on LaGuardia Place, the bar uses tomato vines to infuse the gin in its "tomato vine bijou," which is finished with a few drops of tomato oil.
Of course, no discussion of modern tomato drinks is complete without the Caprese martini from Noho's subterranean pool lounge, Jac's on Bond. It's achieved by infusing olive oil, tomato, and basil into Grey Goose that gets mixed with some vermouth and Balsamic vinegar. (Bartender Trevor Easton Langer says he was inspired by — what else? — a craving for the salad.) Another take on the Caprese martini can be found at Martiny's in Gramercy, which starts with a base of wheat-and-barley whiskey from Australia and tomato water that is milk-washed — milk separates when it's mixed with alcohol; the solids are strained out and the resulting clarified liquid is mellowed by the flavor of the extracted whey — and served, clear, over a single big ice cube with a basil leaf on top.
That's not to say there isn't a place for pulpy red drinks, too. At Seeyamañyana, the excellently named Mexican restaurant in Nomad, bar staffers run plum tomatoes through a juicer then mix it with mezcal, guava Jarritos, lime juice, and tequila that's infused with sun-dried tomatoes. Then they add enough Cholula to ensure the drink is legitimately spicy, with barely a hint of sweetness.