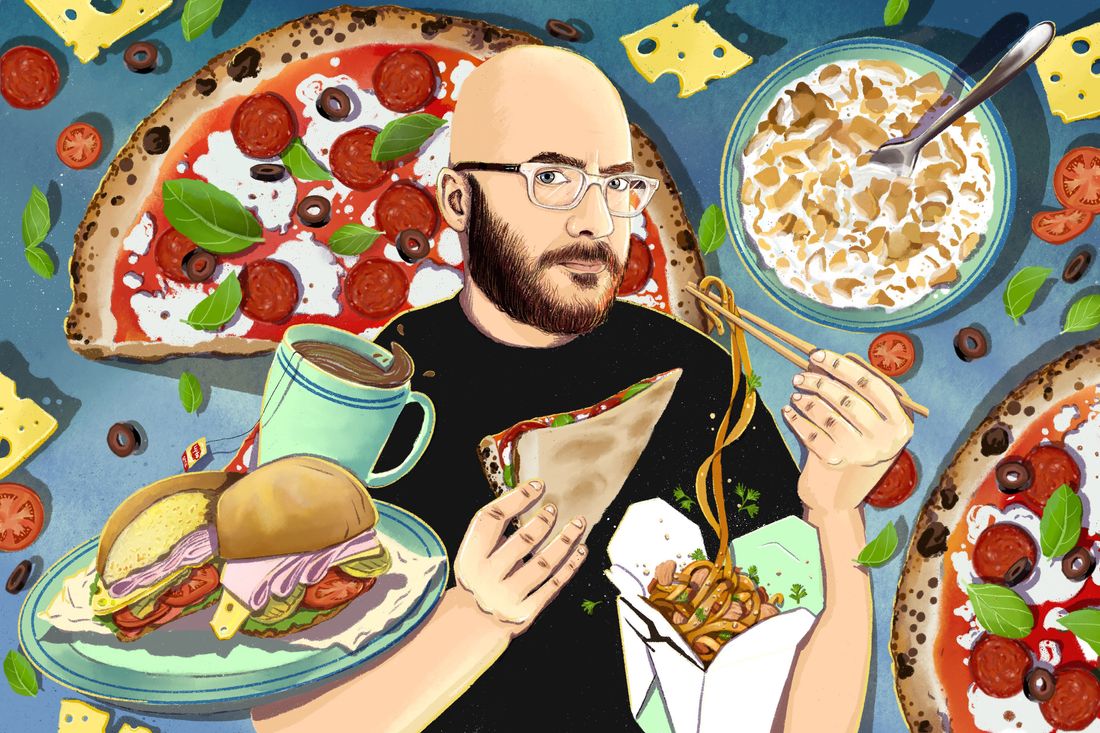 Illustration: Maanvi Kapur
Since 2007, Jeremiah Moss has tracked our changing city in his blog, Jeremiah's Vanishing New York; in his 2018 book, Vanishing New York; and, this year, in Feral City. Moss is the nom de plume of Griffin Hansbury, a psychoanalyst by day who lives in the East Village. He says he began writing under a pseudonym because he enjoyed the freedom of that voice, but he calls Feral City a hybrid book, one that mixes Moss with Hansbury. That doesn't mean he's entirely comfortable with the conceit of this column, however. "I approach the assignment with trepidation," he says of tracking his food diary, explaining that he was never a fan of discussing food, or of sharing it. "When I was a kid, my mother would take me for lunch at Friendly's or Brigham's, where she'd swipe French fries off my plate and watch me implode," he continues. "In chimpanzees, studies show, food sharing raises both the giver's and receiver's oxytocin, a hormone that facilitates social bonding. For me, it raises my hackles."
Wednesday, November 9
For breakfast, I have a bowl of cereal with half a banana. The cereal I eat for breakfast (Nature's Path Flax Plus Raisin Bran) is very adult — brown, hard, and somewhat tasteless. My favorite cereal as a kid was Apple Jacks. My mother bought it for me, and my father raged against it because he had become an angry health nut after giving up booze. His relationship to food revolved around dominance and superiority. He started stir-frying in a wok, a micro-trend for white people in the early '80s, stuffed the kitchen cabinets with vitamins, and took me to macrobiotic restaurants where everyone wore natural fibers and smelled like patchouli oil. He claimed to be pure in body, but when he died and I cleaned out his refrigerator, I found nothing pure, not a single vegetable, no soba noodles — all he had were piles of candy bars, a half-eaten chocolate cake, and a crisper drawer full of Duracell batteries. Seeing this made me feel both sad and triumphant.
On my lunch break, I get a chai latte from Mud and drink it while walking through Tompkins Square Park, where a woman says, "I hate squirrels, they're so scary." At the magazine shop on Avenue A, I get a New Yorker to see a review of my book: "ruminative, provocative, and moving." I take the magazine to Ray's Candy Store for a celebratory egg cream. When I wish Ray a happy birthday — he's turning 90 — he says, "I never thought I'd make it this far," and I feel something similar about getting a review in The New Yorker. At home, I make myself a sandwich: wheat bread, turkey, Swiss, mustard. Nothing special.
Every Wednesday night in Washington Square Park, the Black Trans Liberation Kitchen gives out delicious meals to anyone who is hungry for them. People are dancing to DeBarge ("I Like It"), I get a hug from organizer Qween Jean, and I say hello to comrades I biked with in the Stonewall marches of the 2020 uprising. I enjoy a generous plate of salad, honey-barbecue ribs, roast chicken, and summer squash. I make a donation and chat with another comrade who says the food tastes so good because it's made with love, and I know they're right.
Thursday, November 10
Breakfast is cereal again. I have nothing against this cereal. It's workmanlike; it gets the job done.
Just before lunchtime, I get on my bike and take off for Times Square, a place that got its soul back during the pandemic lockdown and has since slipped again into an overpoliced, overtouristed zombie zone. There's still some strange life left, however, and after I say hello to my friend Barbie, a homeless street performer who dresses in glitter and howls at the sky, I head over to Margon on 46th Street for a hearty lunch of rice and beans, tender chicken, and plantains, washed down with morir soñando, a sweet mixture of milk and orange juice that translates as "to die dreaming."
Dinner is from the Bucket, my private name for the bulk meal I make on Sundays and then put into Tupperware to eat all week. This time, it's chicken sausage, pearl couscous, and asparagus in pesto sauce. I heat it up in a pan and eat in front of the television. American Horror Story: NYC.
My nighttime snack is Skinny Pop. My father would make popcorn at night in a pot on the stove, and the sound of the pop-pop-pop would wake me. For the specialness of this treat, I was allowed to get out of bed and have a bowl. Forever after, popcorn has been infused with a positive feeling. I eat too much of it.
Friday, November 11
Breakfast is cereal again. Lunch is the Bucket — eaten cold, straight from the Bucket itself — standing in my kitchen because I forgot to eat lunch and I'm suddenly ravenous.
Usually, my Friday dinner is with Washington Square Park Mutual Aid — we meet every Friday from 5 to 9 p.m. in the circle west of the fountain — but tonight it's pouring rain, and I am not as intrepid as I'd like to be.
Each week, people bring homemade food for anyone and everyone — baked ziti, roast chicken, mac and cheese, empanadas, and pizza, lots of pizza. If I were there, I might be handing out slices and also eating them. "Mutual aid" means being a part of it, breaking bread with friends and folks from other walks of life, but tonight I am home watching Netflix and eating sushi, feeling regretful that I am missing Wash.
Saturday, November 12
I go to breakfast at the Bus Stop Cafe on Hudson Street, where the waitress knows me and recites my usual order from memory: banana-walnut pancakes, a side of berries, scrambled eggs, and bacon cooked "chicharrón," as she puts it, charred to a crisp.
Breakfast is big enough to carry me through a day of walking around the Village. After going into Three Lives & Company to sign copies of Feral City, I walk past a restaurant where a private security guard is keeping watch over the outdoor brunchers, ensuring that their dining isn't interrupted by panhandlers. It's an unsettling sight, vaguely dystopian. Do the brunchers feel awkward being guarded like that, or is protection expected, another perk of being them?
I skip lunch. For dinner, I'd like to go to Arturo's on Houston Street, a favorite old-school spot for pizza and cocktails, but it's not open yet and I'm getting hangry. So I end up eating someplace I'd rather not, just because it's there: Bareburger on La Guardia Place. I have a turkey burger with garlic aïoli and a side of sweet-potato fries. After, I go to Wash and run into my friend Ulu who sells drinks from a cooler made to look like a pirate's treasure chest. I get a special juice, talk awhile, and then do a few loops, walking around the fountain to see who's there and what's happening, happy to be in the music and clouds of weed smoke and sage.
Sunday, November 13
I wake up, make a cup of Lipton tea, and scroll through Instagram, which takes me to Michelle Tea's new Substack. I read an essay about the art of Ali Liebegott and how being queer can be depressing and you might end up identifying with crappy food — "an identity with loserdom that is a special province of queer art and thinking" — because being queer is dangerous and "it's risky to want things. It can be a good strategy to have humble wants, to fetishize the humble, to celebrate it." Like bacon and eggs, like food that's not good for you, because being queer is not good for you, and those of us who came of age in the 20th century still associate our queerness with disease, violence, alienation. This is why I struggle to eat in "nice" places. That and growing up lower class, so I feel like I'm betraying myself somehow when I eat nice food.
At Bareburger, a bougie dad had been going on about how the meat was "grass-fed." He must have said it ten times to his kids, who didn't care about how the cows they were feeding on were fed. "Grass-fed," the father kept saying. "That's really good." He was talking about purity. When I walked by, he gave me a look, a scared and angry dad look, his eyes flicking from my trans-flag pin to my Black Lives Matter pin to the slogan stitched on my baseball cap: "New York Fuckin City." I felt like a problem, a threat to his children and all his grass-fed desires.
For Sunday breakfast, it's another bowl of cereal and banana and then I go grocery shopping at Key Food on Avenue A, where I select a bag of Brussels sprouts. I am trying to buy nicer things for myself, healthier things with more variety. Vegetables have always been challenging for me. My mother wasn't Faye Dunaway playing Joan Crawford in Mommie Dearest, but she did make me sit at the kitchen table long after the other plates were cleared because I'd refused to eat my vegetables because vegetables made me gag, and I'd have to sit there watching them get cold while my parents reclined in the living room watching television until my mother finally got up and said, "Clear your plate and go to bed."
Most people, it seems, want to have only good feelings about food. They want warm family feelings, romantic-couple feelings, loving-mommy feelings, fun-with-friends feelings. It's not like I don't have those; it's just that I find them Hallmark-ish, too easy. Food is hard. People should admit this more often. I'm a psychoanalyst and pretty much everyone talks to me about how food is hard. Food becomes the body, and the body is a difficult place to live. It's too fat or too thin, the wrong shape, the wrong sex. Food is power, class and gender, race and ethnicity, belonging and not belonging. There's too little of it, or too much, or maybe it's the wrong kind.
I skip lunch again. For dinner, I get my Sunday usual: chicken pad Thai delivered from Makiinny on 7th Street. I remember, many years ago, the first time I took a cab to 7th Street. I said "East 7th," and the driver said, "You must be new in town. You don't say East 7th because there's no West 7th. You just say 7th." He was right on all points.
I eat half the pad Thai and put the rest in the fridge. I used to call a meal like this an "investment" because you could get two dinners for the price of one. This reveals a lack of economic understanding, but I still think the word — investment — as I close the fridge. My nighttime snack is popcorn, and it tastes like home, steamed in oil and salt.