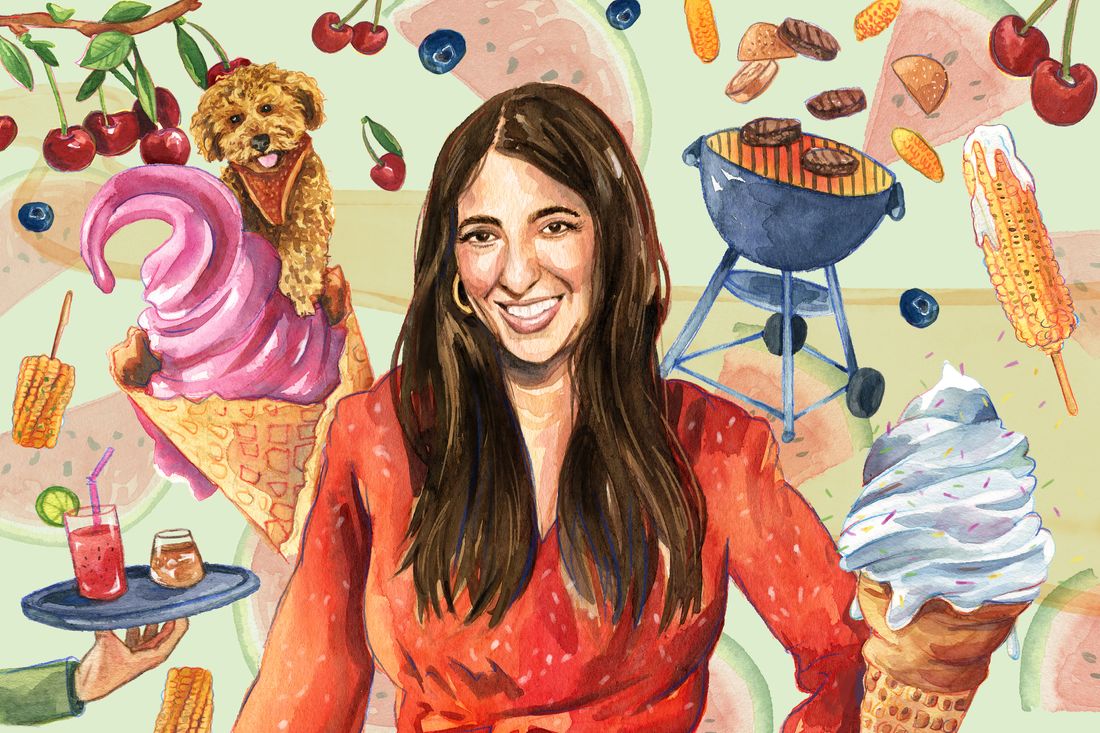 Goodman, Ziti, and some of their favorite foods. Illustration: Sarah Kilcoyne
Jessica Goodman first started writing fiction on the side while working full time in digital media. "I'd always wanted to be a writer of some sort — journalism felt like a place where someone could do it and actually have a career," she says. "It took me a couple years to get a draft done, but I went to Cosmo, and I realized so many editors had written books, so there was a pipeline." Later this month, Goodman will publish her fourth YA novel, The Legacies, and head out for a tour to support it. Before that happens, she spent a few days working on edits for her next book, taking the time to host a bachelorette party in Brooklyn and grilling whatever happens to be in the fridge at her house upstate.
Saturday, June 24
I was up early to greet my friend Jordan, who had flown in on a red-eye for a bachelorette party we were all throwing that night. It was a lovely, sleepy reunion and lasted about five seconds before she settled in to take a long nap. I headed out to the Fort Greene farmers' market with my husband, Maxwell, and our 12-pound poodle mix, Ziti. But first, we made a pit stop for iced coffees and bananas at Guevara's. Maxwell thinks that every morning should start with a coffee and a banana, that if you treated your body like trash the night before, this combo will cure it. He calls it the ultimate reset. I call it "first breakfast."
At the market, I stocked up on rainbow carrots, French breakfast radishes, Persian cucumbers, and snap peas to serve as crudité that night. I also bought a bunch of cherries, a few apples and peaches, and a loaf of miche sourdough from She Wolf, which is easily one of my top-five favorite breads. I love a loaf that takes some effort to tear and gets you absolutely filthy with crumbs.
By mid-afternoon, the bride, Lucy, and two more of my nearest and dearests had arrived from out of town. We ordered lunch from Choice Market, a perfectly solid, have-everything café. I got a salad with butter lettuce, roasted corn, and seared salmon. We got fries for the group, and they sent approximately 400 ketchup packets, which I tried not to gag at. I hate ketchup — always have!
My friend Josh and I had been planning the shindig for the past few months, and he showed up with ingredients to make big-batch Lillet spritzes. I have no idea if this is a real cocktail, but we made it one: Lillet, prosecco, seltzer, and lemon wedges. They were a hit and not too sweet, which is my main complaint with most cocktails.
More importantly, he had picked up a massive grab bag of goodies from Damascus on Atlantic. He pulled out tubs of baba ghanoush, muhammara, olives, pickled cauliflower, and the best dip of all time: spicy hummus. Yeah, yeah, you've had spicy hummus before, but not like this: smooth and tangy, packing just enough heat to make you go back for more until you realize your mouth is on fire 45 bites later. Josh brought extra.
After Lucy won theater trivia and proclaimed it "the best night of her life," we headed over to Hart's, which is the best kind of restaurant, neighborhood-y and special occasion–y all at the same time. We left dish selection up to the restaurant. Highlights included chopped-fava-bean dip, tuna conserva on toast in some sort of tomato broth (the number one dish of the night), charred wax beans with anchovies, thin-and-crispy pork Milanese, and a swordfish dish that made me actually like swordfish. Josh, who is A Wine Guy, chose the bottles for the table, and I split a mezcal cocktail with another friend. I was feeling toasty, and it was also barely eight o'clock.
This is when I tried to order an espresso martini (I'm so sorry) to go with dessert (salted strawberries and olive-oil cake with cherries and cream). After being told "no," a bunch of us ordered glasses of amaro that the waiter described as "piney." I would come to regret this later.
Our final stop of the night was karaoke at Insa in Gowanus. Between singing ABBA and "Goodbye Earl," I finally got my espresso martini — or something like it. I think it was sochu-based and tasted distinctly of lemon.
We had kicked Maxwell out of the apartment for the night so four of my friends could stay over on the couch and air mattresses, which made the whole thing feel like the time in college when we all lived together. This was especially true when I excused myself to puke in the bathroom so it would really feel like college. I blame the amaro.
Sunday, June 25
Woke up feeling spritely, which was suspicious, and chugged a bunch of water. Everyone had to get going early, but we put in an order from Bergen Bagels, which we chose because it had the fastest delivery and these were desperate times. I made the mistake of getting whitefish salad, which I love. It arrived in a strange, separated, oily state. I spread it on half an everything bagel, and it tasted fine, but the look was too much for me to overcome.
Maxwell came home with a green juice from Mr. Mango. If you live near a Mr. Fruit spot, you get it. These places are perfect New York institutions. When you order a juice, they always make too much and ask you to chug a bunch of it right there so they can top you off before you go.
After everyone left, I spent a few hours packing to head upstate. We bought a cabin in Ulster County last summer and have spent half of our time there ever since. I was moving slowly, snacking on cherries, and watching the new season of The Bear as I placed single items of clothes in my suitcase.
In the early afternoon, Maxwell realized we had the Damascus spicy hummus (!!!!) and popped it open. Deep in the freezer, we found a bag of lavash we had bought at Damascus months ago. Lots of people don't like it because it's not a classic fluffy pita, but you can't compare it to that. It's its own thing, dense in some areas, see-through in others, and should be eaten warm and viewed as a vehicle to eat spicy hummus, nothing more. I microwaved that, and we finished the first container of spicy hummus.
We hit the road, but after making a wrong turn that added 20 minutes to the drive, we decided we needed a little treat — McFlurry or bust. The McDonald's drive-through line was long as hell, so I was tasked with heading inside and grabbing one for us to split. The choice between Oreo and M&M was obvious: M&M. With soft-serve toppings or mix-ins, it's all about texture since the ice cream is so smooth. I like a crunch, something to bite into and break up the ice cream. Oreos get too smushy. Maxwell seemed less than enthused with my choice. He ate a few bites, which I deemed a win because … more for me. But after we finished, he said he didn't think he could ever eat another M&M McFlurry again because it was TOO CRUNCHY. We didn't speak much for the rest of the drive.
At the house, I was craving real food for dinner. I pitched Smitten Kitchen's chicken leek-and-rice soup, which is my go-to comfort meal but was overruled since Maxwell pointed out it was 87 degrees outside with 99 percent humidity. I tried to protest — it's a perfect recipe — but he wouldn't budge. I turned to another favorite, a recipe for tempura-topped baked salmon from Caroline Chambers. You rub sriracha, honey, soy sauce, sesame oil, ginger, and garlic over the fish, then top it with panko crumbs mixed with sesame oil, butter, and cilantro.
Since we were in trout country, I swapped the salmon for a piece of steelhead trout. I stir-fried the rest of the snap peas with garlic, soy sauce, and sesame oil, quick-pickled some radishes, and made a pot of brown rice. Eating a big bowl of that was like getting a hug.
Monday, June 26
I got up super-early to make it to a workout and had First Breakfast: a banana and coffee with almond milk. Over the winter, we moved up here full time, and by January, the cold and isolation was starting to get to me. But then I learned about this guy Ben who runs fitness classes out of his garage gym. I started going regularly and made friends in the area but also gained muscle from weight lifting. Strength training has proved to be an entirely outlook-changing experience, and I have never felt stronger. The flip side is that parts of my body that I've been conditioned to try to shrink are now much bigger. My clothes fit differently. Sometimes the horrible voice in the back of my head that I've tried to stop listening to roars loud, shouting about my body. But on the days I work out with Ben and the other folks up here, I think I can lift a truck. I love that feeling, and I got it this morning.
When I got home, it was time for Second Breakfast. I slow-fried two eggs so that the yolks were still running (they must run), but the edges of the whites weren't crispy. I ate them with a few scoops of corn-and-bean salsa, a squeeze of lime, and a splash of Hell's Habanero hot sauce from Saunderskill Farms, one of the oldest farms in the area. I'm fine with most spicy things, but the first time I tried this one, I underestimated its potency, doused some eggs with it, and cried. Less is more.
I wrote for a bit and soon needed a snack, an apple slathered in peanut butter. When I say peanut butter, I don't mean the organic, separated, no-oil, no-sugar stuff. I prefer the very unnatural kind of peanut butter that comes from a four-pound jar. It never goes bad. It tastes delicious, and Ziti loves it, too.
For lunch, I made a bowl of whatever was in the fridge: pickled cauliflower, some carrot and cucumber spears, a few slices of extra-sharp white cheddar cheese, some Firehook multigrain crackers, a few slices of sweet soppressata, and an enormous scoop of spicy hummus (bless).
Most places here are closed on Mondays (and Tuesdays … and sometimes Wednesdays), so dinner was at-home fajitaish night. I marinated chicken thighs (the best cut) with some cumin, coriander, chile powder, and garlic, and threw 'em in the oven. Then I scorched onions and peppers on the stove with the same seasonings. We did a little choose-your-own-adventure plating situation with avocado, cilantro, brown rice, black-bean-and-corn salsa, that insane hot sauce, and lime wedges.
Tuesday, June 27
First Breakfast of coffee with the last of the almond milk and a perfectly ripe banana, enjoyed while walking with Ziti on the trail near our house. He tried to eat all the mud.
We had some guys coming to do a little work on our house today, and I used that as an excuse to make cookies. I swear by Smitten Kitchen's oatmeal, chocolate chip, and pecan cookies. Also her strawberry sheet cake. And her miso-tahini dressing. And her entire lifestyle and scope of work.
These cookies never disappoint because Deb adds a secret ingredient: orange zest. Sadly, I had none, and halfway through making them, I also realized I had no white sugar. My mom always says, "If you can read, you can cook," and I've taken that to heart since becoming an adult who has to feed herself regularly. After screwing up 1 million recipes, I finally realized it was because I was being an arrogant little diva and not following the recipes properly. Anyway, I did not follow Deb's recipe on this day. Too far into the process to quit, I subbed white sugar for honey and hoped for the best. The batter tasted great, so I went for it. They turned out incredibly molasses-y, soft, and thin, never quite solidifying. Not as Deb intended, but Maxwell and the guys at the house seemed gracious.
Second Breakfast was half a cookie, plus two slow-fried eggs topped with salsa and avocado, followed by hours of staring at edit suggestions for my next book, trying to figure out where to start. I had a call scheduled with my editors the next day and decided to wait for it before making any rash decisions.
Lunch was a bowl of leftover refried beans, peppers, onions, and chicken with a squirt of lime. Plus a few handfuls of Bjorn Qorn, which is fancy popcorn covered in nutritional yeast. We go through a few bags a week up here because the folks who make it are based in town. They also recently bought the roller-skating rink, resulting in my favorite local-news headline of all time: "Popcorn Moguls Buy Skate Rink."
It had been raining ever since we got here, but the downpour eased in time for dinner, and we decided to take advantage and grill outside. The guys were just about done for the day, so we invited them to stay and eat. I sliced up zucchini and tossed it with some olive oil, salt, and pepper for the grill. Then I made a salad with arugula, snap peas, and Parmesan, and went lazy on the dressing — olive oil, lemon juice, salt, and pepper. Whatever. Everyone was there for one of Maxwell's burgers, anyway.
My perfect burger is topped with American cheese, bread-and-butter pickles, a slice of red onion, a leaf of lettuce, and a shit-ton of spicy brown mustard, sandwiched inside a potato bun. We had about half of those ingredients. Midway through grilling the zucchini, I realized we only had two usable potato buns (the rest had turned a whimsical shade of blue that signaled poison), so I ate my cheeseburger on a slice of grilled sourdough from Kingston Bread with pickles and mustard. It had a patty melt vibe that exceeded all expectations.
Wednesday, June 28
Banana and coffee and then tennis. I played a lot of tennis as a kid and have recently gotten back into it, trying to find folks to play with whenever, wherever. I had a date with someone new, which is a little nerve-racking because you don't know if your skills will line up.
At home, I had a Second Breakfast of two eggs with avocado and a slice of the Kingston bread, broiled in the oven with some salt, pepper, and sriracha. I ate it like a deconstructed sandwich, trying to get bits of everything in every single bite. I always get disappointed when I make a real-egg sammy and everything slides off onto the plate, leaving you with yolky fingers.
A few years ago, I mentioned offhandedly to my family that I usually eat two eggs a day, thinking it was no big deal. They were so fearful for my cholesterol they tried to stage an intervention. The eggs prevailed.
I had a long meeting with my editors where we went through their notes and even more ideas for how to make this book better. These conversations always leave me feeling equal parts invigorated and intimidated, terrified of how I'll implement these changes. After the call, I needed to "process" all the work I had in front of me, which really meant standing over my kitchen counter eating cubes of watermelon and staring into space. Maxwell came into the kitchen, saw the watermelon, and exclaimed. "Juice?!"
Waju, which is a term I have to believe I cribbed from watching Molly Baz's Instagram Stories, is a favorite summer drink around here. I tossed the cubes into a blender with some salt and lime juice and ten seconds later had the best beverage known to man. Truthfully, it's better with tequila, but we both had more work to do and it was barely noon.
Summer evenings mean ice cream, specifically soft serve, and I was craving a 5 p.m. cone. We headed over to Sleeping Giant, which Maxwell loves because they serve Dole Whip. I got chocolate-vanilla twist in a wafer cone with chocolate sprinkles.
Back at home, we started tackling a few items on our house to-do list, which seems to never get shorter, but after a few hours of work, I began to worry that we hadn't done anything "cute" meal-wise. I was documenting my diet! Shouldn't I be shouting out all the amazing farm-sourced restaurants up here?! Showing off how well-fed and fabulous I am?! Maxwell set down his paintbrush and started calling around to see who was still open. Being it was nearing 9 p.m. on a Wednesday, everything was closed.
There is only one answer when you encounter times like these: beans. I threw some broccoli in a pan with garlic, salt, and red-pepper flakes, and after it cooked through, I dumped a can of cannellini beans on top, letting it simmer together with a little chicken stock. After it cooked down, I added chunks of Gouda from a big round my parents brought back for me from Amsterdam. They promised it would last three months, and it is so tasty. I was going for cheese-sauce vibes and got them. I presented the skillet to Maxwell half-heartedly but after a few bites, felt rather proud. It wasn't cute, but it's what we had.