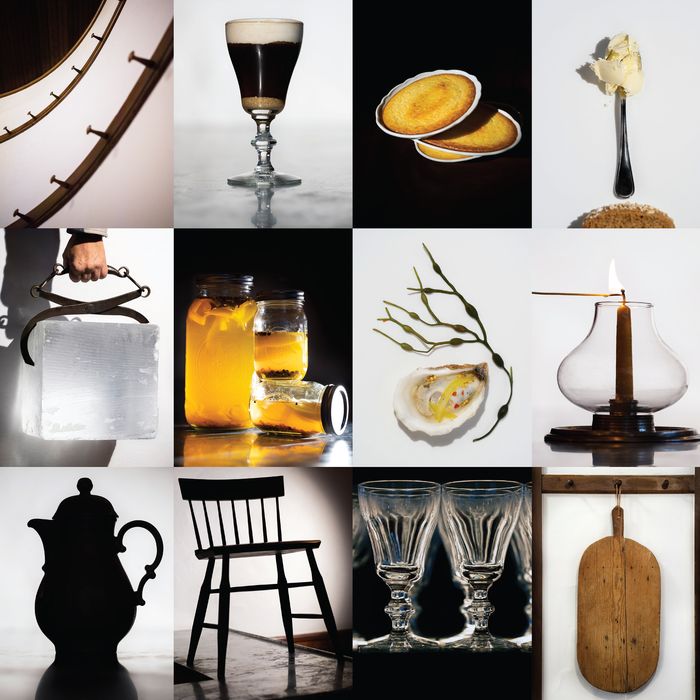 Edible, decorative, and functional details from the Commerce Inn.
Photo: Sergiy Barchuk
When news broke in 2019 that Jody Williams and Rita Sodi's next project, the Commerce Inn, would be located in the old Grange Hall space where Commerce Street curves into Barrow, it didn't come as a surprise. The address falls squarely in the chef couple's picturesque West Village wheelhouse. What raised eyebrows was the fact that their new spot would be not only American — a first for the owners of Via Carota, I Sodi, and Buvette — but philosophically Shaker, a cuisine category heretofore unsearchable in the databases of Yelp, Zagat, or Michelin.
Despite a reputation for austerity, the Shakers, a.k.a. the United Society of Believers in Christ's Second Appearing, really knew how to eat. They were agricultural whizzes. They grew tons of herbs that they cooked with and also dried and sold along with seeds they packaged, an innovation at the time. They were ingredient connoisseurs, die-hard locavores, seasonality freaks, picklers and preservers, and always open to new ideas and techniques. It's no wonder this legacy appealed to Williams and Sodi, cooks who prize simplicity and craftsmanship above all.
"This has been percolating for ten years," says Williams, whose interest in the Shakers' era and influence was stoked by her family's own passed-down cookbooks and her curiosity about lost American recipes and local food traditions. The more the partners learned, the more connections they saw between the farm-to-table sentiments of yesterday and today and the ingredient-driven approach of Sodi's native Tuscan cuisine. When the pandemic delayed their opening, they had a year to hone the been-there-forever-seeming décor, a convergence of Shaker-inspired custom furnishings and period antiques, and to develop the menu. Williams asked her bartenders to "just imagine you have a farm outside this door to supply this bar," which helped engender cocktails like a beet-tinged vodka martini and an Irish-coffee riff sweetened with maple sugar. "Same in the kitchen," she adds.
The front tavern room opened quietly in November with a limited menu of simple-sounding foods like bone marrow, rarebit, and meat pie. But simplicity is deceiving: Sodi and Williams are pickling their own oysters, smoking their own cod, and making their own ham as well as baking bread and curing bacon. The cooks also began trying out dishes intended for the dining-room menu, like rabbit stew and greens with buttermilk dressing. The plan is to be open all day — a neighborhood tavern serving the community duck-scrapple breakfasts and salt-beef sandwiches, humble seeming but chef engineered. Or, as Williams puts it, "all the food I want to eat."
50 Commerce St.; thecommerceinn.com
Want more stories like this one? Subscribe now to support our journalism and get unlimited access to our coverage. If you prefer to read in print, you can also find this article in the December 20, 2021, issue of New York Magazine.