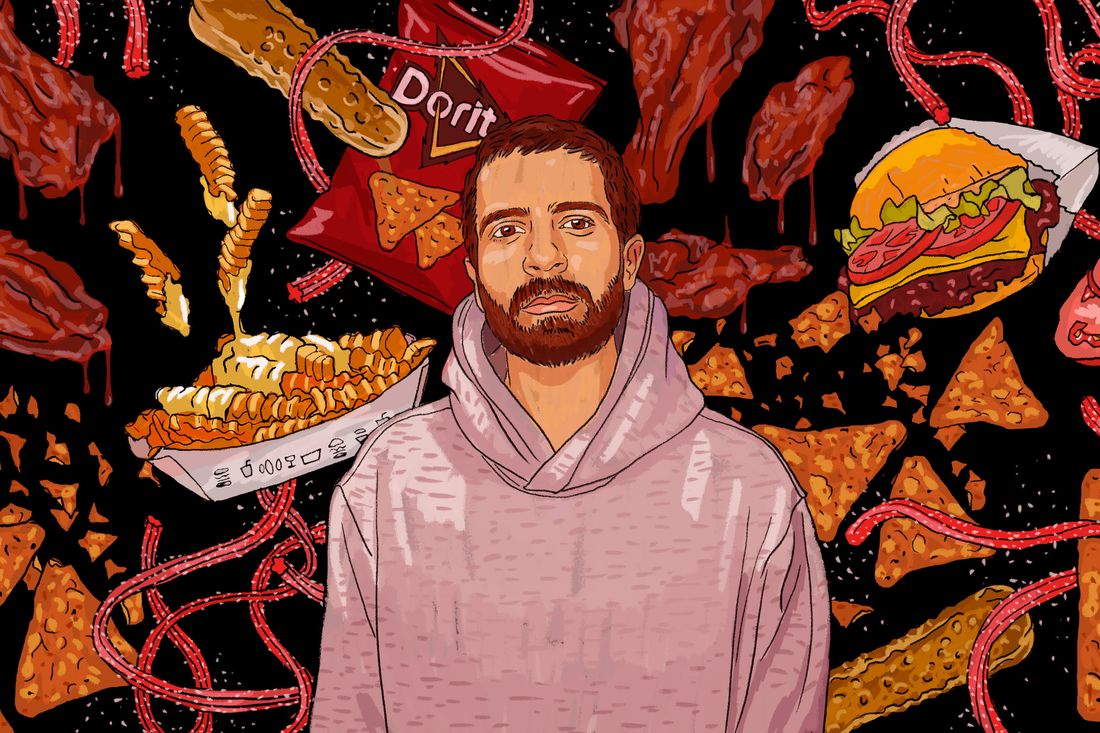 Coscarelli, a reporter who covers pop music for the Times. Illustration: Margalit Cutler
"This is probably the busiest stretch of my adult life," says Joe Coscarelli, the pop-music reporter for the New York Times (and onetime Vulture contributor). He's getting married next month, he's moving apartments, and this week saw the publication of his first book, Rap Capital, a dive into the Atlanta hip-hop scene. To prepare for, well, everything, Coscarelli embarked on a diet that was a marked change from his usual way of eating ("Like an unruly 11-year-old," in his own words), but this week was a return to form with Sour Punch Bites, street-corn-flavored Cheetos, and the surprisingly good pellet ice at the Times.
Thursday, October 13
Iced-coffee season is ending and I wake up to remember that our janky Nespresso machine is the bane of my existence. It works probably 65 percent of the time. I try it, but the way it whirrs and craps out sometimes for no discernible reason makes me irrationally upset. Carrie, my girlfriend (who is also my fiancée, a word we don't use), has banned me from complaining about it, but I know she hates it, too.
I should just go to the cart around the corner, or even Blank Street (sorry), but I have to get writing right away, so I roll the dice. The Nespresso works and I use some oat milk left over from the Whole30 diet we just did together, ahead of my book release and our wedding.
For me, doing Whole30 — no added sugar, no dairy, no gluten or grains, no alcohol, etc. — wasn't about losing weight, so I referred to it as a "cleanse" until someone called me out and was like, "Um, you mean Whole30" as I listed the restrictions. But it really was just an exercise in discipline and denial because, under normal conditions, I eat like an unhinged child with no guidance or budget and I thought it might "optimize" my mind and body before this almost comical collision of milestones. My participation, as a man otherwise oblivious to calories and ingredients, was also a show of solidarity and a bonding opportunity because we stayed in more at night and cooked together a lot.
And it worked: I felt amazing, like I was zooming on Adderall every day but with all euphoria instead of edginess. Then I undid all of my progress a week later by going to Florida for my bachelor party and eating Publix fried chicken and mac 'n' cheese multiple days in a row, among other excesses. Alternative milks have stuck, though. Why not?
I have approximately 97 things to do, but instead of finishing a draft of a story that's already overdue, I gossip furiously over text with my friend Naomi before 8 a.m. Eventually, I smooth out a few paragraphs over a second cup of coffee and do a jittery, rambly interview with the local Atlanta paper before heading to the office.
On my way out the door, I have what will have to qualify as breakfast: the excess gel from some Crest White Strips (sensitive-teeth edition). They make me want to gag, but if there was ever a time for rushed and temporary vanity, it is now. I throw away the spitty, slimy plastic in the Times Square subway station.
At the Times building, I chip away more at the story before a recording session for a Ringer music podcast, having steeled myself for a stretch of all-you-can-stomach self-promo. I typically resent the free office snacks — infantilizing, not even good — but ahead of taping, I scarf down a chocolate-chip Chewy bar and about 22 individual Goldfish (an obedient second-grader's version of Obama's seven almonds) along with some ice water in a red Times-branded mug, the only vessel option since they got rid of the paper cups. (Now that I think about it, they still have paper snack cups? We're all learning.) I shouldn't complain because they have upgraded the ice machine, so it's all perfect little pellets, like at Sonic Drive-In.
After 5 p.m., my story finally filed, I realize I really should eat because I am supposed to read at KGB Bar soon and that means beer. For the third day in a row, I go to Upside Pizza near the office for two slices: one sausage with hot peppers and one pepperoni, both of which I cover in red-pepper flakes. I inhale the pizza and chug a bottle of water while talking about Bad Bunny, Drake, and the lack of new pop stars with my colleague Ben before rushing downtown in the pouring rain.
On my way to the bar, I stop for some candy I know I will want later when I'm a little drunk and end up with a slightly different packaging of an old favorite, Sour Punch Bites in blue raspberry. At KGB, I have two quick Stellas and read a section from Rap Capital about Atlanta's chicken-wing culture, drugs, and the Bowen Homes projects, which I realize halfway through is exceedingly depressing and too stat-heavy for the environment. I drop sweat on my pages and wonder if anyone notices.
Afterward, some people go around the corner to the Scratcher for more and I have two Tecates plus a tequila shot with my book editor, Stuart, since he insists. Carrie comes back from Taqueria Diana on Second Avenue with some merciful extras, and I eat two cold and soggy but still tasty tacos, which I believe to be carnitas and carne asada, both with mango. I admit in the company of friends that I prefer flour tortillas.
Finally home, I sneak some of the Sour Bites in the living room because I have promised not to snack in bed, at least until the wedding. The candy shape is too large and loose, like al-dente rigatoni, but the flavor pairs perfectly with a Waterloo black-cherry seltzer can. We pass out to The Great British Baking Show (bread week).
Friday, October 14
When I wake up just after 6 a.m., I realize that, like an asshole, I forgot to text my little sister for her birthday on Thursday despite it being the first item on my long to-do list and calendar. "Too many podcast appearances" is not a great excuse, but she forgives me.
I win again with the Nespresso machine, and since I'm a little hungover and underfed, I decide to make myself a throwback Whole30-ish, protein-heavy breakfast: two scrambled eggs (with a slice of American cheese melted on top, since there are no rules anymore) and two frozen Jones sausage links, a brand from my childhood, browned in a cast-iron pan. I like to add red-pepper flakes, garlic powder, onion powder, chili powder, salt, and pepper to the scramble mixture before cooking. Then I cover everything in Frank's RedHot Xtra Hot anyway, negating the other spices, and spend 90 minutes doinking on my phone. When Carrie wakes up, the first thing she says is that the apartment "smells like a burger."
Back at the office, I record a semi-improvised audio segment to go with my story-in-progress in the fancy studio and then finish an edit of the written portion. To celebrate, and despite my big salty breakfast, I walk the five blocks up Eighth Avenue to All'antico Vinaio, the decadent Florentine sandwich shop. During the long tail of the pandemic, it was pretty quick and easy for a much-hyped lunch spot, but not anymore: There's a long line, even after 2 p.m. I decide to wait because I'm on a casual, meandering phone call anyway and eventually order the La Summer — a pretty standard prosciutto-mozzarella-tomato-and-basil option — but I add spicy eggplant and sub in arugula for the basil because I'm a blasphemous half-Italian boy.
The sandwich is obscene — basically the size of a yoga block, but heavier — and I eat about 70 percent of it while on a FaceTime meeting with my editor, Caryn, and my co-worker, Jon, during which we plot coverage of the new Taylor Swift album. Fellow gluttons, they marvel at the heft of my meal and take screenshots of me going in for massive bites. I tear up the roof of my mouth in a way only comparable to eating Cap'n Crunch, but the fresh, crispy bread is worth it.
I stuff the leftovers in my backpack and hope people won't be able to smell the cured meat at the sneak peek of a new jukebox musical I have to attend. There, I skip the passed hors d'oeuvre because dinner is early and I just ate a few pounds of ham.
After some sugary pop songs are performed enthusiastically, I rush back to Brooklyn to meet Carrie at the restaurant where we will have the "wedding" part of our wedding — a small brunch ceremony for family and our closest friends before a larger, looser party at night. We've never been before, but the backyard was nice and cheap enough for us to book it, and now we're here to finally sample food options.
It's not quite dinner (because it's for brunch), but everything is surprisingly, soothingly solid: two savory salads, fresh mushroom ravioli with asparagus and cream sauce, and a well-cooked hanger steak with potatoes and peppercorn sauce that will be served with eggs at the ceremony. We bypass the French toast that will be available for kids, as well as dessert, both of which I'm sure are fine. But I can't help but leave a bit bitter when they charge us à la carte for every aspect of the tasting, including extra for the peppercorn sauce that we didn't ask for. I try to convince myself that peace of mind is priceless.
As if there wasn't enough going on, Carrie's mom, sister, and niece are arriving for the weekend to throw her a small surprise bridal shower under the guise of visiting the Sheep and Wool Festival. We walk to meet them at their hotel, stopping by My Little Pizzeria on Court Street for a pepperoni pie that they can eat in the room.
I say a quick (borderline rude) hello and good-bye before going to Jon's birthday at Sharlene's. He and I share a taste in novelty junk food — though my palate is more extreme — so I pop into the new fancy bodega near my apartment for a spread that might make him laugh and push his boundaries. I end up with ranch Corn Nuts, Zapp's Voodoo chips, two High Ball energy seltzers (vanilla and peach), a German import Haribo bag (Phantasia mix), and something called Pure Protein Puffs in "brick oven pizza" flavor. A truly deranged selection.
At the party, someone tells me they've never had Chick-fil-A and I threaten to order three packs of 30 nuggets for the entire bar to sample, plus every sauce, but it closes before we can pull the trigger on the app. As Amina tries to rush there in a car, which also fails, I hear the dubious yet enticing claim that the new Popeye's nuggets are even better — and they're open until 3 a.m. — but my bubble has burst, so everyone sticks to alcohol.
Saturday, October 15
Despite only getting five hours of sleep, I wake up early with minimal damage, probably thanks to the adrenaline of more looming anxiety, and I immediately go to meet my mom on the Bowery as she arrives from Florida ahead of the bridal shower on Sunday. Nowhere great is open yet, so we wander aimlessly around Nolita, dodging jet-lagged tourists, eventually settling on Cafe Gitane, where I haven't been since college.
I order an iced latte with almond milk, a fruit salad with mint, and baked feta with little discs of chewy bread because I want the olives and capers and warmth. I'd been holding it together, but talk naturally veers toward wedding RSVPs, and I quickly devolve into sourness about having people I don't love, or even know, at the small ceremony out of obligation. It turns out breaking up your wedding into two less-traditional pieces just means planning two weddings with most of the bullshit intact.
I need a nap. Back at home, with Carrie scouting yarn upstate, I put on the Netflix teen movie Do Revenge and turn off my brain, making it about 11 minutes into the convoluted setup before fading. (I also decide to skip the White Strips, because it's the weekend and my teeth ache.) Then I get hungry again, so I grab the rest of the All'antico sandwich from the fridge. It's a little too cold to be perfect, but I'm not patient and the layers have congealed nicely so it's like a whole other thing, less a pile of loose ingredients and more of an uncooked casserole.
I also get into a bag of alternative Cheetos (Mexican street corn, an inspired idea) that I bought during Whole30 as a distant reward for a moment just like this. I think to myself that they're limey and cheesy and spicy, all in perfect harmony, before I look down at the bag and realize the slogan is literally "tangy, spicy, cheesy." What can I say — sometimes they just nail it.
After another few minutes of Do Revenge, I finally nap hard. When I wake up, it's to a call from Zeke, one of my closest friends, who is in town from Zurich. We have plans to eat Sichuan food — a tradition made sweeter by knowing he lives in a country with no seasoning — but I need time. He comes over with more snacks: Takis Hot Nuts, green grapes, and beer (a Modelo tall boy for me, Guinness in bottles for him) and we catch up for a while, ultimately deciding on the St. Marks Place location of Szechuan Mountain House over a trip to Flushing.
The wait is long, but I need the recovery window. We put our names on the iPad and try to find a bar so I can watch the Yankees. Probably because he's an ex-pat, Zeke decided he didn't need an ID tonight and we get rejected from multiple places because we're in the NYU zone. Zeke tries convincing one bouncer by revealing that he has gray chest hair, but the guy tells him to keep that to himself.
Amsterdam Billiards is less strict. Zeke has a few gin and tonics, I have two Stellas and Aaron Judge hits a home run right after I show Zeke a few photos to illustrate just how large that man is.
Back at Mountain House almost two hours later, we decide to feast: okra salad, teppan shrimp, Sichuan lamb spine, pepper lover chicken, ma-ma hot fish, stir-fried long bean, and white rice. Almost instantly, we are hiccuping and coughing, noses running, scalps sweating, skin red. Multiple waiters stop by to say the pepper lover is too spicy for them. It's all perfect.
Sunday, October 16
My hectic and hedonistic lifestyle might finally be catching up with me. Believe it or not, my stomach hurts.
The Nespresso machine, too, is faltering. And we're out of milk, alt or otherwise, so I just have two cups of black coffee when I finally get the thing to work — unplug, replug, hit the button a bunch of times — because there's still more to do. I have a flight to Atlanta for book events rapidly approaching, but I haven't packed or prepared, so instead of eating, I do a load of laundry, some other scrambling, and another interview over video chat.
I know I should make a minutes-long appearance around the corner at the mom-centric bridal shower, but, conveniently, I assume there will be food there. After a quick round of hugs, I settle for one nice slice of quiche, microwaved on a paper towel, and am pleased to find out it is from Le French Tart Deli. Anything to not support the TikTok croissants in the neighborhood.
In the Uber to JFK, I nibble on some more teeth-whitening poison goop, but when I get to the airport, I'm still hungry. I opt for the only choice without a line because I refuse to wait for a bad bagel or burger and get a thick slice of pepperoni pizza from Artichoke, another place I haven't been to since college. It's greasy, obviously, and fine.
Finally, having landed in Atlanta, I can eat healthy again. Just kidding. I briefly consider the Mediterranean restaurant around the corner from my hotel in midtown, but it feels like bad karma for the book. Instead, I find a sports bar, plant myself in front of the one TV playing baseball instead of football, and order some chips, queso, and six hot wings. I think about my future — and also my arteries.