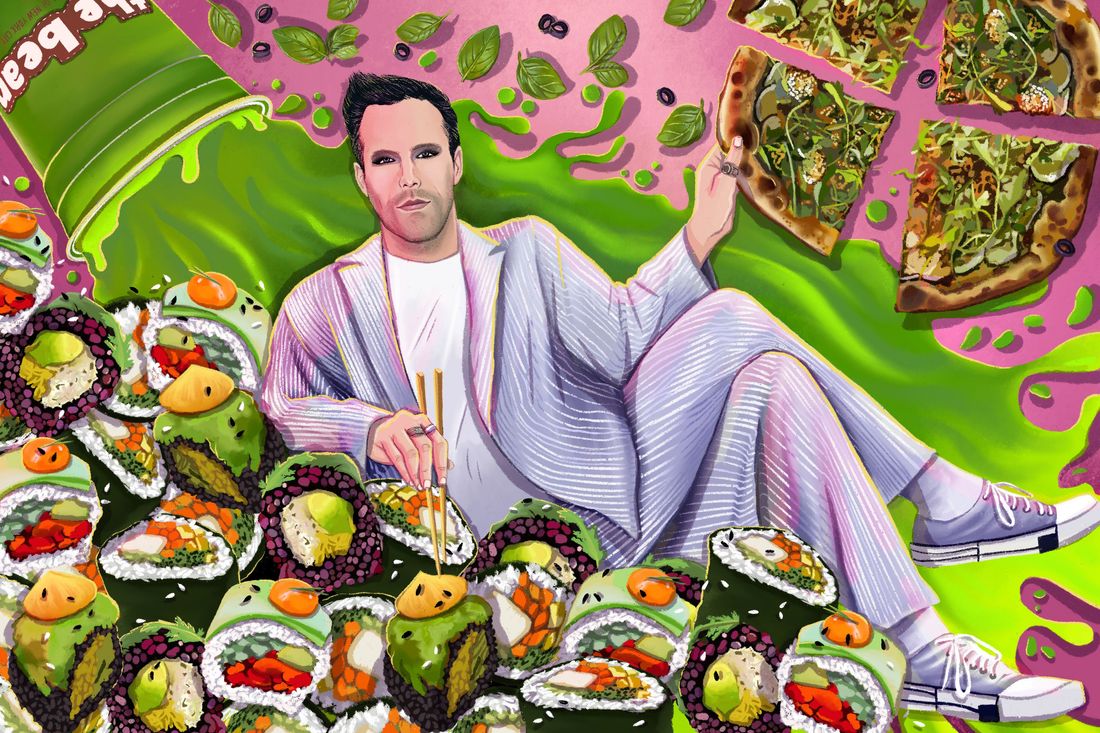 Tranter, green juice, and lots of vegan sushi. Illustration: Maanvi Kapur
Justin Tranter has written some of the biggest pop hits of the last decade: "Believer," by Imagine Dragons; Justin Bieber's "Sorry"; and "Lose You to Love Me," by Selena Gomez, among many, many others. But they say that just as they were recently growing weary of pop tropes — "Falling in love, breaking up, sex, partying, or vague empowerment" — collaborations with young songwriters have reinvigorated their creative energy. The same is true for musical theater, in part because Tranter is a songwriter and producer on the new series Grease: Rise of the Pink Ladies. It makes sense, then, that while Tranter was recently in town from L.A., they made a point to check out Chicago on Broadway, in addition to a few new favorite restaurants.
 
Wednesday, March 22
I have green juice every morning. Normally, when I'm in L.A., I'll get one from Joe & the Juice, which I know they have in New York, but on my first day in the city, I was doing an interview with People for Pink Ladies and the interviewer suggested the Bean. I got one with kale, romaine, parsley, spinach, and cucumber.
I spent most of the day at the Cutting Room Studios working on new music for a pop star that I have worked with many times in the past. This was the first time I worked at this space. Everything in New York, the size of buildings and rooms, is so much smaller than in L.A. It gives you the New York vibe to just be sitting on each other's laps while you're trying to write a song. I lived in New York for ten years, but most of the studios that I worked at don't exist anymore, and most of them were in Brooklyn.
For lunch, I ordered a Beyond Sushi "salmon" roll to the studio. I'm pretty sure it's a tapioca base, and it's really fucking good. Sushi's always a good go-to because even if it isn't a vegan sushi place, you can't go wrong with a cucumber roll or inari. I've been a vegetarian forever but became a full vegan seven years ago. I was on a flight back from a GLAAD board meeting in Provincetown and watched a documentary about the dairy industry. I got off that plane and never had dairy or eggs or any animal products ever again.
I have been working with this new group of writers that I'm loving: two up-and-coming producers who are signed to my publishing company, and Kiddo AI, who is having her first big hit as a co-writer on the amazing "Calm Down." The four of us had our first session at my studio last October and I was just like, Oh wait, this feels new, this feels fresh, this feels exciting. We've only probably spent a total of 15 sessions together at this point, but every time I'm with these three, I feel like we're cracking some really new, cool codes. I thought it would be a lovely treat to take these brilliant up-and-comers, who have been inspiring me so much, to Eleven Madison Park. I had been once before and it blew my mind.
The first thing we had was this radish tea and dumpling, a brothy, amazing creation. Then daikon with sea fennel and mint; and tonburi with a beet tostada and horseradish. I loved the tofu with pine nut and curry. The potato with black truffle and smoked potato broth were both huge favorites, as well. And their sesame pretzel creation with chocolate — which they had at the end of the last meal — is amazing. It is a pretzel thing that just melts in your mouth. It's the shape of a pretzel, but I don't even know if there is any sort of pretzel material in it. Heaven on earth.
Thursday, March 23
For breakfast, I had my juice from the Bean again and headed into the studio.
The chef at my absolute favorite restaurant in L.A., Plant Food + Wine, has a place in New York called Double Zero that was two blocks from my hotel. I was very excited to go alone for lunch. I love to eat in restaurants alone. I think it's very glamorous.
I had a squash-blossom pizza and this olive dish that's literally just a huge bowl of the most delicious olives ever with a side of gluten-free bread. It's the simplest thing, but it was one of my favorite things that I ate on my whole trip to the East Coast. You think that's going to be a little ramekin of olives, but no, this was a fucking bowl. It was perfect.
I met up with all the guys who were in my band, Semi Precious Weapons, for dinner before a show at the Village Vanguard. Even though the band ended like ten years ago, we're still very, very close. We all genuinely love each other. The band ended not because of us. It ended just because after being dropped from the fourth record deal, we decided it was time to find different ways to make art so that we didn't have to starve anymore. The drummer, Daniel Crean, and I still get to make music together. He co-wrote and co-produced every single song with me for Grease.
We went to Avant Garden in the East Village. I had a vegan Caesar as an appetizer and then this amazing carrot dish kind of served as my main. I love a roasted carrot. It's such an undercelebrated situation. I discovered Avant Garden on my trip to New York last November. When I come for work, it's normally two or three days, just in and out, quick, quick, quick. But on my last trip, I was here for two weeks workshopping a musical that I've been developing with Idina Menzel, Eve Ensler, and Diane Paulus, so I got to really explore new places.
The show that night was so good. Mark Guiliana is one of the best drummers alive and can play at such an insane expert level, like virtuosic, but he's so emotionally in touch.
Friday, March 24
Breakfast was once again my juice from the Bean. It's so nice to find a place where you can make your own green juice and decide what's in it.
I actually came to New York to separately work on some new music in New Jersey with Reneé Rapp while she shoots the Mean Girls musical movie. Reneé knows who she is, and she knows what she wants, and that to me will always be inspiring because an artist who has a very clear vision and also can sing their fucking face off — I'll do that any day. The first time I worked with her was maybe six weeks ago, and we hit it off so much that she invited me to New Jersey, and I said, "Fuck it. Let's cause a scene in Asbury Park."
I organized an order from Peacefood for lunch. I had a Peace Bowl and cornbread. My co-writer Kiddo AI had a little bit and loved it so much that she ordered five cornbreads to bring back on the plane to her boyfriend.
I went with the drummer in my band and his wife to see Sam Morrison's Sugar Daddy at Soho Playhouse. It was the best show I've ever seen. For someone to do a piece of art that is so vulnerable about grief and loss, but have it be fucking hysterical, is a very hard thing to do. It was awesome to witness that.
After the show, we had dinner at Delice & Sarrasin. I had the vegan steak frites. My two friends ordered vegan escargot, and they were over the moon for it.
Saturday, March 25
I had my juice from the Bean and went back into the studio for the last time.
Late lunch was vegan-style pizza with gluten-free crust from Numero 28. It also served as early dinner before seeing Chicago with Jinkx Monsoon. Jinkx was so fucking good.
I went to one semester of public high school — hell on earth. Then I got to transfer to an arts high school, thank god, for my second semester of freshman year. We did Chicago the first semester I got there. This was 1995, so the revival hadn't happened yet. None of us little musical-theater geeks knew about it before we were in it. So, Chicago has a very, very sweet spot in my heart. To see Jinkx, drag and nonbinary royalty on Broadway, being so good was beyond amazing. "Class" was never one of my favorite songs in the show; after Jinkx's performance, it now is.
I started making music in the first place because I was obsessed with musical theater. I was convinced that I was Annie. I was already bullied so badly in grade school and middle school that I thought if I were to join the choir or audition for a musical, it would just get worse for me. But then, when they announced that Annie was the musical in seventh grade, I was like, "Well, let the bullying get worse because there's no fucking way I'm not doing Annie." So I assumed they would cast me as Annie. They didn't, unfortunately. I got to play Bert Healy, but I owe musicals so much. Seeing Jinkx was just the perfect send-up on a trip that already filled me up so much.