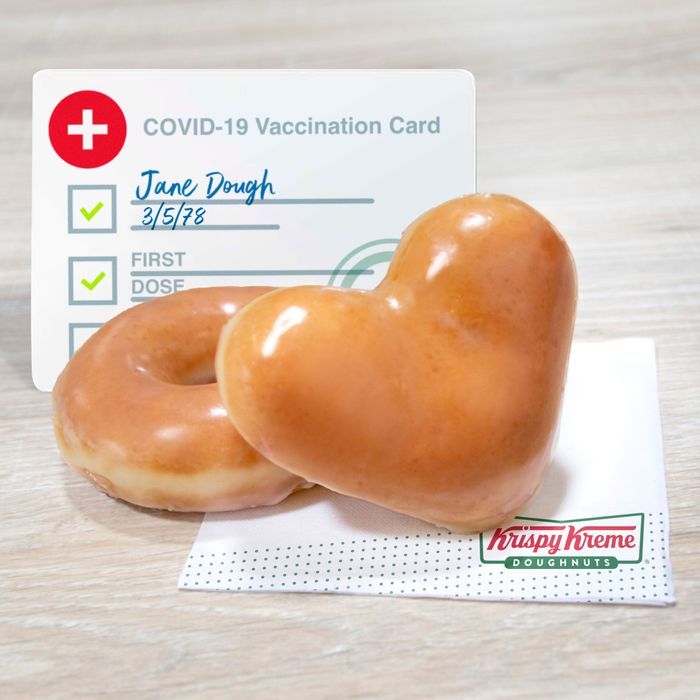 Maybe two doughnuts?
Photo: Krispy Kreme
In its initial effort to incentivize Americans to get vaccinated, Krispy Kreme announced in March that anyone — anyone! — with a valid COVID-19 vaccination card would be entitled to a free Original Glazed® doughnut any day, every day, until the end of 2021.
It is now August. Five months have passed. According to the latest CDC numbers, 39.6 percent of eligible Americans remain unvaccinated.
For more than a third of the American populace, one free doughnut was not enough motivation, it seems. And so now, with infection rates rising, Krispy Kreme is trying this again the only way it knows how. One free doughnut couldn't do it? Fine. Krispy Kreme takes that personally. So how about … two free doughnuts? We all need to use the tools that we have.
Starting August 30, also known as this coming Monday, the doughnut chain is "sweetening its campaign" by offering every American who has received at least one dose of the vaccine not one but TWO free doughnuts every day until September 5, when the "Show Your Heart" deal ends and the promotion reverts to its original single-doughnut form.
"Well, that's very nice," you might be thinking, "but I'm not going to get vaccinated for two identical doughnuts." Luckily, you do not have to — the doughnuts are not, in fact, identical. One of them is Original Glazed, while the other is an Original Glazed Heart Doughnut, which a press release promises is "an innovation rarity." The innovation is that it is shaped like a heart. And, unlike the original initiative, there is no parallel promotion for the unvaccinated. No shot. No doughnuts.