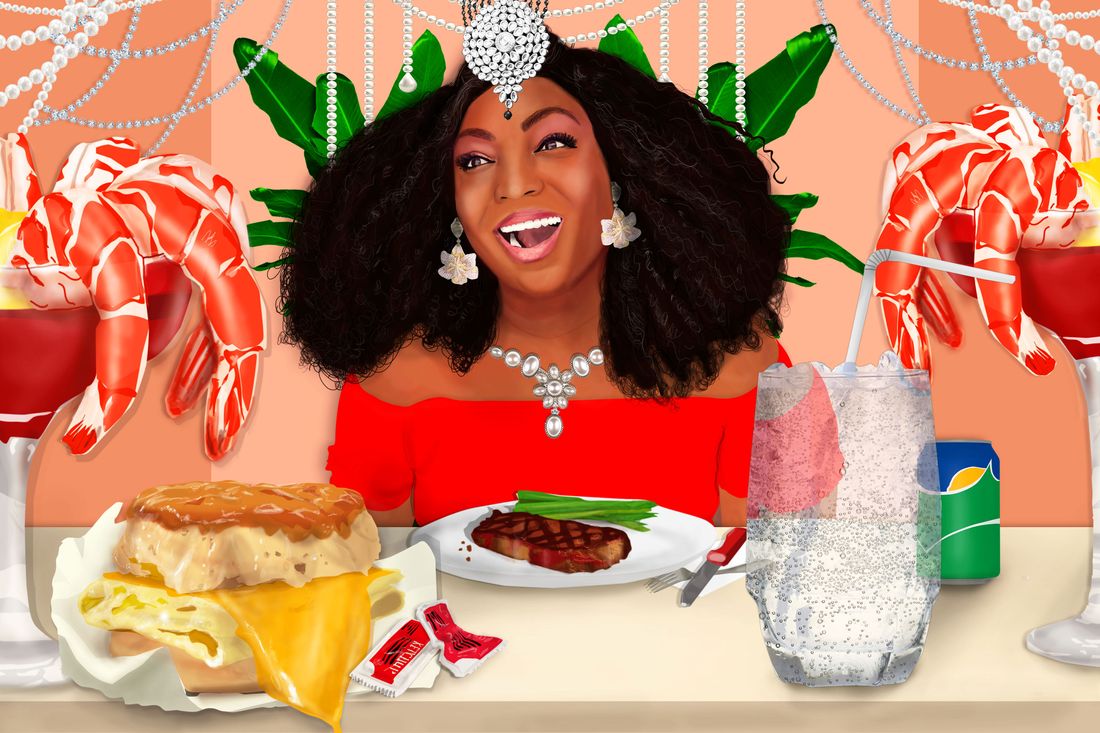 Illustration: Lyne Lucien
The actress L Morgan Lee has been with the Broadway show A Strange Loop through COVID delays, out-of-town tryouts, and its Best Musical Tony win this June. (Lee also became the first trans performer to receive a Tony nomination for acting.) At eight performances per week, Lee says the show can take its toll, physically and mentally, which is why she tries to find as much comfort as possible in her meals, whether that's McDonald's delivery or shrimp cocktail and strawberry cake at the Lambs Club, where Lee has become a regular.
Thursday, August 4
I woke up so dehydrated. My body is in pain from doing A Strange Loop and because I currently don't have a couch, I was sitting on a yoga mat in my living room. I'm in the process of purging my apartment and starting over, the Marie Kondo of it all. After 11 years, the old couch no longer brought me joy. Time for new memories.
I usually wake up and grab water. I had a giant bottle of Essentia, labeled "Overachieving H2O." Somehow, that made it feel like a good choice.
I quickly got to checking email, and after just a handful, I craved comfort food. Because I had yet to put on any clothes, it was a Grubhub moment. Not even ten minutes later, the delivery guy arrived with a familiar McDelivery bag in hand. Egg and cheese, Sprite, and a hash brown. It might not be the best for my voice, but I feel like Sprite from McDonald's always hits different. I like a little fizz in my throat after a show. I ate everything sitting on my yoga mat in the living room while I watched my morning episode of Charmed — the original, not the reboot. Sheila E.'s "The Glamorous Life" came to mind.
After that day's performance, a bunch of the cast and wardrobe peeps went to the Lambs Club, a snazzy, Old New York–style restaurant right near our theater. They treat us so well. Mind you, I was there the night before too, but, yes, back again. We all normally break off after the show, and I was already talking to the wardrobe girls about getting dinner together, but it was just one of those nights.
I ordered shrimp cocktail and a sirloin steak. Everyone else at the table got their meals, and there I was, having finished my shrimp, waiting … waiting … waiting. Finally, as I looked around at the empty plates around me, we learned that they didn't have sirloin. Our waiter brought me a complimentary Wagyu skirt steak to try. It was delicious. It was perfect. And it was free.
The whole reason I went to the Lambs Club was for the strawberry cake. One of my castmates had casually mentioned how incredible it was, and finally, it was in front of me, ready for the taking. I had my first bite and felt my spirit start to stir. The weight of the experience of doing the show in the theater somehow began to lift. I could feel my eyes beginning to water.
This was not simply cake. It was a moment. It brought to mind Simply Irresistible, that movie Sarah Michelle Gellar did a few years ago where all of her feelings go into the food she made. It felt like that. I bit into the cake, and it's as if stress fell away. I like to think that I am someone who searches for joy and finds the light in things. I will be back for more.
Friday, August 5
I woke up in the mood for pancakes and decided to spend some time in my dressing room at the theater working on my pilot. I've been wanting to write one for years, but the urgency is getting higher and higher. I keep seeing people getting the "hooray!" for visibility. The only way that I feel like I can participate in the conversation is to start to share the things I see in my own mind. So often, trans and marginalized characters are so diminished to a single part of their identity, as if they don't have full lives. We are more than the token identity that needs to be used for marketing purposes.
Totally ignoring the pancake craving, I got some baked chicken and veggies at the deli next door and stopped by Krispy Kreme on the way to pick up some sweets for the early birds at the theater. I left them on a TV dinner table in the hallway downstairs and then ran back to put a small box of tissues on top in case pesky friends show up. The Lyceum is an old theater; there are always critters somewhere. I pray they stay away and I never have to see them. So far so good, but leaving a dozen doughnuts just sitting in the quiet, it's not the worst idea to put a tissue box on top. (As if they can't just knock it over … oh, L Morgan …)
I realized that it was almost 5 p.m. and all I had eaten was that chicken and veggies. I needed to eat more. I'm not a size two, and part of why I'm not — besides my body's inability to be that frail — is that I don't eat enough, so my body holds onto what it has. It also doesn't help that I give myself treats. I'm an actress in a show with a minefield of triggers, so comfort is essential. Krispy Kremes, decadent strawberry cake, and I'm somehow down a dress size. Ah, Broadway! I need a massage.
I had chicken wings and a Diet Coke for dinner. The basics.
Saturday, August 6
I woke up late and had a chat with my mom while I got ready. She was eating pancakes, so that was what I wanted, again. Two-show days are grueling. Pacing yourself helps, but the track is vocally nuts, so eight shows a week adds up.
I rode down the West Side Highway in a Lyft. The driver was so cute; I'm boy-crazy, or to be more specific, man-crazy. I've been single for a while now. I need to focus on what it means to love and embrace myself before I can bring someone else into my life. It will always be a journey, but "I'm ready. I'm ready now …" Ah, Sondheim. He put complexity into words like no one else.
I completely ignored my craving again because I felt guilty about getting pancakes, and thought I needed something with veggies. I got an omelette with onions, spinach, peppers, and tomatoes from the deli.
Between shows, I had Cuban food from Margon. Baked chicken with rice and beans. I noticed my throat was a little sore and achy, but it's probably just vocal fatigue. I have to remember to get PT on my voice as well. The muscles could use some release.
Dinner: the Lambs Club! Shrimp cocktail, and a chicken dish with carrots over barley. No dessert. I wanted the strawberry cake, but no, not again. It was a spontaneous outing with one of the understudies in the cast. We rarely get time outside of the theater to hang out, so it was really nice to learn a little more about their life! That shrimp cocktail, I could eat it every day. So good. What was not good was the $6 ginger ale. Umm, no. My throat hurt a bit. I knew the next day was gonna be a bitch.
Sunday, August 7
Oatmeal with raisins and apples for breakfast, and after the show I came home and fell asleep. We said good-bye to two members of our crew: one of the COVID managers, Tommy, and Billy, who triggers Whitney's rise every night. It was sad. We always sing "Happy Trails" when people leave, but, like, why does no one actually know the song? They got huge doughnuts from Dough. I had half a glazed one. Yum. Perfect treat.
I should've had dinner, but I was exhausted. Instead, I woke up in the middle of the night hungry and had a bottle of water, and went back to bed. Be kinder to yourself, L Morgan. I dream of having a chef one day who will leave healthy little goodies in the refrigerator for me to snack on in the middle of the night if I wake up. Manifest.
Monday, August 8
The day off. I still hadn't gotten my pancakes, and instead had another McDonald's egg-and-cheesy moment with a large Sprite. For some reason, it feels better when I take the top layer off the biscuit and just have the bottom one. Is it suddenly good for me? No. But it's not as doughy. It's good. Trust me.
My body was achy. I was going to stretch, but all I wanted to do was sleep and catch up on Real Housewives. The earlier seasons were just so entertaining. I felt like I should've been more productive, but I was beat.
We really need two days off. One to recover and one to get things done. Argh. I wake up in the morning on day off, sigh, and immediately feel the clock counting down to when I need to be back at the theater. People say Broadway is sort of like the Olympics. Yes, but the Olympics aren't open-ended. The athletes' bodies get a proper period to recover and rest before jumping back into prep for the games the following year. I fear it's all about the mean and green.
Speaking of green: Dinner was grilled chicken with spinach, sautéed in the pan with a little EVOO, salt, and pepper. Simple, easy.
I enjoy cooking, but I never feel the inspiration to cook. It's more fun for me to cook for other people. I felt this urge to explain why I don't cook, or why I'm always ordering out, or why I need more veggies. I could hear my mom in my ear saying, "You shouldn't be eating out every meal," or, "You need to take care of yourself or you're going to get sick!"
The reality is because of the specific level of mental and emotional demand of doing A Strange Loop night after night, I have to hold on to the moments of comfort that I can make for myself. Meals are a big one. I have to allow myself these moments to get through the week, mentally.
Being single, I don't have a partner to get home and spill to. I zoned out. I thought through the latest draft of the pilot I'm writing. I put the energy into other outlets. I'm admittedly a loopy-doopy and believe the universe always has my back, so everything I'm learning about both my work and myself is gonna allow me to bring that much more to the next relationship I find myself in. I'm rambling. What does this have to do with food? Food for the soul? Was it ever actually about food?
Maybe I'll finally have those pancakes tomorrow morning.