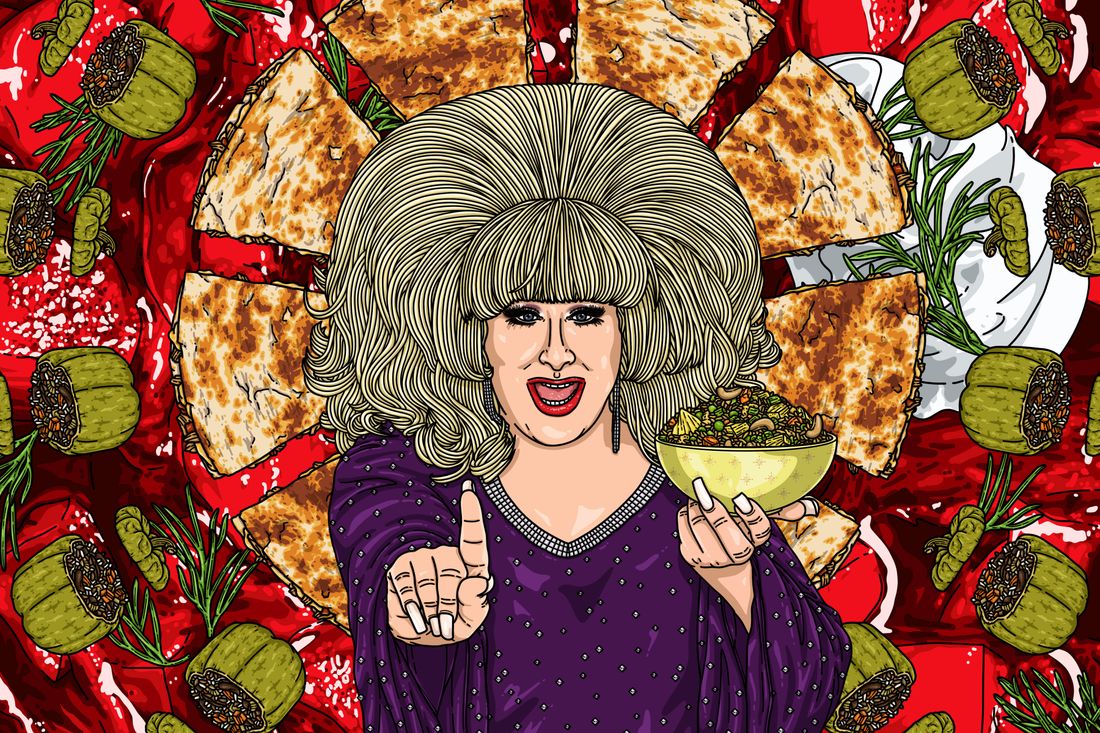 Lady Bunny
Illustration: Eliana Rodgers
Lady Bunny is New York drag royalty. In 1984, she co-founded Wigstock, an impromptu, end-of-summer drag show in Tompkins Square Park that would run for 20 years. A former roommate of RuPaul, she's been a fixture of New York nightlife for years and has appeared on Drag U, Sex & the City, and the cult-classic movie Party Girl. Since January 2021, she's also hosted the Ebony and Ivory podcast with fellow drag queen Monét X Change, talking scandals, the drag world, Grammys, and buying weed. After a break from nightlife, Lady Bunny got back on the scene about a year ago. "I got a job doing a monthlong tour performing in parking lots with some of the Drag Race queens," she says. And now, she's finishing a run of her own show, Unmasked & Unfiltered, at the Laurie Beechman Theater.
Wednesday, April 13
Cheddar cheese grits at Toasties on Seventh Avenue. I went in there one time and I didn't really like their bagels, or what kind of bagels they had, so I saw that they had grits, and you never get grits in New York. I stop by there often now. Southerners really love their grits. I'm always thrilled to find grits, and I always like a soul-food restaurant, or a southern restaurant, because I am from Tennessee, and my mom was a great cook.
When you make them with cream, that's not suitable for everyone. I do like them with cream, but it's like a heavy, heavy, heavy dish, and shrimp and grits typically does not come with any vegetables.
Lunch was Cobb salad from Bus Stop Cafe at Hudson and Bethune. I don't know why their dressing is so good. They must put a little sugar in it because that's usually what makes salad dressing better! Basically any Cobb salad has the same ingredients, but it's fresh and they don't use iceberg lettuce. They use fresh greens. It's glorified diner, it's not the most basic.
​I love that wonderful old-school diner, La Bonbonnière, in the West Village. Prices have gone up, but most neighbors cherish this actual greasy spoon and know the staff for years. Very unpretentious diner food. I don't know, there are certain grills that just have this flavor to them, I don't know what it is. You just want the hashbrowns from that grill, the pancakes, whatever they have.
They have a good burger at Bus Stop also. You know, they have turkey dinner every day of the year. Yes. My last couple Thanksgivings were spent alone with a pathetic Zoom meeting with my family, so yup. I do cook, but I'm not gonna cook all that.
It's not a dirt-cheap diner, but it's everything you would get there from salads to a few Greek specialties and eggs. There's some of the same food as this old restaurant, on the corner of Greenwich Avenue, that was replaced by a French place. There are some Latino guys that worked there, too, and we dealt with each other for years.
Some of these guys are just funny, and they will always flirt with me on the phone when I call for delivery. Like, I think I'm the neighborhood loca, and they go, "Oh, what is this one up to?" Of course, sometimes Latino men do like to flirt, so we don't mind. Especially if they've got food.
Pineapple fried brown rice with shrimp from Tue Thai Food on Greenwich Avenue. It's new. It's delicious. I can't explain why Thai food is so good — I think a lot of it is good because it has a little sugar in it, and that's a southern thing, too. But also just the coconut milk and the basil. The pineapple fried rice has whole cherry tomatoes that have not been fully cooked, they've been stir-fried. I don't eat cherry tomatoes unless they're in that dish. I won't even eat them in a salad. For some reason, the combination of the pineapple and the tomatoes is just so unlike anything Americans typically cook.
Thursday, April 14
Coffee and croissant from Aux Merveilleux de Fred on Eighth Avenye. Never had croissants this good outside Paris! Never, never.
It was open throughout COVID. That's when I fell in love with it. I didn't need a croissant vendor near me that was so delicious — and if they're hot in the morning, you might have to have two — but there it is.
Do I have a sweet tooth? Oh yeah, oh yeah. Like any diabetic. I'm a little bit snobby with desserts. As much as I do like dessert, if I want a piece of cake, it's gotta be a really good piece of cake. If you're gonna do the damage, make it worth it. I'm not trying to be healthy when I'm eating a croissant, I just don't love the kind that you would get at Burger King or in a deli that's wrapped in plastic. These are right out of the oven.
And so flaky! I don't know why it's so difficult to get them flaky, but the ones sold in the supermarket don't seem flaky. It's great to have a baker nearby. When you have little stores that specialize in one thing, like baking or desserts, of course you're gonna get the freshest and best stuff because it hasn't been rerouted to the supermarket. A lot of diners have terrible desserts, these tall, fancy, decorated cakes that don't taste good at all.
Veggie chicken-salad sandwich to go from Elm Wellness and green juice with ginger.
This night, I started a run of shows at the Laurie Beechman Theater that runs through the weekend. It's gonna continue this weekend, and who knows how long because it's been selling out. When I'm performing, I typically wear a girdle, so I'm not usually in the mood for eating much.
Later at night, I got a chicken tinga quesadilla at this great Mexican food truck called Tacos Del Idolo. It's rumored to be closed, but it still sometimes appears at odd hours. It's typically on 14th Street between Seventh and Eighth Avenues.
I'd not seen the truck around for a while, and I wasn't sure if that was because of COVID. Sometimes they just have a hard time finding a parking spot. I don't think it's sanctioned. But it's been there for years. It's always sweet guys, and I've only had that one thing there that I always come back and get.
Friday, April 15
Coffee, Nova salmon, tomato, onion, lettuce, and low-fat cream cheese on a whole-wheat oat-bran bagel. Toasted. From Murray's on Sixth Avenue and 13th Street. Sandra Bernhard prefers Brooklyn Bagels, but I say, "Never!" This is my "treat" breakfast. They have low-fat cream cheese, so that makes me feel like I'm cheating a little bit.
I had never had the raisin-walnut cream cheese before I went there, and the pumpernickel with raisin-walnut cream cheese can't be beat. But they also have a multigrain everything bagel. I don't know why those bagels are so chewy and delicious, but I've never had any others like them.
Warm grain bowl from Just Salad chain on Eighth Avenue at 17th Street and a vanilla coconut snowball from Empire Cake. It's frosted and rolled in coconut. There's either custard or chocolate inside. It's just white and fluffy and definitely kind of retro. Of course, there's also Magnolia Bakery, with its old-fashioned, kitschy, 1950s Betty Crocker desserts. The tempting Magnolia Bakery, where they have a German chocolate cake that is better than my mother's. But that doesn't make it into print. I have to avoid that area.
I love anything coconut. It is a southern thing. There was always a battle between my mom and my grandmother to see who could make the coconut custard pie because there were beads of sugar that would form on top of my grandmother's, and my mother's did not get the beads. And my dad prefers grandmother's.
I don't think anyone cooked food like my grandmother. She baked fresh bread for every meal. Biscuits in the morning, some sort of dinner roll at night. She was a housewife. They were good eaters. I've carried on that tradition.
Leftovers at home.
Saturday, April 16
Cereal at home.  It's a coconut paleo granola from the Great Low Carb Bread.
It is sweetened, but obviously they don't use sugar or it wouldn't be paleo. There're a few things where I don't mind the low-carb options, and I just try to stick with them.
For lunch, I had the mail-bread carb-free bread from Great Low Carb Bread Company with swiss cheese, lettuce, and mayo.
Low-carb bread is never going to have the consistency of high-carb bread, but if you have all the other thick things (lettuce, tomato, mayonnaise, mustard, whatever you put on sandwiches), it's a pretty good fake.
I found this company just by looking around. I tried it and didn't mind. I don't really love wraps, so I just decided to start ordering big boxes of this and freezing it. That was a pandemic thing. It became such a production to just go out. Like a lot of people, I did more delivery stuff than ever. I even foolishly shopped for dresses on Facebook, and I found out real quick that a 5XL in China is about a medium in the states.
Fish, plantains, and veggies from a salad bar on Seventh Avenue and 29th Street — risky with COVID, I know. But I was feeling bold that day. Used hand sanitizer before eating!
I was also in a hurry. I was recording at a studio nearby and just had to get something because I'm a little hypoglycemic. I need protein regularly. I don't know the name of it. It's just like the deli on the corner of 29th Street and Seventh Avenue. Across the street is Pret a Manger and some bakery chain on the other corner. If we don't support the places that are reasonable and that are independent, they're going to shut down. They have to sell. If you're selling something cheaply in New York, with New York rents, then you need to be able to sell a lot of it or you won't stay in business.
What I've found with places closing, like Benny's, this wonderful falafel place on Greenwich Avenue, is that unless you want to spend $30 and up, there's really not going to be any vegetables. If you want to spend less than that and get a sandwich, you can. There are just not that many vegetables unless you want to have a proper sit-down dinner. There are always vegetables at that Just Salad place. I try to frequent fewer chains because if we're all going to chains all the time, that's all we're going to have. Benny's is gone, but Subway, which I just don't eat, is there. It makes NYC feel a little bit less like NY when we have the same choices that they have everywhere on the globe.
I was in Nottingham, and I tried to find an independent tea shop. I think I found one pub. Everything else was like KFC or Taco Bell. You would think there would be a tea place in Nottingham, but whatever.
This is probably because of my age, but I don't even have Uber, honey. The idea of UberEats, all of that, is foreign to me. I pay with cash. I'm a little old-fashioned in that respect.
Sunday, April 17
Apple bran muffin and coffee from Think Coffee. It is nearby, and it is a chain. The staff is wonderful, and I do giggle sometimes because, look, you're in there first thing in the morning, and there are all these signs up about how, Oh, this is how the coffee is made sustainably. It's like, just give me a cup of coffee.
Lasagna and a diet Sprite from Rivoli Pizza. It's just an old-fashioned pizzeria. There's a new one called Zazzy's that just opened in the place where Two Boots was. Rivoli is not fancy pizza. It's great pizza, it's great lasagna, and so, so cheap. And they have diet Sprite, so you don't feel so bad when you're hogging a massive lasagna.
Also, it's so low-tech. When you call there, it's the same guy that's been answering for decades. They don't even want to know your phone number. They just write your address down. They don't have a computer system that brings up your phone number. They don't have any of that. It's just a pizza place.
For dinner, I got the sagebrush shrimp platter — from Cowgirl Hall of Fame on Hudson — with baked potato and salad. It's not on the menu anymore, but you can ask for it. Fried jumbo shrimp that's better than mom's! There's nothing like fried shrimp when you do it right.
That's definitely a treat place where I wouldn't go all the time. But with friends, et cetera, it's a great place. It's kind of like Tex-Mex with a little bit of a concept to it. It's fancier than it used to be, but it's great food. I had my 40th-birthday party in their back room. We know the staff and all of that.
They have cornmeal eggplant fritters. The stuff that no one except your mother made. I never really learned how to fry stuff, like people who can fry. But I guess it revolves around having a deep fryer. Unless you're making a bunch of fried stuff, it's kind of wasteful because you're dumping a whole bottle of oil in for one meal to fry certain things.
I'll tell you, A Salt & Battery has delicious fried shrimp as well. That's a fish-and-chips restaurant from the people who own Tea & Sympathy. English food has a reputation for being horrible, but they do have some of the world's best condiments, from Worcestershire sauce to that mint jelly they put on lamb to Branston pickle, which is beet and I don't know what else is in it. The food at Tea & Sympathy is great, even though it's English food. If you want to impress your mother for Mother's Day, take your mom to get their afternoon tea, where you get a three-tiered thing of scones, cucumber sandwiches, things like that.
Monday, April 18
Coffee and oatmeal at Think Coffee.
Made carb-free pasta with garlic, eggplant, tomato, onion, olive oil, cheese, oregano, and basil. I cook less when the weather's warmer. I'm not one of those people that makes soufflés that turn out perfectly, but I can sling stuff together in a saucepan with whatever. I'm the only non-vegetarian in my family, so if I cook, I often will cook vegetarian stuff.
Veselka in East Village, deluxe vegetarian plate: one cheese, one potato, one sauerkraut, and one mushroom pierogi, one meatless stuffed cabbage, kasha with mushroom gravy, and a side of sour cream. Everything here except desserts is tasty. And don't miss the X-mas borscht, which has cinnamon and lord knows what!
After I moved to New York, I worked at Pyramid Club in the East Village, and back in the day, they had many, many Polish and Ukrainian restaurants around there. There were like six or seven of them with fresh challah bread. I'm not worried about processed flour when I'm at Veselka eating that bread. The vegetables — I don't know how you could make vegetable soup so good. The borscht is incredible. Their salad dressing is too.
We went to all of those places. But Veselka's one where you might take a friend because it's not so much like a diner. It's more like a diner with a wait. I'd go at all hours of the day. All seasons of the year.