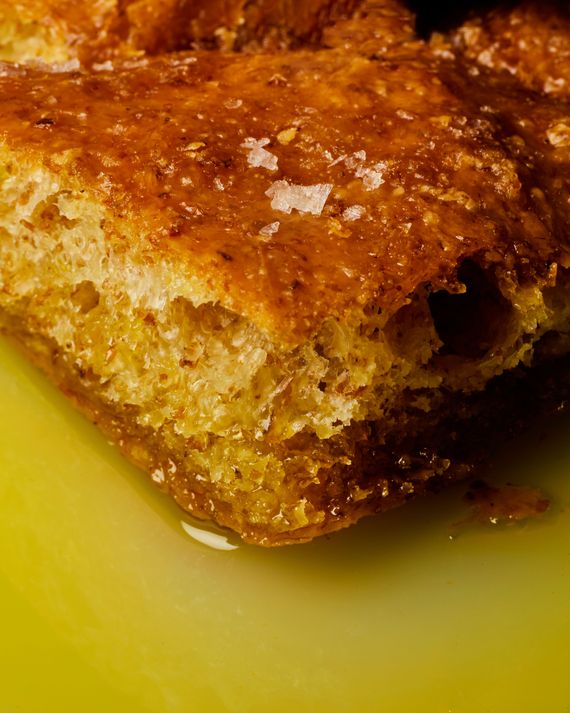 Focaccia from Estrusca in the Financial District. Photo: Marcus McDonald
A friend from Paris was in town the other week, and we were discussing the meal we'd just had at a popular Spanish restaurant in Manhattan: beautiful croquetas, a lovely salad drenched with anchovy. But then: "As a French person, I do have one complaint," my friend said. "Why didn't they serve any bread with the meal?"
In truth, I had barely noticed it at the time, likely because I've spent so much time inside New York City restaurants that I've become numb to the ways so many of them deal with bread these days: It is either offered somewhat begrudgingly, a few meager slices provided only upon requested — I was horrified when a friend told me she'd recently popped into a wine bar for a plate of saucy chicken livers only to learn that adding the very necessary bread would trigger a $3 surcharge — or it's served as its own menu item, priced accordingly and unavailable unless specified while ordering.
The argument for either approach is entirely logical: Bread is not free for restaurants to produce or serve, and selling it with the rest of the food allows (or possibly even forces) chefs to serve the best possible version. This seemed to be the case at Raf's, a new restaurant that moved into the former Parisi Bakery space on Elizabeth Street. Given the previous tenant, it makes complete sense that Raf's would charge $14 for a basket filled with two milk buns, two thick slabs of focaccia, and two slices from a white country loaf served alongside a cup of French butter topped with Sicilian olive oil. It was excellent, but it was also a lot of bread, and all I really wanted that night were a couple of nibbles to enjoy between courses.
This is not new: Restaurants have been charging for bread for years now. The New York Times was defending the practice way back in 2009, and it's only become more common in the decade and a half since. It's fine, really, but it also means the owners who resist the urge to charge extra, and who simply give bread to customers, can now offer an unexpected moment of happiness. "Folks light up," says Elisa Da Prato, chef and owner of Etrusca in the Financial District. "It's a sweet and exciting little moment." Between fermentation and baking, it takes two days for Da Prato's kitchen to make the focaccia it serves with dinner. She says she did debate a fee but, in the end, decided that a spirit of generosity should win out with bread.
The same is true at LaRina in Fort Greene, which remains one of my favorite restaurants and where I continue to come away impressed with the variety of bread, including seasonal focaccia — which might be studded with grapes, olives, or tomatoes — and slices from a loaf made with toasted grano arso flour, which gave the bread a striking charcoal hue but remained subtle enough not to overwhelm the olive oil provided for dipping.
At Principe in Soho, the bread is more of a stand-alone course than a tool for fare la scarpetta, but that only means that "chef de farina" Rebecca Isbell can offer something a bit more ambitious than a slice of sourdough. Her piatti bread (named for its flat, crumpetlike appearance) aims to combine the best qualities of sourdough, English muffins, and focaccia, and it's given extra depth thanks to the addition of a curious miso made only from farro grains. The rounds arrive alongside the appetizers, steaming hot, with a side of punchy goat butter and Calabrian chile sauce.
Of course, at a restaurant that charges $65 for lobster risotto, the "free" bread is not really free at all — it's included with the price of the meal. At Etrusca, the focaccia doesn't arrive until after an order's been placed. For diners at the bar, finger-length breadsticks (also homemade) coated with flaky sea salt are served with a drink order. Whenever I'm confronted with surprise bread, I'm delighted not because of some value trade-off or because I might shave a few dollars off the bill. It's a little reminder that restaurants still have the capacity to surprise their guests from time to time.