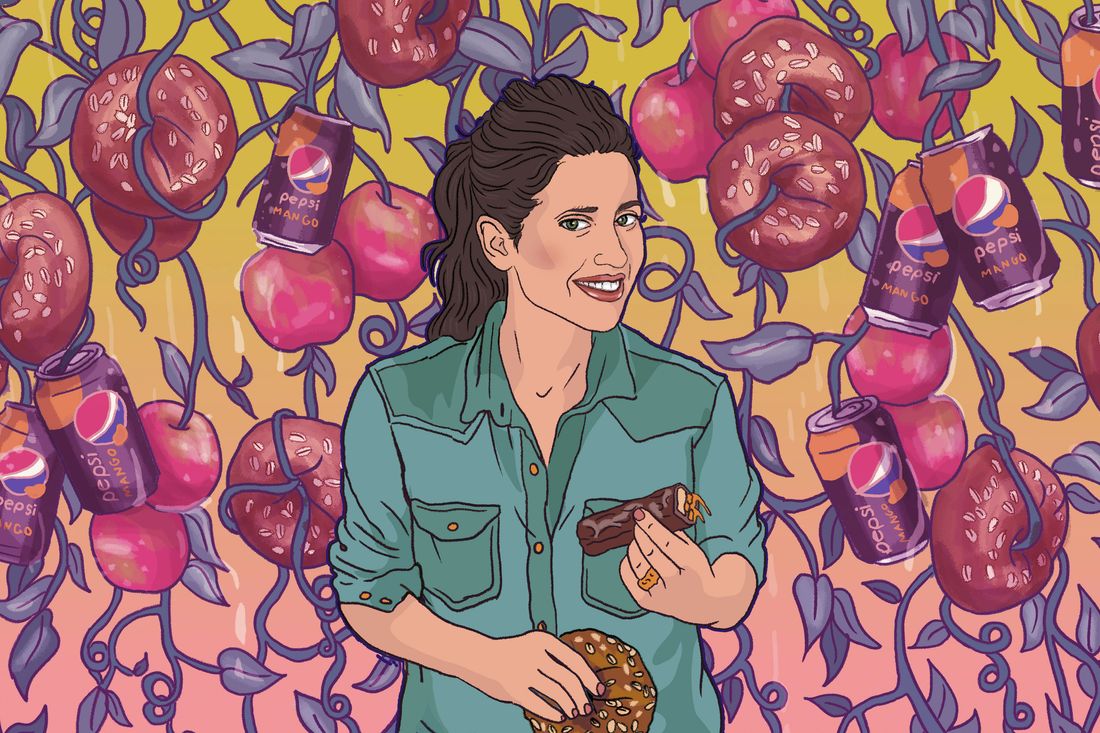 Lili Anolik and her favorite fruits.
Illustration: Margalit Cutler
"Food is something I can't pay attention to," sighs Lili Anolik, the Vanity Fair writer and podcast host, most recently working on Once Upon a Time … at Bennington College, which our friends at Vulture call "pungent with pulpy literary gossip." One thing Anolik is not is a foodie: "If I'm going out to a restaurant and the person I'm with is asking lots of questions about how the salmon is prepared or whatever, I'm going to show a smiling face, but inside, I'm thinking hostile thoughts." Instead, she prefers to focus on the basics: "I eat the same old shit," she laughs.
Thursday, February 3
We ordered in pizza last night and I had one slice too many. So, this morning, instead of eating breakfast, I drink it: a Pepsi Zero Mango, which is Pepsi Zero except much, much sweeter. I prefer bottles to cans, only the bottles are hard to find. I know of just one place in the city that carries them, a 7-Eleven in the Theater District. I could order the bottles online, I suppose. But that would feel like cheating. Besides, I can't have too many in the house. (No self-control.) I always have a soda — usually diet, though sometimes regular — when I wake up because I need caffeine yet can't bear coffee.
Even though I'm skipping breakfast today, it's still very much on my to-do list because I have two young sons: Ike, in third grade; and Archie, in first. I know they're probably cramming down junk at school, so I try to go heavy on the fruit in the morning. Only I have to be sneaky about it, at least with Ike. I let him read my paperback copy of You'll Never Eat Lunch in This Town Again at the table. While he sounds out "Joel Schumacher" and "quaalude," I pop bites of banana and strawberry in his mouth.
I spend the rest of the morning at my desk. I'm writing about … well, I can't say what I'm writing about; not yet, anyway. Lunch is two containers of Chobani Greek Yogurt Coffee & Cream (I don't like coffee, but I like coffee flavor, go figure) in a bowl mixed with Grape-Nuts. I eat it while streaming an episode of season two of The Hills: New Beginnings, which Rob, my husband, refuses to watch with me. The Hills is the only reality show I ever truly loved, and there's no way I'm not going to check out the reboot, even if it's clear that they should have left well enough alone. A mellow Spencer Pratt with a dad bod and a failing crystals business is endearing but also depressing.
At around 4 p.m., while making a run to the bank, I find a packet of Wheat Thins, crushed, at the bottom of my shoulder bag. I eat them.
I clean but I don't, as a rule, cook (my mother also cleans but doesn't cook, so I guess it's in the blood), and COVID plus winter plus wild-child kids make restaurants a tricky proposition. So for dinner, we order in from Westville: turkey burgers for the boys; a veggie burger for me; a steak sandwich for Rob.
For dessert, it's frozen Look bars. (Explanatory parenthetical: A few years ago, I did a book on writer-artist Eve Babitz. Eve died over the holidays. Two weeks ago, I flew to L.A. for her memorial. Eve's sister, Mirandi, bought me a bag of mini Look bars, a candy bar that Eve, as a teenager in the '50s, used to buy at the hot-dog stand at Roadside Beach. Eve insisted that Look bars were only good ice-cold. To eat them at room temperature would be to dishonor her memory; therefore, I keep the bag in the freezer. I thought Eve was overselling them, but they really are delicious.)
Friday, February 4
Stray thought: Every time I dutifully record an item in my food diary, I flash on Patsy Stone's fantasy in Absolutely Fabulous — a lady journalist from Hello! magazine saying, "Patsy nibbled a humble salad and sipped an Evian water," then Patsy saying, "I like to maintain a healthy lifestyle."
This morning, it's Coke for breakfast. (I like Diet Pepsi, regular Coke.) I open my Sub-Zero. The Coke is on the bottom shelf, leaning against a veggie-crudités-with-hummus platter from Whole Foods. Not something you'd typically find in my fridge. And, in fact, it shouldn't be in my fridge. It was meant for Caroline Calloway's fridge. I was supposed to go over to Caroline's apartment on Tuesday for lunch. She texted me that she'd supply the espresso and cocktails, and said that I should "bring over something with vegetables." But then she canceled the morning of. (Didn't feel well.) I was disappointed. We'd only ever spoken on the phone, hadn't met in person. She told me she'd had her kneecaps removed years ago. I was curious to see.
Along with the Coke, I have an oat-bran bagel, toasted, dry, and a Chobani coffee yogurt.
I meet James Wolcott, an old Vanity Fair bud, at Odeon for lunch at 11:45, an early-bird special — our lunches are never short, so I figure we should start early. Usually I don't do lunch because it disrupts my work schedule, but lunch with Jim is too much fun to resist. Odeon is my favorite restaurant in the city, and — what luck — it happens to be around the corner from my apartment. When I use the bathroom, I think about Bret telling me how he once did cocaine with Jean-Michel Basquiat in one of the stalls, and a little shiver of excitement runs through me. Jim and I gossip indiscreetly about mutual friends and foes in the publishing industry, and two hours pass in the blink of an eye.
I didn't eat much at lunch — too busy talking — so when I get home, I have Chobani coffee yogurt and Grape-Nuts in a bowl at my desk while I work some more on the thing that I can't tell you about.
Keeping this diary has made me aware of just how much coffee yogurt I consume. I regard it as the height of stylish and sophisticated fun food-wise. Which I realize is odd. I'm trying to figure out why I think this. And then it hits me: In high school, I had a friend, Haven Ley, and Haven had a mother, Susan, though I called Susan "Mrs. Dearborn," and Mrs. Dearborn called me "darling." Mrs. Dearborn cut a dashing and glamorous figure. She was a career woman (interior design), and seemed to have a lot of husbands and was always very, very busy and very, very distracted and looked and dressed like Tippi Hedren in The Birds — a slinky blonde in high heels and pale-pink lipstick full of nervous agitation. I remember Haven explaining to me and our other friend, Brina Milikowsky, how her mom kept so slim: ate no breakfast; a coffee yogurt for lunch; and then a normal dinner. So there you go. Mystery solved.
Rob thought I ordered dinner, and I thought he ordered dinner. So, come 7 p.m., we have to vamp. Rob slices up apples and pears, and I make peanut butter and jelly on whole wheat and then open a bag of reduced-fat Baked Ruffles potato chips. I'm a child of the '90s. I still believe in the concept of low fat or — better yet — nonfat, even though I know it's medically and metabolically unsound and just me fooling myself. That exchange in Romy and Michele's High School Reunion, the one where Romy says, "All I've had to eat for the past six days are gummy bears, jelly beans, and candy corns," and then Michele says, "God, I wish I had your discipline," really resonates.
We eat while watching the first half of The Lady Vanishes on Criterion.
Saturday, February 5
Rob wakes up at 4 a.m. and heads to JFK to pick up a puppy — the family's first pet — coming in from Colorado on a red-eye. The boys knew we were getting a puppy, but they didn't know when. So once Rob walks through the door, holding that crate, all thoughts of food go out the window. Not that we forget to eat. It's the weekend and Rob cooks on the weekend and he's a good cook. Over lockdown, he ordered a cast-iron skillet. He treats it very tenderly, borderline romantically, always rubbing it down with oil when he's done using it.
The idea of preparing food is weird to me — all this effort and then it gets gobbled up in 15 minutes. The only thing I've ever cooked is pasta. But Rob loves to cook and it seems like a worthwhile pursuit to him. He really loves food and puts care into making it, which is why it tastes so good. I do clean after he cooks. So we're very compatible that way.
Mostly what we do is play with the puppy and fight over who gets to hold him and what we should name him.
I suggest Pony Boy or Buster.
Ike suggests Mr. Jones.
Archie suggests Liquor or Ping-Pong or Bugsy or Bugs.
Rob suggests Johnny Utah or Johnny or Utah. (Rob is a big Point Break fan.)
No decision is reached.
Food consumed: bacon, eggs, cornbread, stir-fry. (All made by Rob, all on that cast-iron skillet.)
Sunday, February 6
For me, in the morning and afternoon, it's the same ol' same-ol' in terms of food selection: Pepsi Zero Mango, Grape-Nuts, Chobani coffee yogurt, etc.
The boys are still in a puppy daze, so they let me feed them lots of fruit. Rob makes cast-iron-skillet pancakes.
My parents, along with my brother, John, and John's boyfriend, David, are coming over for Sunday night dinner. So, in the late afternoon, I run out to Gourmet Garage for grapes and cheese. There are flies hovering over the grapes, but I buy them anyway. My dad brings red wine, and Rob breaks out the Bellissima, Christie Brinkley's Zero Sugar Sparkling White Wine, beloved by John, also a child of the '90s. I don't drink wine or anything else, though I do take a lot of NyQuil (bad sleeper).
My dad and David make two huge salads and we order the rest of the meal from Poulet Sans Tête in the West Village: whole rotisserie chickens, spiced cauliflower, sautéed Brussels sprouts, and garlic baguettes. For once, my mom and I don't get in a fight, not even a little one. It is a great Sunday night dinner.
In other news, we settle on a name for the puppy. It had been a four-way tie, but then Archie breaks it, backing Ike's selection. So Mr. Jones it is. Mr. Jones's favorite food: Wet Noses Little Stars Training Treats, Sweet Potato Flavor.