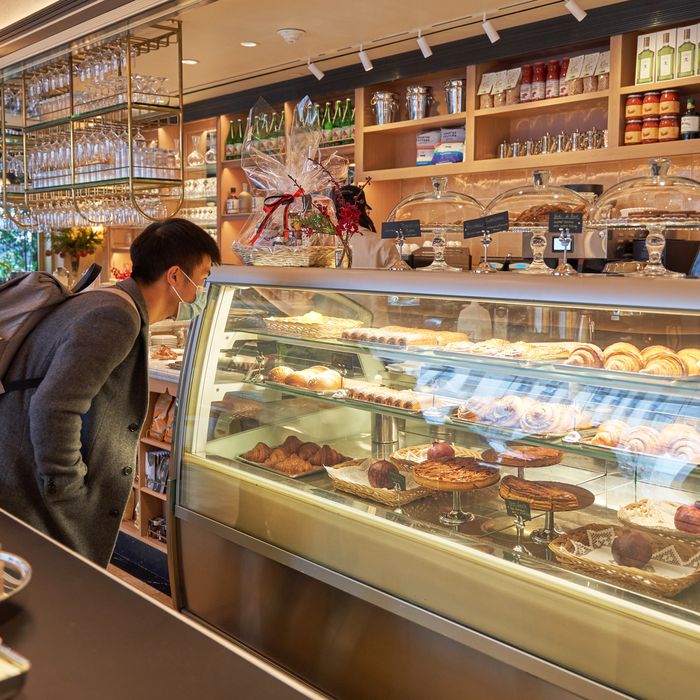 The pastry case at Lodi.
Photo: Adam Friedlander
In the spirit of this ever-changing, slightly nerve-racking holiday COVID season, the latest Ignacio Mattos venture, called Lodi, which opened a few months ago in Rockefeller Center, seems to have been designed with every possible occasion in mind. It's an Italian espresso bar equipped with hissing coffee machines and a counter made of polished white marble where you can sip a bracing cup under your mask before ducking back into the cold. It's a pastry shop, too, and a bakery that turns out six comforting varieties of Italian bread beginning at 8 a.m. There are eggs over toast for breakfast and a variety of to-go panini for lunch, and if you're in the mood for a proper sit-down meal, you can dine outdoors with a view of the great Christmas tree or in the airy enclosed terrazza, which is filled with linen-covered tables set with glittering silver, just like in the best cafés of Milan.
The terrazza is where I found myself sitting on my first visit, though not before perusing the shelves inside, which are stocked with fancy Italian pantry items (Tuscan honeys, jars of candied Sicilian oranges), and purchasing a small box of sugary palmier-style cookies to take home for an after-dinner snack. There were heaters affixed to the ceiling in this cozy little makeshift dining space, and the wait staff wore waist aprons, knotted black ties, and traditional Italian waiters' jackets with lines of pens in their pockets. "I feel like I'm on a movie set inside a movie set," someone said as we watched the slightly surreal pageant of Rockefeller Center Christmas go by outside the windows, complete with masked shoppers carrying bags from FAO Schwarz, pink-cheeked ice-skaters on their way to the rink across the street, and members of the Salvation Army dressed in red.
Mattos has dabbled with all sorts of flavors and cuisines during his career (Spanish cooking at his great flagship restaurant, Estela; seafood at the late, lamented Flora Bar; and Italian bistro at Altro Paradiso in Soho). But in this most traditional of midtown settings (with the most traditional of midtown landlords), he and his talented chef de cuisine, Maxime Pradié, have produced a well-edited "all day" café menu filled with elevated, expertly sourced classics mostly from the northern regions of Italy. Before the first wave of antipasti arrived, we sampled ribbons of mortadella and 30-month-aged prosciutto di Parma and soft slices of Gorgonzola with chestnut honey on the side. There were pâtés on little wheels of crostini after that and a decorative serving of Spanish anchovies laid out, with roasted peppers and butter on the side, like a fan on the plate.
The anchovies are designed to be spread with plenty of butter or olive oil on squares of focaccia and assorted other fresh-baked breads that are brought to the table in silver baskets and replenished when supplies run out. I enjoyed the focaccia with the prosciutto and spoonfuls of the excellent house caponata and used it to mop up the soup of the day, a hearty Tuscan broth made with shreds of cabbage, potatoes, and, at the bottom of the bowl, crumblings of prosciutto. There were servings of warm butter beans tossed with pancetta and tomatoes in this round of antipasti, too, and a decent insalata di mare, though the dish I'll be returning to Rock Center for is the vitello tonnato that Pradié and his cooks prepare just as they do in the finest establishments up in the Piedmont, with thin, pinkish slivers of veal, a gentle sprinkling of capers, and a rich garlicky scoop of tuna mayonnaise on top.
Only four secondi-style entrées were available on the days I dropped by Lodi ("praise" in Italian and the name of a town outside Milan), but what the menu lacks in variety, it makes up for in quality and impeccable technique. Twenty-four dollars is a lot to pay for a single pork sausage, even these days, but you won't find a better example of state-of-the-art Tuscan salsiccia-making in this neighborhood, especially when you include the dabs of poached turnips and sweet Cremona relish on the side. The giant-size vegetarian at my table gave two enthusiastic thumbs up to the cabbage-wrapped risotto "involtino," which was sprinkled with black truffles, and gobbled it down so quickly I never got a taste. The same thing almost happened with the brasato di manzo (fatty, tender braised beef) on the evening we ordered it, and with the magisterial house porchetta, which is a special on Fridays.
Chef Pradié is a veteran of Flora Bar and cures his crackly porchetta in plenty of fennel pollen, for the record, along with the usual blend of Tuscan spices; he gets his pork loin from the famous hog purveyor Tank Jackson down in South Carolina. If you miss the Friday sit-down version, you can purchase the porchetta panino to go any day of the week and munch it as I did a few days ago, while shopping for holiday gifts up and down the avenues. You can get a variety of pastries to take away, too (wedges of polenta cake, the multilayered chocolate-hazelnut "torta Purgatorio"). The classic crème caramel is best enjoyed in-house, however, and so is the small mountain of fior di latte gelato, which is made to order for groups of two or more and brought to the table in a frosty double-size ice-cream-sundae coupe, which looks as if it has been beamed in directly from one of the holiday fantasia performances outside.
Recent restaurant reviews