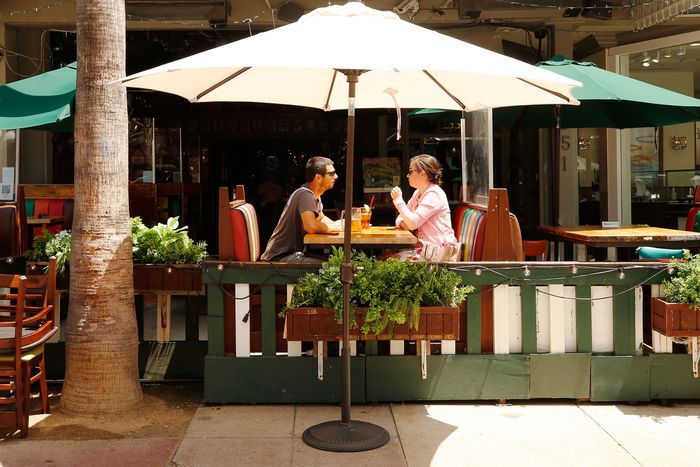 Outdoor dining at a restaurant in Los Angeles.
Photo: Al Seib/Los Angeles Times via Getty Imag
Some Los Angeles restaurants have temporarily closed because of a surge in COVID case counts, CBS Los Angeles reports. Melrose's the Village Idiot announced it is closing for a few days after a vaccinated staff member tested positive for the virus, while West Hollywood's Bottega Louie attributed its closure to "an abundance of caution." Last week, Los Angeles County reinstated its indoor mask mandate, though some have questioned whether this will actually be enforced. (Sheriff Alex Villanueve says his department will "ask for voluntary compliance.") More businesses have also started asking for proof of vaccination, according to L.A. Taco, as well.
Since California reopened on June 15, the state's test positivity rate has increased from .08 percent to 3 percent, though, as CalMatters notes, the case counts are far below the numbers during the winter surge. Nationally, COVID case counts, hospitalizations, and deaths have all increased this month in what the CDC is describing as a "pandemic of the unvaccinated." Nearly every single COVID death in recent months (in excess of 99 percent), The New Yorker noted last week, has been among the unvaccinated.